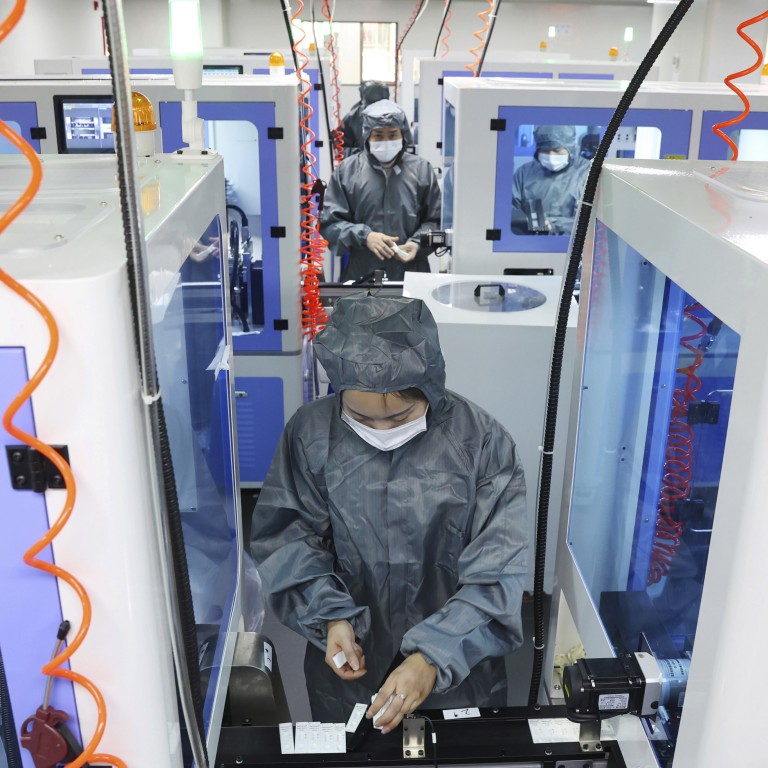 Explainer

|
China's industrial subsidies: what are they and why are they a source of tension with the West?
Subsidies are widely used by different levels of government in China to aid economic development, but they are a long-standing source of tension with the West
Beijing has defended its subsidy policies, a legacy from its days as a planned economy, saying the issue is being used to block China's development
China's extensive use of industrial subsidies has long been criticised by Western nations who say it creates an unfair playing field for foreign firms operating in the world's No 2 economy.
The massive amount of money granted to certain sectors and corporations is likely to be a central issue in any further trade talks between Beijing and Washington, which appear to have stalled despite the expiry of the
phase-one trade deal
.
Below are four key questions to help understand the contentious issue of subsidies.
What industrial subsidies does China use and how big are they?
Subsidies are widely used by different levels of government in China to aid economic development.
Hundreds of cash subsidies are available and scores of Chinese companies are taking advantage of them, according to financial statements of listed firms.
They are used for things like technological development, energy-saving and environmental protection, boosting exports, brand building, construction of new economic development zones, corporate development and incentives.
Preferential loans – especially those granted to state-owned enterprises (SOEs) from state banks – as well as tax, electricity and land preferences are often viewed by foreign companies as implicit subsidies and therefore questioned during anti-countervailing duty investigations.
There is no official figure available on the size of China's industrial subsidies. But according to calculations by the South China Morning Post, more than 3,000 listed Chinese companies are receiving them and their combined value reached 22.6 billion yuan (US$3.5 billion) in 2020.
Do other countries have industrial subsidies?
China is not the only country using subsidies. Global Trade Alert, which tracks government policies that affect world trade, assembled an inventory of 18,137 corporate subsidies awarded by China, the European Union (EU) and the United States since November 2008, with most of them in the latter two regions.
"Claims that extensive resort to subsidies is found only in state-dominated economic development models should be discounted," it said in a report released last October.
"Resort to extensive subsidisation is also a common feature of policy in more market-based systems of economic governance."
"The two sides can sit down together to talk about what is meant by 'market distortion' and 'industrial subsidies', and set some ground rules. It is time to do so," said Lou, who is now director of the Foreign Affairs Committee of the Chinese People's Political Consultative Conference (CPPCC), the country's top political advisory body.
What is the Western criticism of China's subsidies?
China's extensive and long-standing industrial subsidies, which are a legacy from its days as a planned economy, are part of the reason the country is not recognised by major Western countries as a market economy.
Deputy US Trade Representative Sarah Bianchi said earlier this month that China's state aid to domestic companies and its non-market economic policies and practises were a "serious threat to American economic interests".
In its 2021 Report to Congress on China's WTO Compliance, the Office of US Trade Representative said China provides massive, market distorting financial support to the ongoing operations of domestic industries.
Some of the subsidies appear to be prohibited under World Trade Organization rules and China has failed to provide a complete list of its subsidies to the global trade body, the report said.
"China actively seeks to help its domestic producers through myriad additional policies and practises that impede, disadvantage and harm the foreign competition and skew the playing field against imported goods and services and foreign manufacturers and services suppliers," it said.
The Biden administration is considering a new China tariff probe and other options, including working more closely with US allies to present a united front to Beijing in demanding a level playing field for international firms, Myron Brilliant, the US Chamber of Commerce's head of international affairs, told reporters last week.
How likely is China to adjust its subsidy programme?
Beijing has defended its subsidy policies and said the issue has become highly politicised to block China's development.
Commerce ministry spokesman Gao Feng said last week China had removed all subsidies prohibited by the WTO's Agreement on Subsidies and Countervailing Measures.
"The current Chinese level and methods of subsidies are in line with World Trade Organization rules," he said.
Over the past several years, Beijing has endeavoured to address foreign concerns and solve international deadlock over the issue.
The government has also reduced its negative list that bars foreign investment in certain sectors.
Speaking at the China International Import Expo in November, President Xi Jinping said China will take an "active and open" attitude to talks on issues such as the digital economy, trade and environment, industrial subsidies and SOEs.