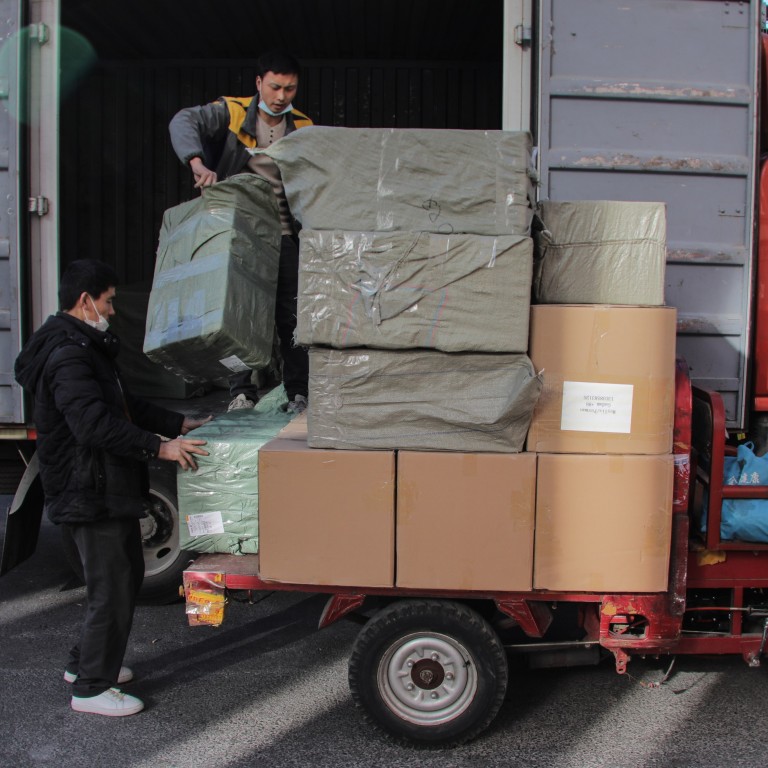 Ukraine-Russia crisis tests Beijing's desire to maintain 'normal trade' with both
'We hope they can reach peace', commerce minister says, as impacts of the Russia-Ukraine war begin to emerge on the world's second-largest economy
Russia and Ukraine are both important trading partners with China, and Beijing made a deal with Kyiv last year after it withdrew its call to give UN human rights chief access to Xinjiang
China hopes to maintain normal trade with both Russia and Ukraine, according to Commerce Minister Wang Wentao, as the worsening crisis in Ukraine serves as a test for how Beijing manages ties with its trading partners.
"[Russia and Ukraine]
are in talks
now. We hope they can reach peace, and we hope to promote our normal trade," Wang told reporters on the sidelines of a press conference in Beijing on Tuesday.
China is the largest trading partner of both Russia and Ukraine, and the values of both China-Russia and China-Ukraine trade in goods hit record highs in 2021. Russia is an important energy supplier for China, while Beijing is also a major buyer of Ukraine corn and wheat.
Chinese authorities have not condemned its invasion, nor has Beijing made any direct endorsement of Russia's invasion. Instead, China has called for negotiations between Russia and Ukraine.
On Monday, the Chinese foreign ministry also said: "China and Russia will continue to conduct normal trade cooperation in the spirit of mutual respect, equality and mutual benefit", after Chinese customs authorities announced last week that they were allowing all wheat imports from Russia.
Still, impacts of the Russia-Ukraine war have begun to emerge on the world's second-largest economy.
Both Russia and Ukraine are participants in China's plan to grow global trade. Notably, Beijing and Kyiv deepened their cooperation in the initiative by agreeing in December 2020 to work together on projects related to trade, transport, infrastructure, industrial investments and agriculture.
That came after European Commission Vice-President and EU trade chief Valdis Dombrovskis reportedly told the trade committee of the European Parliament on Monday that the EU will hold a summit with China on April 1, in an attempt to defuse growing tensions.
Meanwhile, Wang also warned that foreign direct investment into China's manufacturing sector has shown a downward trend.
The value declined by 4.6 per cent last year compared with that of 2019, before the pandemic, and the weight of manufacturing-directed foreign investment fell to only 19.4 per cent of the overall foreign investment, he said.
"We are a big manufacturing country … the decline in the scale of [foreign] investment into the manufacturing industry deserves our great attention," Wang said.
He also called for more foreign investment to be directed toward advanced manufacturing, strategic emerging industries, the digital economy and green sectors.
And he reaffirmed that the pressure on trade this year is likely to be "tremendous" for the world's largest exporter of goods.
"The bottlenecks in the supply chain [of raw materials and commodities] have not yet been eased," he said, adding that this looks to remain the case in the short term.