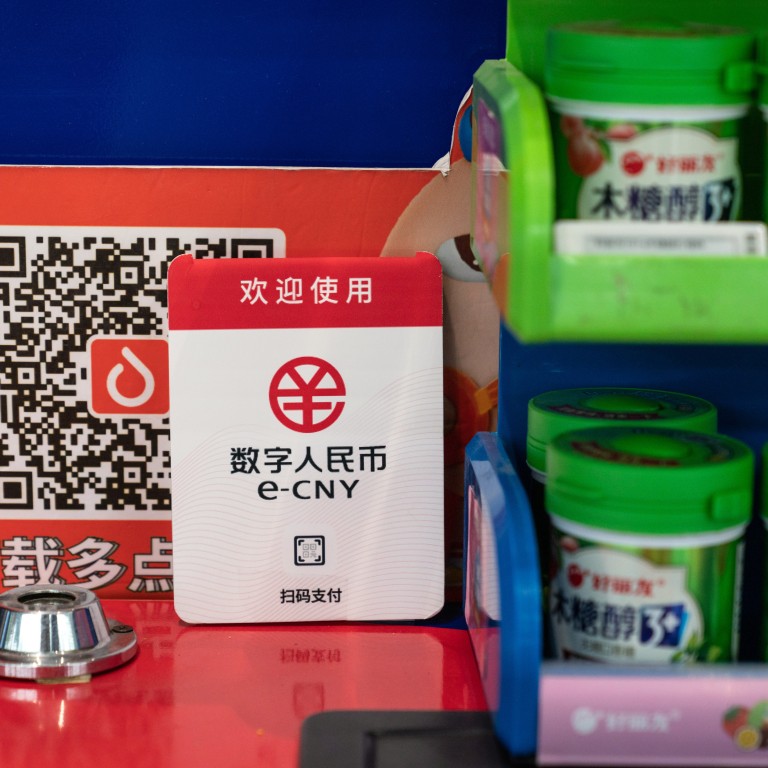 China digital currency: will Western sanctions against Russia over Ukraine boost e-yuan?
With the Swift system being used in sanctions against Russia, China's digital yuan payment system could be a replacement, say Chinese researchers
The as yet unlaunched point-to-point digital payment system should reduce the need for cross-border financial messaging between banks
Western sanctions imposed against Russia following the invasion of Ukraine, including exclusion from the Swift financial messaging system, could offer new development opportunities for China's digital currency and its home-grown yuan cross-border payment system, analysts said.
"We believe that it is necessary and urgent to vigorously promote yuan internationalisation, especially the development of the CIPS system and the digital yuan," Citic Securities analyst Ming Ming wrote in a research note on Tuesday.
While the market draws attention to China's own yuan payment and settlement system, which has 75 direct participants including Citibank, HSBC and Deutsche Bank, and 1,205 indirect participants, any entity dealing with Russia-linked businesses could be subject to sanctions.
"One distinctive characteristic of digital yuan is that payment and settlement happen concurrently. This will help reduce reliance on bank accounts and bypass financial intermediaries in some scenarios," Ming said.
Minsheng Securities researcher Lu Wei said digital currencies will help reduce the number of agent banks and can achieve real-time cross-border transactions.
"Given China's lead in the global electronic payment ecosystem, [digital currency] can be popularised in a quick and low-cost way," he added.
China is a pioneer of research into digital currency. The authorities
have piloted its version of digital currency
, a two-tier structure with focus on domestic retail payments, in Shanghai, Hainan, Suzhou, Chengdu, Xiongan, Changsha, Dalian, Xian, Qingdao and Olympic venues in Beijing.
The Securities Times said on Wednesday that China will soon expand its digital currency trial to a third batch of cities.
Government data showed 261 million digital wallets had been opened and transactions totalled 87.6 billion yuan (US$13.9 billion) by the end of December.
It has now penetrated the daily life of ordinary Chinese: the e-CNY app has been downloaded 17 million times since becoming available in early January and there are more than 5 million active users.
Addressing a webinar hosted by the Atlantic Council last month, Mu Changchun, the head of the digital currency research institute at the People's Bank of China, said the authorities will closely watch user experience, security and efficiency, but there will be
no preset timetable for the final launch.
The yuan has shown its risk-averse nature during the Russian invasion of Ukraine, as yuan midpoint reached a nearly four year high of 6.3014 against the US dollar on Tuesday.
But its international use is far behind its status as the world's second largest economy, which accounts for about 18 per cent of the global gross domestic product.
Swift data showed the yuan accounted for 3.2 per cent of global payments in January, ranking fourth after 39.92 per cent for the US dollar and 36.56 per cent for the euro.
Many Chinese academics have pinned hope on the use of digital currency in international transactions.
The Chinese central bank has been collaborating with its counterparts in Hong Kong, Thailand and the United Arab Emirates to explore the use of digital money in international transactions, though there are still many issues to address, including currency sovereignty, foreign exchange management rules, anti-money-laundering and anti-terrorism financing.