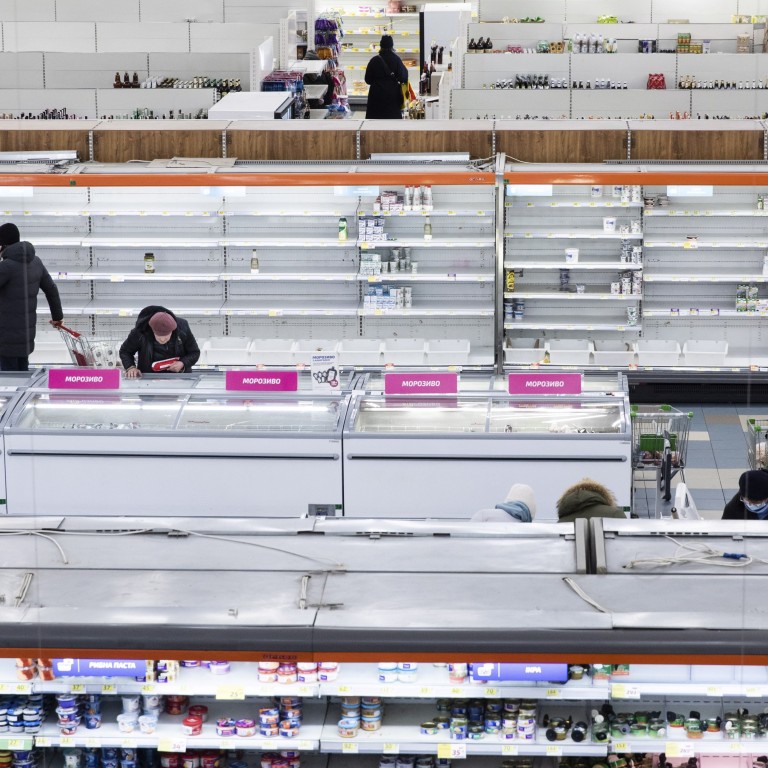 China's manufacturers feel the pain of Ukraine crisis as customers have 'no desire to pay'
China is the largest trading partner of both Russia and Ukraine, but sanctions are being felt by customers in both countries, and has even spread to other regions
Commerce Minister Wang Wentao said on Tuesday that China was hoping to 'promote our normal trade' with both Russia and Ukraine
Manufacturers in China are starting to feel the pain of the unfolding crisis in Ukraine as financial sanctions placed on Russia have started to filter through to export customers.
"My Ukrainian and Russian business has been directly impacted," said Bob Yao, co-founder of a digital printing production company in Guangdong province.
"We lost contact with my Ukraine client. And another Russian customer sounded no desire to pay and let us deliver goods all at once because the rouble has been devalued."
China is the largest trading partner of both Russia and Ukraine, but Yao said the impact of Russia's invasion has even spread to customers in other regions.
"A customer in Central Asia informed us on Tuesday that he has decided to postpone payment and shipping plans for six containers, because of concerns over world affairs," he added.
Manufacturers in the world's factory, especially small and medium-sized enterprises in the industrial sector, have expressed pessimism about the future of the Commonwealth of Independent States (CIS) market.
The CIS was formed following the dissolution of the Soviet Union in 1991, with Azerbaijan, Armenia, Belarus, Kazakhstan, Kyrgyzstan, Moldova, Russia, Tajikistan, Turkmenistan, Uzbekistan and Ukraine full member states.
"It is certain that the first, customers in Russia, and the second, customers in Ukraine, will lose their purchasing power for a long future due to the war," said Will Liu, marketing manager for a medical device exporter, who is focused on promoting Eastern European and South American markets.
"I think Russia's limited foreign exchange will give priority to purchases of daily necessities, and medical equipment consumption will definitely be significantly reduced and downgraded."
"When Russia was sanctioned because of the annexation of Crimea in 2014, the rouble exchange rate plummeted from 1 to 5 against the yuan to roughly 1 to 10, which led to a plunge in the sales of ultrasound equipment to Russia, with some companies seeing sales dropping by half of the pre-crisis level, and it wasn't until 2019 that sales returned to the level in 2013," added Liu.
"As a small company, it is very hard for us to adjust our market layout at this moment as [the Ukraine crisis] happened too suddenly to us."
The yuan has sustained its recent strength and stood out as a
safe haven amid the financial turmoil,
hitting a record high of 6.31 against the US dollar last week, a level unseen since April 2018.
A lower yuan exchange rate figure means it takes fewer yuan to purchase one US dollar, indicating a stronger Chinese currency.
"So far, our Russian customers are not affected, and we have settled the trade in yuan for quite a long period, instead of the US dollar," said Steve Xie, who exported millions of metres of dyeing cloth to Russia last year.
"Barter trade between Russia and China may get a boost quickly because of the war, and some small- and medium-sized traders like us will try to explore this way."
Even Pay, an analyst with Trivium, said the situation has led to grave uncertainties in trade and it is expected to contribute to "interruptions, delays, and cost increases in global shipping by all modes".
"China has extensive investments and business interests in areas of Ukraine that are currently active conflict zones. That includes big investments by China's state-owned shipping and commodities trading companies at ports along the Black Sea that have been directly impacted by fighting.
"China's banks are also wrestling with how to navigate Western financial sanctions as well as an extremely high degree of foreign exchange risk in financing businesses' commodity transactions with Russia. That will continue to pose a pretty significant challenge to trade in the short term."
China's factories are concerned that logistic prices that have fallen considerably from last year may rise again since the Ukraine crisis will result in a shortage in the supply of ships crew, according to Zheng Bo, founder of Livall, a Shenzhen-based smart bicycle helmet manufacturer.
Russian and Ukrainian seafarers make up 14.5 per cent of the global shipping workforce, according to the International Chamber of Shipping.
"Both the US and UK financial sanctions against Russia will lead to an increase in the volume of yuan transactions in terms of Russian-Chinese trade. This may be one reason for the strong yuan, but a strong yuan is bad news for China's export sector," Zheng said.