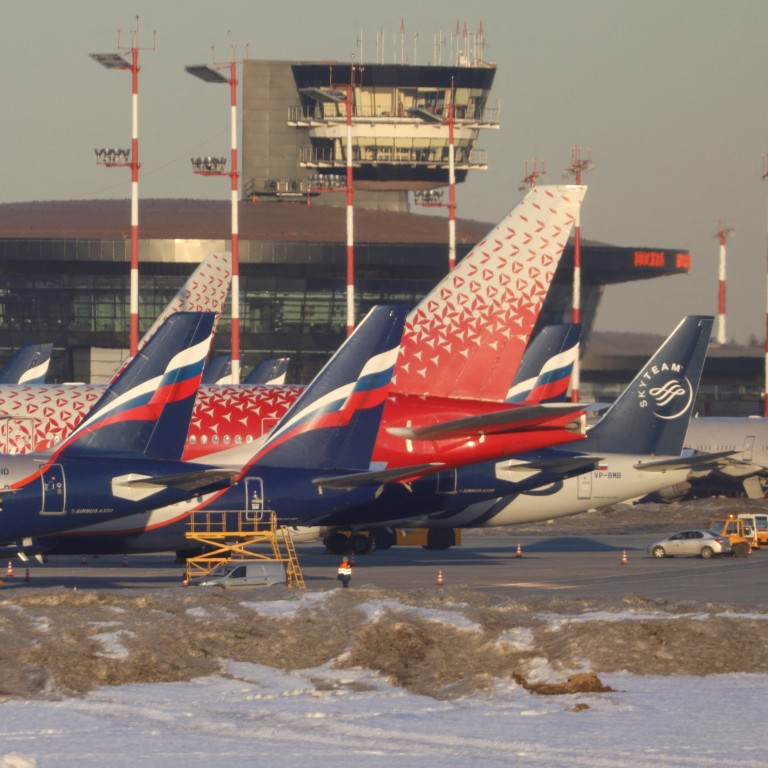 Ukraine war: global aviation industry takes another hit as more countries ban Russian flights
US has joined the EU, Canada and many others in banning Russian flights from their airspace as a response to invasion of Ukraine
Analysts say the flight bans are another blow to an aviation industry that was just beginning to recover from pandemic-inflicted damage
The air travel industry is set to take another hit following on from the Covid-19 pandemic, as more countries move to ban Russian planes from their airspace in response to the invasion of Ukraine.
"The sanctions and airspace bans [on Russia] will only exacerbate the damage already brought by Covid," said Shukor Yusof, founder of aviation consultancy Endau Analytics.
"We are in unprecedented times and aircraft financiers, lessors and manufacturers are scrambling to mitigate losses, and chart near-term strategies for their balance sheets to stay afloat. It is looking grim as this conflict is unlikely to be resolved any time soon."
"Whatever little recovery airlines had just started to see from Covid is now being pushed back, not by months but years. Russia is not Iraq or Afghanistan but a big geopolitical player that can hurt the global economy."
US President Joe Biden said in his
first State of the Union address
on Tuesday that the United States is closing its airspace to all Russian flights in response to Russia's invasion of Ukraine, joining many other nations including the UK, Canada and the European Union.
Before Biden's announcement, Russia had already closed its airspace to airlines from 36 countries, including all 27 members of the EU, in a retaliatory measure.
The Ukraine crisis is another blow to the global aviation industry, which was just beginning to recover from two years of Covid-inflicted damage, with countries just starting to ease strict travel restrictions.
Rob Morris, global consultancy head at Ascend by Cirium, said his firm's demand recovery scenario was for global traffic to recover to 75 per cent of 2019 levels by August 2022 due to encouraging signs of demand. This trend may now change.
"The conflict in Ukraine and consequent airspace restrictions coupled with resultant economic uncertainty in Europe and beyond and generally higher oil and fuel prices globally, significantly threaten that demand recovery," said Morris.
"It remains too early to model the scale of the impact, but it is already clear that unless there is some swift resolution, 2022 will be a more challenging year than we expected only last week."
The crisis in Ukraine
has unnerved global travellers and caused logistical problems for airlines, as Russian airspace is often used to connect Europe with Asia. Although China has not closed its airspace to Russian planes, people there are also concerned.
William Liu, who manages South American markets at a Hunan-based firm, said he is now concerned whether he will be able to return to China from Peru after buying a ticket to fly from Lima to Guangzhou that is expected to take off on April 15.
"We are travelling with Dutch flag carrier KLM and the plane is supposed to fly across Russia's airspace. There may be adjustments to the routes," said Liu.
Meanwhile China has yet to relax its zero-Covid policy to prevent imported infections, which means all international flights are still subject to stringent restrictions.
While there are still some flights from major Chinese cities, such as Shanghai and Beijing, to Russia's capital Moscow, there are often no return flights.
Travellers wanting to return to China usually have to explore complicated connecting flights, if available.
A diplomatic source based in Beijing, who declined to be named due to the sensitivity of the issue, said even though bans on Russian flights could hold back recovery from the coronavirus pandemic, it is an option that should be considered as "a matter of principle" to protest against the invasion of Ukraine.
The source said the fact more than 100 diplomats from some 40 countries walked out of a speech by Russian foreign minister Sergei Lavrov at the United Nations in Geneva, indicates that there is growing support from the international community to shun Russia.
US aerospace manufacturer Boeing said on Tuesday it was suspending parts, maintenance and technical support for Russian airlines, joining its competitor Airbus, a move that will make it difficult for Russian airlines to keep their Boeing and Airbus fleets in the air.
"These aircraft can be sent to, for example, Asia, for servicing, but it is a suboptimal solution," said Andrew Charlton, managing director of Aviation Advocacy.
"Flights to the Middle East, and importantly, Turkey, remain authorised and many are using these routes to enter or leave Russia. I understand leaving is more popular than entering currently."