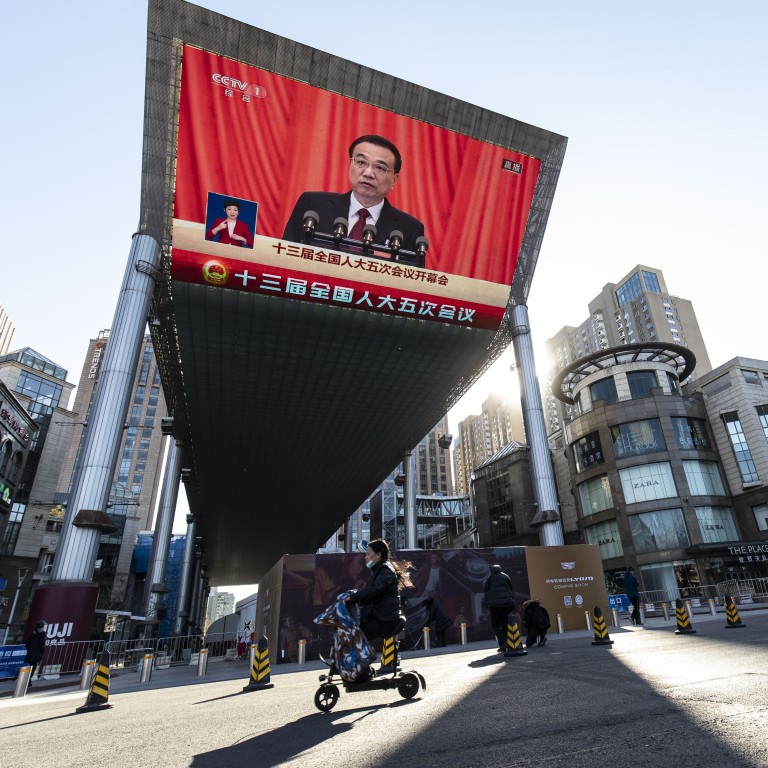 'Two sessions' 2022: self-reliance highlighted as China's top economic priority amid turbulent geopolitical times
Chinese Premier Li Keqiang puts the focus on secure industrial chains and technological breakthroughs at the opening of the National People's Congress
Government also offers range of incentives to stimulate innovation
China has underscored self-reliance in its economic priorities this year amid warnings of trade headwinds and geopolitical complexities.
At the opening of the annual
National People's Congress
on Saturday, Premier Li Keqiang announced new incentives in the nation's push for innovation and "faster breakthroughs" in core technologies, and highlighted the need for secure industrial and supply chains.
Li said the government would raise the tax rebate for small and medium-sized science and technology firms from 75 to 100 per cent and grant tax breaks for basic research to encourage innovation.
Beijing also plans to develop clusters of strategic industries such as aviation and marine equipment and vowed more support to the Greater Bay Area, Beijing and Shanghai to bolster innovation prowess.
"Our capacity to support innovation is lacking in key areas," Li said, delivering the government's annual work report to national legislators.
"All these measures amount to a large injection of government funding to support enterprises' innovation endeavours."
The incentives come as China aims for an economic growth target of
"around 5.5 per cent"
for 2022, down from 6 per cent last year.
In a separate report released on Saturday, the National Development and Reform Commission (NDRC) singled out a series of economic sectors for special attention.
The digital economy, biomedicines, high-end instruments, low-carbon energy transformation were also development priorities, it said.
Self-reliance has been a top government priority this year but the reports released on Saturday made no mention of "dual circulation", a national strategy putting greater economic focus on the domestic market.
The strategy was launched in 2020 amid heightened US efforts to contain China's tech sector but also triggered concerns overseas about its inward-looking approach and move away from export-oriented development.
Zeng Liaoyuan, an associate professor of information and communication engineering at the University of Electronic Science and Technology of China in Chengdu, said self-reliance was a security issue.
"China aims to improve science and technology and ensure its prowess and security," Zeng said.
Also on Saturday, the government said it would encourage top companies to safeguard the stability and security of industrial and supply chains, and urged chip makers to expand capacity "in an orderly manner".
China would also increase national reserves for key commodities to fend off risks, and to increase production of soybeans and oilseed crops to ensure stable production and sufficient supply of agriculture products.
"Commodity prices remain high and are prone to fluctuation and increasingly volatile and uncertain external markets. Energy and raw material supplies remain inadequate," it said.
China also said it would stabilise foreign trade growth and continue to attract foreign investment to advanced manufacturing, hi-tech sectors and inland areas.
Xu Hongcai, from the China Association of Policy Science, said there was still great potential in domestic demand.
"We have seen heightened uncertainties this year such as the elevated prices of commodities, coupled with the recent geopolitical conflicts," Xu said, noting the situation will put pressure on China's trade.
"Prices of grain, oil and natural gas have continued to surge … and the rate hike of the US Federal Reserve is expected to hit global capital flows, the exchange rate and financial markets."
"Over the past decade, domestic consumption has been the foundation for the national economy and the focus now is still on lifting consumption and investment."
Commerzbank senior economist Zhou Hao said security was the focus of China's economic policies, a concern that was amplified by the stalemate in the investment deal between China and the European Union and the unfolding Ukraine crisis.