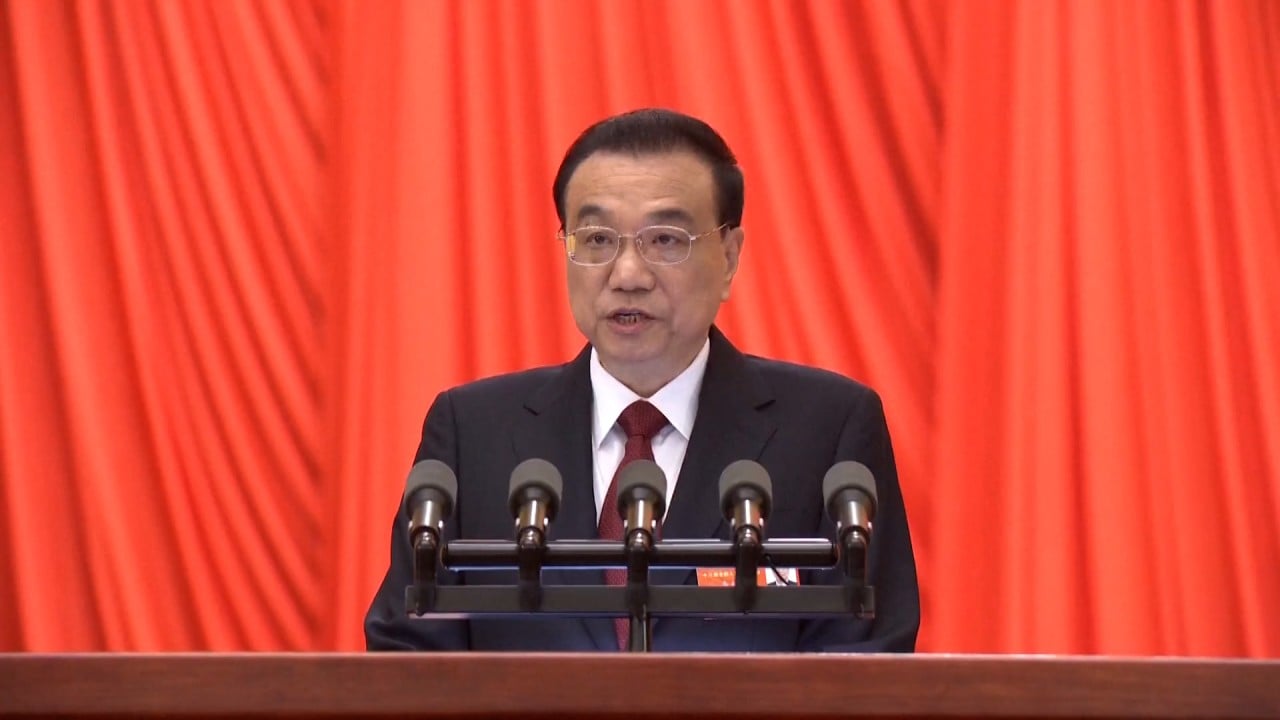 01:25
China aims for modest 5.5% GDP growth in 2022, citing economic pressures
China aims for modest 5.5% GDP growth in 2022, citing economic pressures
China GDP: Beijing strikes cautious note with 'around 5.5 per cent' economic growth target
Lowest annual gross domestic product (GDP) target since 1991 is still on higher end of expectations and comes as markets are roiled by Ukraine crisis
Despite China's experience in tackling major risks, great efforts will be needed to achieve the target, Premier Li Keqiang tells lawmakers
China struck a cautiously confident tone for its
economic growth
to lead the post-pandemic global economic recovery, while appearing to acknowledge the challenges posed by
growing disruption
from geopolitical conflicts.
China set its gross domestic product (GDP) growth target for 2022 at "around 5.5 per cent", or the upper end of the market forecast, according to the government work report delivered by Premier Li Keqiang to an annual legislative meeting on Saturday.
However, it also sounded the alarm about increasing headwinds.
Without mentioning external challenges such as
Beijing's rivalry with the US
and market disturbances sparked by Russia's invasion of Ukraine, Li said China had enough experience to address major risks and retained market potential, but great efforts would still be required to achieve the target.
The latest report also emphasised Beijing's aim that "the normal order of work and life must be ensured" as the Covid-19 pandemic drags on, with more targeted disease control.
It also marks the lowest annual gross domestic product aim since 1991, barring the suspension of target-setting in coronavirus-hit 2020, and during 2000-02 following the Asian financial crisis.
But the outlook was robust compared with market expectations, showing Beijing was trying to manage the current weak sentiment, said Zhou Hao, senior economist with Commerzbank.
The target falls within the upper limit of market expectations, which ranged from "above 5 per cent" to "around 5.5 per cent".
"The approach [for achieving the growth rate target] is clear," he said, with authorities expected to push infrastructure investment, ease restrictions on regional housing markets, and fine-tune Covid-19 policies to boost consumption demand.
A growth rate of 5.5 per cent would still be a substantial gain on the US$17.7 trillion GDP total reached last year. The Chinese economy saw a net increase of US$3 trillion in 2021.
Xiang Dong, deputy director of the State Council's policy research office, declined to elaborate on any impact of the Ukraine crisis.
The drafting of the government report had "taken into account all factors", he told a press conference later on Saturday.
Addressing National People's Congress deputies, Li said it was a "medium-high" GDP target, and was made keeping in mind the need to ensure economic and social stability – policymakers' top priority ahead of the Communist Party's national congress later this year, which is expected to see a twice-a-decade leadership reshuffle.
Policymakers have also signalled more fiscal spending, tax cuts and readiness to expand their toolbox to support growth this year.
Li also underscored the need for risk control in the financial sector, including strengthening risk alerts and setting up a financial stability fund to fend off systemic risks.
Zhou at Commerzbank warned that local governments' wallets might still be strained, and efforts to achieve the growth target were likely to fuel the property bubble, leading to the re-emergence of deleveraging problems.
"The leverage ratio is likely to rise 2 to 3 percentage points this year. At least the capital markets will worry about whether this situation is reasonable … or whether it will lead to another rapid contraction in the economy at a certain stage," he said.
As for the Ukraine crisis, although the potential short-term risks were all manageable, the longer the time horizon, the greater the dangers to China's economy and its international influence, according to Scott Kennedy, China analyst with Centre for Strategic and International Studies in Washington.
"The real danger here is whether China would risk becoming the target of Western secondary sanctions in order to maintain its support for Moscow," Kennedy wrote in a note on Thursday.
Zhang Zhiwei, chief economist at Pinpoint Management, said China might struggle to achieve its 2022 aim.
"It will be a challenging year for the government to achieve this growth target," Zhang said.
"The housing sector is slowing down, and the Covid pandemic has constrained the service sector severely. It is not clear how much infrastructure investment can grow in 2022 to offset such adverse effects from housing and Covid."
Top planning agency, the National Development and Reform Commission (NDRC), said China would use the growth target to mobilise all sectors of society and drive the push for stable employment.
"China's economic development has strong stamina and great resilience, and market entities are full of vigour and the ability to resist risks are strong, that is where our confidence in achieving the target of 5.5 per cent economic growth lies," NDRC head He Lifeng said on Saturday.
There is a greater emphasis on employment in the latest government report, which has an additional individual section on "maintaining job security", placing it second on the list of top priorities, after stable macroeconomic performance.
"The task of stabilising employment is more formidable," Li said.
The aim is to create over 11 million new urban jobs, his report said, underlining that "over 10 million students are due to
graduate from college this year".
Last year's report did not mention the number of graduates.
However, Zhou said job creation for young people was extremely difficult, and the big question would be the actual quality of employment on offer.