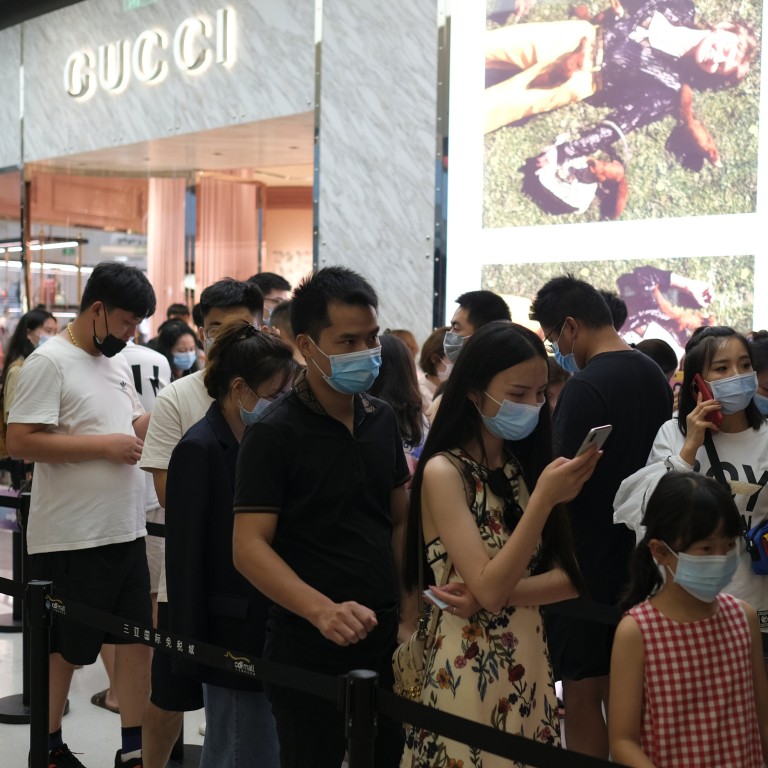 China's coronavirus travel ban drives boom in luxury e-commerce, duty-free shopping
Though overall consumption remains soft in China, sales are strong on cross-border e-commerce platforms and in the duty-free shopping hub Hainan
Many global luxury brands have begun adjusting their China strategies, because many Chinese who would normally shop abroad are spending locally
Chinese consumers are buying more foreign goods online and at mainland duty-free stores as international travel restrictions stretch on, prompting global luxury brands to tailor their offerings to get a slice of the local market.
Chen Hua, an immigration consultant from Guangdong, used to travel to Hong Kong and Japan to shop for daily necessities such as laundry detergent and premium cosmetics, sometimes buying enough to last half a year.
But since the pandemic started, she has started shopping on Feelunique and Lookfantastic, e-commerce platforms that carry mid to high-end cosmetic goods mostly from the United States and Europe.
"I think it's about the same cost and even more convenient than when I shopped in Hong Kong or Japan before the pandemic," Chen said.
"My friends and I have spent anywhere from a few thousand to tens of thousands of yuan each on these cross-border e-commerce platforms over the past two years … even if we can travel abroad again in the future, I think we will still keep shopping on these platforms."
Compared with 2020, the daily spending of China's middle class rose significantly last year, according to the 2021 White Paper on the New Middle Class released by Wu Xiaobo Channel, an independent financial media company. Some 34 per cent of the group spent more than 10,000 yuan (US$15,690) monthly, up 10 per cent on 2020.
The average pre-tax annual income of wealthy middle-class families is 660,000 yuan, with an average household net worth 4.96 million yuan, according to the white paper.
Though the overall recovery of consumption
remains weak
in China, strong sales on cross-border e-commerce platforms and booming duty-free shopping in Hainan province show that imported goods are still in demand by Chinese consumers.
Shanghai-based Cyril Drouin, chief e-commerce officer for Greater China at Publicis Communications, which advises foreign brands, said that luxury sales are still doing well in China.
"[There's] a strong feeling of self-indulgence in complicated times," he said. "So much uncertainty has rarely been seen before, so consumers are pleasing themselves like there is no tomorrow."
Drouin said luxury brands have also been investing to improve their e-commerce design as a way of enhancing consumer experience.
"For example, we see Burberry invested heavily on digital transformation on their mini programme and its flagship store on Tmall," he said.
China's cross-border e-commerce consumers exceeded 200 million in 2020, with the market expected to be worth more than 300 billion yuan this year, according to a forecast report by Tmall Global, the country's biggest cross-border e-commerce platform.
Since China announced in June last year it would turn Hainan into the world's largest free-trade port, domestic duty-free sales have also been booming.
Duty-free sales in the island province surged to 50.49 billion yuan last year, growing 83 per cent from a year earlier.
In particular, Chinese consumers are buying more high-end products at home. Before the pandemic, 32 per cent of luxury goods were bought in the mainland by Chinese consumers, according to estimates from Shanghai-based Gentlemen Marketing Agency. Last year that figure jumped to 95 per cent.
Tax-free shopping outside airports is relatively new in China. Since 2020, the central government has been encouraging local authorities to develop duty-free shopping facilities to boost domestic consumption – a key part of the new "dual circulation" economic strategy.
Hainan, which is known for its tropical climate and beach resorts, has become a shopping and tourist hotspot.
At the island's Sanya International Duty Free City, shoppers can find everything from skin care products to mobile phones, as well as jewellery from more than 650 brands including luxury lines from MaxMara, Cartier and De Beers.
Some of China's most established cities like Shanghai, Beijing, Shenzhen and Guangzhou are also planning duty-free shopping zones.
Many global luxury brands have begun to adjust their China strategies as a result of international travel restrictions, as most consumers are now spending locally, said Olivier Verot, founder of the Gentlemen Marketing Agency.
"It always implies exclusive editions, exclusive campaigns and localised content and offerings," Verot said.
What's more, China's burgeoning middle class can be fickle when it comes to brand loyalty, as there are
more local offerings
vying for their attention.
Wang Ying, a sales manager for a company in Guangzhou, said she has been trying trendy domestic cosmetic goods, rather than her go-to Japanese labels – and is no longer loyal to any brand.
China's share in the global
luxury goods market
grew just marginally to 21 per cent last year from 20 per cent in 2020, according to a report by Bain & Company released in January. However, the consulting firm forecast that China would become the world's largest luxury goods market by 2025, regardless of future international travel patterns.
Yanie Durocher, founder of Shanghai-based POMPOM creative agency, which works with fashion and lifestyle brands, said "China pride" was a growing trend in which Chinese traditions, dynasties and family values are key elements in localising marketing content.
"It's not something that we used to see before," Durocher said. "Like what it means to be Chinese today, creating content around that and presenting it in a proud way."