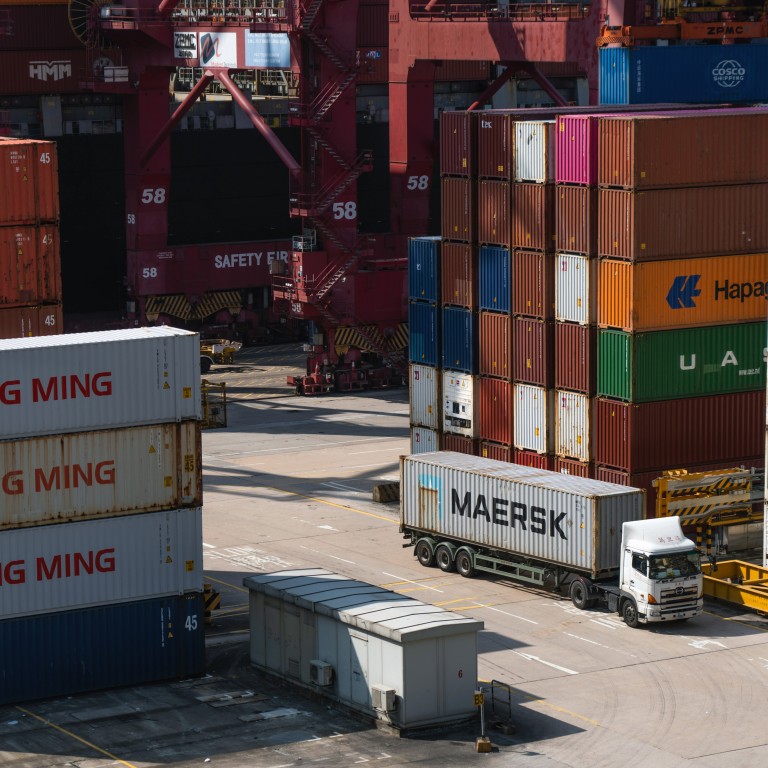 China's coronavirus lockdowns jam ports in Hong Kong and Shenzhen, risking further 'chaos' for supply chains
Shenzhen and Hong Kong ports are seeing their worst delays in months, as coronavirus restrictions, including lockdowns, affect normal operations
Lockdowns will delay container movement at southern Chinese ports, which will impact shipments to the US ahead of summer, analysts say
Congestion at ports in Shenzhen and Hong Kong reached an all time high this week as authorities implement stringent coronavirus restrictions to contain local outbreaks, posing a threat to shipments heading to the United States over summer, analysts said.
The latest round of lockdowns in mainland China has been a major setback to global supply chains, which have been slowly recovering from the initial impact of the virus that upended global trade and transport two years ago.
"Shippers must think ahead and prepare for the worst as port congestion worsens, freight rates shoot up and capacity deteriorates," said Dr Johannes Schlingmeier, co-founder and CEO of Container xChange, an online marketplace for container logistics.
The delays come as China battles its largest surge in coronavirus cases since the pandemic emerged. Authorities are clinging to a
zero-tolerance approach
to the pandemic that relies on stringent lockdowns, mass testing and quarantine in government facilities.
Although Shenzhen has been gradually lifting a week-long lockdown and its port has remained open, workers have been ordered to participate in mass testing, affecting productivity and increasing congestion.
Several container ships are sitting idle outside the Port of Shenzhen – the world's fourth busiest in terms of container throughput and a key export hub for Chinese manufactured goods – as more vessels from the US arrive to be loaded.
"If they persist, the lockdowns will delay container movement significantly at these ports, which will have the maximum impact on the US shipments," said Schlingmeier.
"In the long term, this will create more chaos as rates climb higher, capacity tightens and shipments are delayed.
"The shippers will need to plan their cargo much more in advance in 2022 than last year, given the geopolitical scenario, the upcoming US west coast contract negotiations in July and the rail route disruptions."
It is the most congestion both Shenzhen and Hong Kong ports have seen in months, with more than 170 vessels anchored or loading off both hubs, the largest number since
typhoon Kompasu
led to a string of delays last October.
Current delays are nowhere near the levels seen in June last year when a coronavirus outbreak among workers at
Shenzehn's Yantian Port
created a two-week backlog affecting 300 container vessels.
The Port of Shanghai, which is the world's largest in terms of container throughput, is still operating as usual, but infections in the city are rising and the government is responding with more containment measures.
China is seeing 14 per cent more container vessels arrive than the median count from April last year, while ships arriving at US ports have dropped 6.2 per cent from the median, Bloomberg said.
March is a crucial time of the year for most companies, which begin to ship goods in preparation for the summer peak season in the northern hemisphere.
Lockdowns will not only slow production, but also affect the movement of cargo.
The
cost of shipping containers
has dropped by 12-18 per cent since February at the ports of Shenzhen, Qingdao and Ningbo, Container xChange said. But that may not last as lockdowns are lifted.
Once Chinese ports resume full operations, there will be increasing pressure to deliver more containers, which will lead to average container prices rising in the next few months in the build up to pre-peak season, the online logistics platform said.
Ports in the US will not feel the pinch for another three to five weeks until the backlog recovers.
"The biggest port complex in the US, Los Angeles and Long Beach, is finally showing signs of heading towards the 'new normal', whatever that might look like in the post-pandemic landscape," said Shabsie Levy, CEO and founder of freight forwarding platform Shifl.
"Transit times and delays at the berth are both moving in the right direction with gate-out times reaching the sorts of levels we were used to in the busiest months pre-pandemic."
Additional reporting by Bloomberg