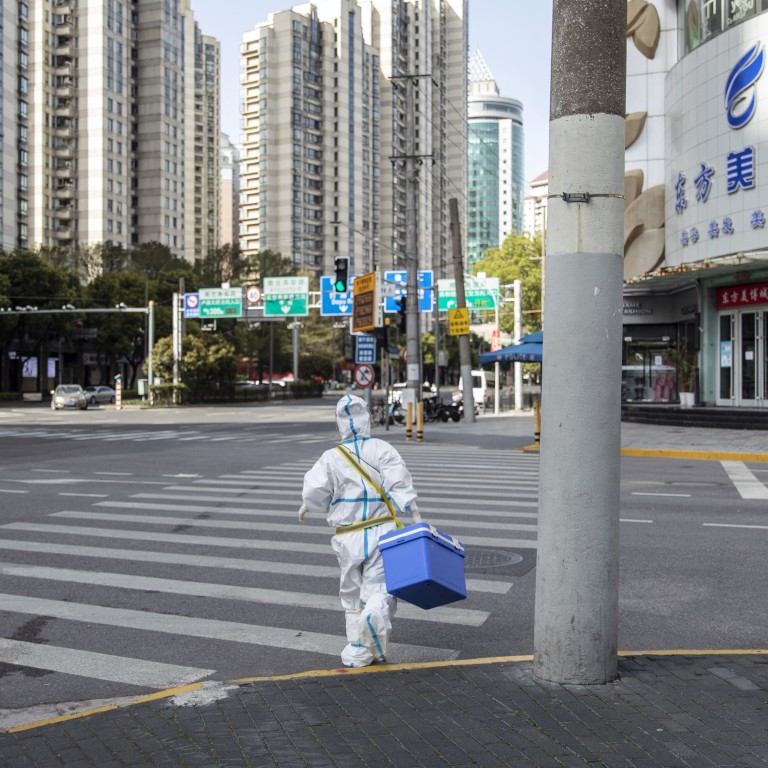 Coronavirus: Shanghai lockdown heaps pressure on China's GDP growth, with 'more uncertainties' to come
China could see as much as 10 percentage points shaved off economic growth on a quarterly basis if zero-Covid is maintained, Everbright Securities says
The world's No 2 economy is facing its worst virus outbreak in two years and has imposed widespread lockdowns, including in the commercial hub Shanghai
China's continued use of lockdowns to eliminate a new wave of coronavirus infections sweeping the country will take a heavy toll on the economy that could be similar to the aftermath of the initial 2020 outbreak, analysts said.
Beijing has set an economic growth target of "
around 5.5 per cent
" for 2022, but clinging to its zero-Covid strategy could slash growth by as much as 10 percentage points on a quarterly basis, Everbright Securities said this week, raising questions over whether China can hit its lowest annual gross domestic product (GDP) target since 1991.
China's economy was hit hard in the first quarter of 2020, shrinking by 6.8 per cent, after the coronavirus triggered a near-nationwide lockdown over the period. The world's second largest economy is facing a new challenge as virus outbreaks pop up around the country, including in its international financial and trade hub, Shanghai.
Analysts said the current outbreaks – the worst in two years for China – will put more pressure on a slowing economy in coming months and authorities will need to respond with more easing to cushion the blow.
Another estimate by French bank Natixis said the sharp reduction in mobility due to lockdowns and transport restrictions could shave off 1.8 percentage points to GDP in the first quarter.
"What seems clear now is that achieving the 5.5 per cent growth target set by the government work report is facing increasing headwinds, as China's GDP will be under more pressure than earlier expected for the first quarter and more uncertainties will probably arrive in the following quarters," said Natixis on Wednesday. China is set to release its first quarter economic data on April 18.
"As if this were not enough, the external environment has deteriorated, which was probably not fully priced in when the government's annual target was prepared."
Headwinds for China's economy were highlighted on Thursday as the official manufacturing purchasing managers' index (PMI), which measures sentiment among factory managers, fell to a five-month low.
Business sentiment in the services and construction sectors also fell to the lowest point since August.
"Taken together, the official composite [purchasing managers' index] declined from 51.2 to 48.8, its second lowest reading on record," said Julian Evans-Pritchard, senior China economist at Capital Economics.
"This suggests that the economy is contracting at its fastest pace since the height of the initial Covid-19 outbreak in February 2020.
"The PMIs probably understate the hit to activity last month. The services index remained above the low that it hit last August during the Delta wave. That's probably because the survey was conducted before the worst disruptions."
In the near-term, Evans-Pritchard said the outlook remains "highly uncertain" and will largely depend on how the virus situation develops. Even if the outbreak is brought under control, it will take a while for the economy to get back on track, he added.
Shanghai authorities ordered a snap two-stage lockdown covering different parts of the city across eight days on Sunday.
On Wednesday, authorities began locking down some western areas of the city two days ahead of schedule, with new Omicron cases in China's most populous city now making up more than 70 per cent of total new infections.
"The authorities in Shanghai will hope that the swift nature of the lockdown will cut transmission links, as it did for Shenzhen," Moody's Analytics said on Wednesday.
"With China's largest city closed for nine days, there will undeniably be an economic blow that will follow into the second quarter of the year."
Swiss bank UBS estimated that GDP growth in the first quarter may have slowed sharply to 2-3 per cent on a quarter on quarter basis from 6.6 per cent over the last quarter of 2021.
"With downward growth pressures increasing from Covid restrictions, we believe China's government is likely to ease policies further," UBS said this week.
The economic costs of maintaining its zero-Covid strategy may be growing, but analysts believe Beijing is unlikely to change its stance any time soon.
Everbright Securities estimated that if China gives up on its zero-Covid policy, GDP growth could drop by 2 percentage points quarter on quarter, with a smaller impact on consumption. But the impact on exports would be more severe.
"On the whole, if the pandemic spreads on a large scale, it will have varying degrees of impact on the economy," the brokerage said in research led by chief economist Gao Ruidong.
"Therefore, the opening up of the country [to live with Covid] should not only consider medical resources and emergency response, but also its impact on economic growth. Active macro policies are needed to mitigate the impact on the economy."
China's Premier Li Keqiang reiterated on Wednesday that China will stick to its full-year growth target despite new challenges and increased downward pressure on growth.
At a State Council meeting, Li said China will prioritise steadying growth and draft contingency plans to deal with the possibility of greater uncertainties.
Policies to stabilise growth should be rolled out as early as possible, while measures that could dampen market expectations must be avoided, he said.
"We believe the decision reflects caution on behalf of the PBOC. Markets have been extremely volatile in recent days, with Chinese equities entering oversold territory on March 15," said Swiss private bank UBP in a note on Tuesday.
"We expect the PBOC will follow through with an additional 10 basis points rate cut in April, once the dust settles and they have updated inflation projections in the aftermath of the Ukraine invasion," it said.
The PBOC has also been on high alert as another rate increase by the US Federal Reserve to tackle inflation could exacerbate outflows from emerging markets – a move that may also weaken the yuan.
China's central bank vowed on Wednesday to provide more support to the economy in a separate statement issued after a quarterly meeting of its monetary policy committee, reaffirming that it will step up monetary policy to boost market business confidence.