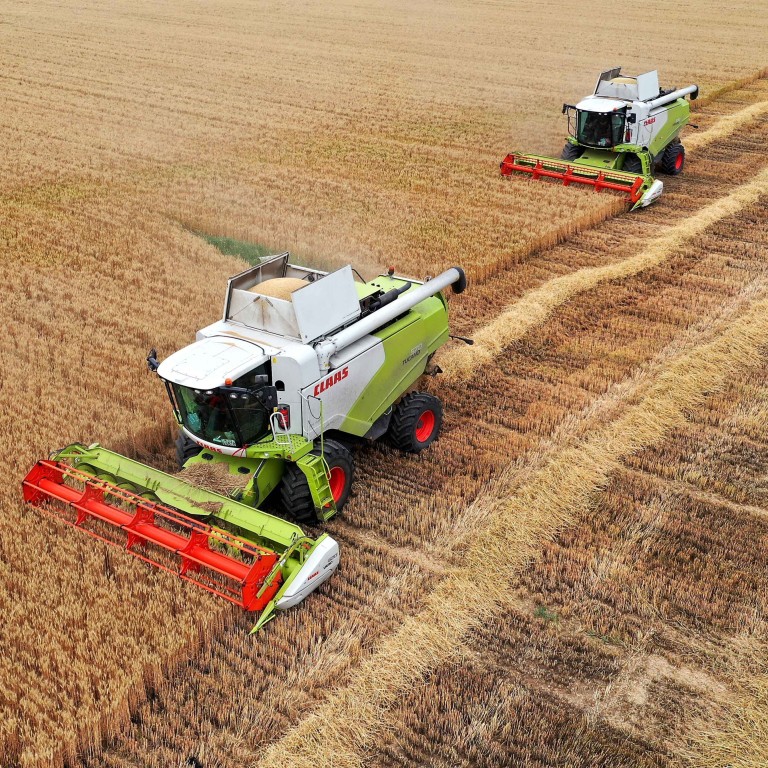 China food security: farmers in Jilin leave fields fallow as lockdown threatens corn supply
Jilin province is home to 4 million hectares (9.9 million acres) of high-quality corn fields that account for 10 per cent of the national total
But lockdowns have prevented farmers from tending fields and bans on interregional travel are disrupting transport of agricultural goods
Food security concerns are mounting in China as lockdowns show no signs of easing in the major corn-growing province of Jilin ahead of spring ploughing.
In some parts of the province like Lishu county, an important corn production area that
President Xi Jinping
inspected last year, crop-straws from the previous harvest litter the ground because farmers have not been allowed to leave their houses.
"There are crop-straws all over the fields now," said Dong, whose family farms two hectares (5 acres) of corn fields in Lishu. "It is impossible to plant the seeds."
Dong, who gave only his surname, said farmers would normally be stubble-cleaning, ridging and fertilising to prepare for seeding at the beginning of May.
"Now no one is allowed to go out," he said. "And the agricultural stores have no seeds and fertilisers. Even if they have, farmers can't go out to buy."
Jilin province is home to 4.2 million hectares (10.4 million acres) of corn fields that account for 10 per cent of the national total, official figures showed.
"It sets the golden standard for feeding corn in China," said Lin Guofa, a senior analyst at consultancy Bric Agriculture Group.
But with the province effectively
sealed under lockdown
and travel restrictions since March 14, concerns are mounting about the coming harvest. Already, the transport of farm goods has been severely disrupted.
Infections in Jilin hit 2,472 on Monday, with clusters in the capital Changchun and the city of Jilin. The rest of the province has recorded only a few new infections each day in recent weeks, but local authorities have locked down all cities, counties and villages.
Beijing is refusing to walk back from its "
dynamic zero-Covid
" policy, prompting most local governments around the country to take precautionary measures to clamp down potential outbreaks, including with movement restrictions and lockdowns.
The road vehicle freight flow index for Jilin, which gauges the number of trucks running in a specific region, was 16.12 on Friday, dropping by 86.7 per cent compared to the same period last year, according to Wind data.
"There are some hurdles when transporting agricultural materials," Lin said. "But the seed planting time of Jilin is at the end of April or the start of May, so there is still time to fill the gaps."
In China, where 272.6 million tonnes of corn were produced in 2021, around 60 per cent of the grain is used as feed, primarily for hogs, according to Lin. The remainder is usually processed into products like starch, starch sugar and fuel ethanol.
"Feeding corn is still in tight supply," he said. "But it will depend on the situation of the hog market, where there is an excessive supply, and the excessive capacity might be gradually cut in the rest of the year."
China, the world's biggest grain consumer, imported 28.35 million tonnes of corn in 2021, up 152 per cent from a year earlier, with Ukraine and the United States the biggest suppliers, according to customs data.
Following Russia's invasion of Ukraine, Beijing has doubled down on calls for self-reliance in grains and fertiliser.
The two countries represent more than half of the world's supply of sunflower oil and about 30 per cent of the world's wheat. They are also key players in the
global fertiliser supply chain.
Chinese Vice-Premier Hu Chunhua said on Friday demand for corn outstripped supply in China at the moment and the country must work together to boost output above last year.
Rural pandemic prevention needs to be coordinated with agricultural production to ensure that crops are planted without delay and spring ploughing is completed, Hu said.
Authorities in Jilin issued a statement on Monday saying farmers locked down in urban areas can return to their hometowns to work from Tuesday, provided they meet certain conditions, including a negative coronavirus test and no close contact with anyone infected.
On Monday, provincial officials said pandemic control and spring ploughing were both priorities.
"Bearing in mind that food security is the 'priority of the country' … the government will strengthen the supply of important elements such as seeds, pesticides, and fertilisers," said Zhang Baozong, an official with Jilin's propaganda department.
Additional reporting by Orange Wang