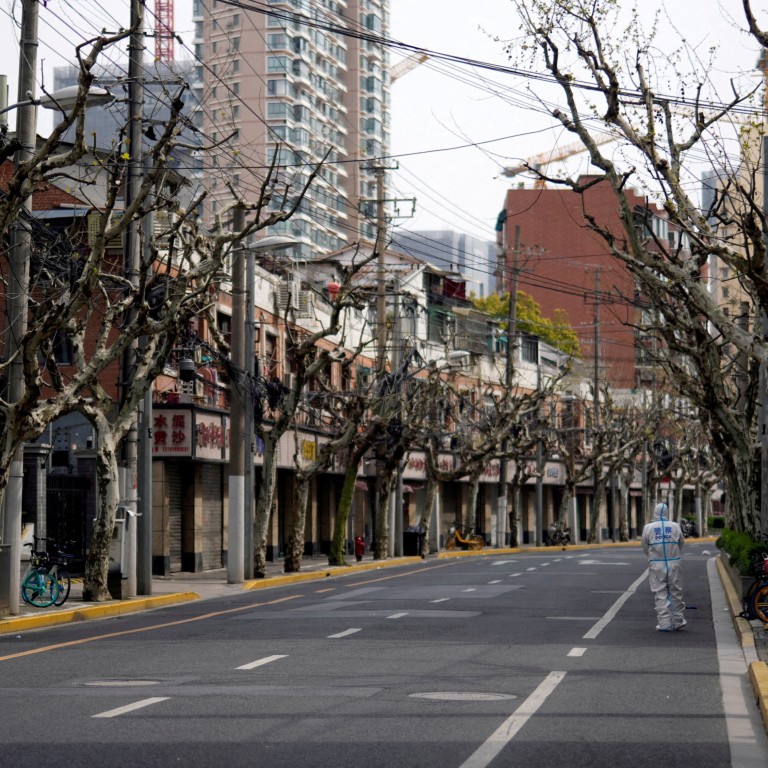 China's European firms warn 'on-off economy', Covid lockdowns cloud business outlook
Beijing's zero-tolerance Covid policy has resulted in strict lockdowns and mass testing in major cities such as Shanghai, where EU firms have Asia headquarters
As long-term strategy for dealing with the virus appears to be unclear or perhaps unsustainable in China, European businesses say more needs to be done
European businesses in China are crying out in the face of supply-chain disruptions and a growing disconnect from their customers and headquarters, as the nation's prolonged zero-Covid campaign makes their daily operations "unplanned and unpredictable".
With the coronavirus haunting 29 of China's 31 provincial-level jurisdictions, including the commercial hub of Shanghai, many
European companies
are worried that there is no clear strategy or time frame in place for a return to normality.
Their subsequent suggestions – for better communication, stronger vaccination efforts and "a different mindset" to deal with the uncertainties – come as the
economic costs are mounting
amid Beijing's determination to contain the highly contagious Omicron vibrant with mass testing and forceful lockdowns.
"[Member companies] are mostly concerned about the future, because they don't see a strategy that will end this kind of on-off economy," Harald Kumpfert, who chairs the European Union Chamber of Commerce in China (EUCCC) Shenyang chapter, said on Wednesday during a media event.
"We need the business environment to become again predictable – an environment that is conducive for planning – and a clear strategy to get out of the Covid situation, and with better vaccinations and with other measures," Kumpfert said.
Christoph Schrempp, chair of the chamber's Tianjin chapter, said that 70 per cent of its member companies were not really able to meet with customers, and were effectively decoupling from the operations of their headquarters abroad.
"If you are not able to really reach out to your customer and stay in close contact with them, that might lower your business perspective. For sure, we still suffer from the very stringent visa and travel restrictions," he said.
"Since January, we have already taken several hits on our profitability and our performance, as daily operations become really largely unplanned and unpredictable."
Beijing has repeatedly expressed its desire to lure and retain foreign investors, as it tries to stay connected with the rest of the world amid the decoupling attempts of China hawks.
However, Beijing is now prioritising a "dynamic zero-Covid" policy, which involves containing local outbreaks with strict preventive measures, despite much of the rest of the world embracing a live-with-the-virus mentality.
The lockdown and subsequent chaos in Shanghai, where the headquarters of many European firms are located, has been particularly impactful.
Bettina Schoen-Behanzin, a vice-president on the executive committee of the European Chamber, noted that the
current lockdown
and subsequent logistical nightmare is "the final nail in the coffin" for the city's attractiveness to the rest of the world.
"If Shanghai really still wants to be a contender as a potential hub for Asia headquarters, we really need to shift away from mass testing and lockdowns, and we have to implement a strategy that prioritises vaccinations instead," she said.
The widespread lockdown has taken a heavy toll on the world's second-largest economy, with the Caixin/Markit services purchasing managers' index for March plunging into
contractionary territory of 42
from 50.2 a month earlier, marking the sharpest activity decline since early 2020.
EUCCC president Joerg Wuttke warned that China might be the last country to open up, and he noted that India has basically reopened, with hundreds of inbound flights a week.
"Now it has reversed – the world gets back to normal and China enters the crisis, possibly with a two-year delay of what other countries went through," he said.
Wuttke called for better distribution of vaccines among senior citizens and for a better understanding of Omicron, which is widely regarded as a stronger sort of flu in Western countries but treated as a plague in China.
He also urged Chinese authorities to better educate the public and help people get "more comfortable living with this kind of uncertainty".