Trade
Get more with myNEWS
A personalised news feed of stories that matter to you
Learn more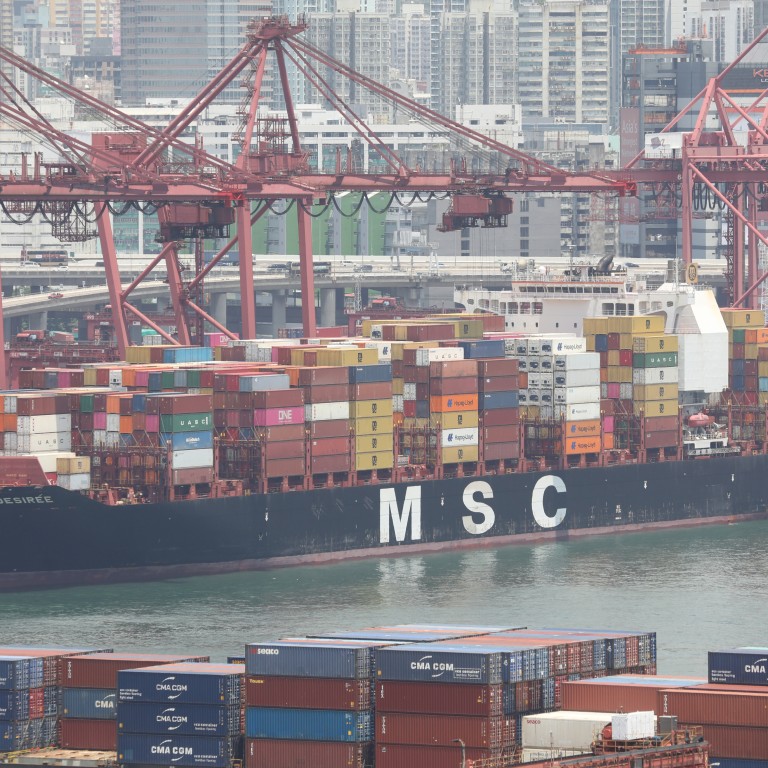 Explainer

|
What is IPEF, and will it help the US counter China's influence in the Asia-Pacific?
The Indo-Pacific Economic Framework is widely seen as an effort by the US to counter China's influence in the Asia-Pacific region
It seeks to establish trade rules, covering areas from data protection to carbon emissions, but it does not offer incentives like greater market access to the US
The rivalry between China and the United States has escalated in recent years and is set to intensify with the launch of multiple trade groupings in Asia.
The economic potential of the region is considered massive, with a young population and growing middle class. But stronger ties with countries in Asia go beyond economic benefits and involve geopolitical security dynamics.
What is IPEF?
IPEF is seen as reflecting US ambitions to solidify ties with key economies in the Asia-Pacific by building a supply chain that excludes China.
In October last year,
President Joe Biden
said at the East Asia Summit: "The US will explore with partners the development of an Indo-Pacific economic framework that will define our shared objectives around trade facilitation, standards for the digital economy and technology, supply chain resiliency, decarbonisation and clean energy, infrastructure, worker standards, and other areas of shared interest."
US Secretary of Commerce Gina Raimondo and Trade Representative Katherine Tai visited countries in the Asia-Pacific in the following months to secure their participation in the framework.
Details have yet to be made public, but IPEF differs from a traditional trade bloc based on free-trade agreements. It seeks to establish trade rules, covering areas from data protection to cutting carbon emissions. Member countries can opt to participate in parts of the framework.
William Alan Reinsch, a senior adviser and Scholl Chair in International Business at the Centre of Strategic & International Studies (CSIS), said in a January report the framework would help bolster the US presence in the region.
"The United States has deep and abiding interests in the Indo-Pacific region, which accounts for roughly half the world's population, economic output and trade, and where there is a fierce competition over whose economic rules and norms will prevail," he said.
Which countries are taking part?
The US expects allies such as Japan, South Korea and Australia as well as key countries in Southeast Asia to be involved in the initiative.
While it is centred on the Indo-Pacific, it is unclear whether India will take part. Negotiations are expected to kick off in the coming months, aiming to set up a basis for the initiative by 2023.
The US and China have attempted to secure the support of middle powers to increase their influence in the region. Japan and Australia have sided with the former, while the decision of others have been less clear.
Some experts said these economies should not feel obliged to choose one over the other. "For these countries, it is important to take an open stance toward both sides," said Sung Tae-yoon, professor of economics at Yonsei University in Seoul.
What are the sticking points?
Governments in the region have claimed that IPEF does not offer crucial incentives for participation, such as greater access to the US market.
And with IPEF set to be based on a presidential executive order, it could be discarded by the next administrations as it is not a senate-ratified treaty.
It is also unclear whether countries with deep trade relations with China will be willing to take part in the anti-Beijing coalition.
"The IPEF holds promise, but it will need to be well engineered and managed if it is to advance US economic and strategic interests, become a credible alternative to other regional initiatives, and be seen by allies and partners as a durable US commitment to the region," said the CSIS report.
What alternative trade agreements already exist?
Washington is not part of key regional trade blocs such as the Beijing-led Regional Comprehensive Economic Partnership (RCEP) or the Comprehensive and Progressive Agreement for Trans-Pacific Partnership (CPTPP), formerly the Trans-Pacific Partnership (TPP), which the US pulled out of during the presidency of Donald Trump.
RCEP is the world's largest trading bloc
, with 15 member states centring on the Association of Southeast Asian Nations (Asean) and including major non-Asean economies such as China, Japan, South Korea and Australia.
The grouping, first discussed at an Asean Summit in November 2011, was signed in November 2020 and went into effect in January this year.
RCEP is composed of developed economies and developing countries, which are expected to create synergy, as technology is merged with abundant natural resources.
Aside from economic benefits that come with slashing tariffs on imports, the partnership seeks to set up trade rules for member states.
Meanwhile, the CPTPP has 11 signatories but spans a greater area as it includes economies in North and South America bordering the Pacific as well as countries in the Asia-Pacific. The US had been a member of its first incarnation, the TPP, which was signed in 2016.
The Obama administration had pushed the TPP to increase US influence in the Asia-Pacific and benefit from the free flow of goods and services in what was meant to be a single market.
But the
US withdrew from the TPP
immediately after Trump's election, amid nationalistic sentiment focusing on protecting American jobs.
Since the CPTPP was signed in March 2018 and went into effect in December of the same year, more economies have applied for membership, including Britain, China and Taiwan. South Korea also plans to apply.
Japan, as the leading economy in the bloc, has shown support for Britain's membership. A new country's entry requires the approval of all 11 members. But Japan and Australia have been less welcoming toward China.