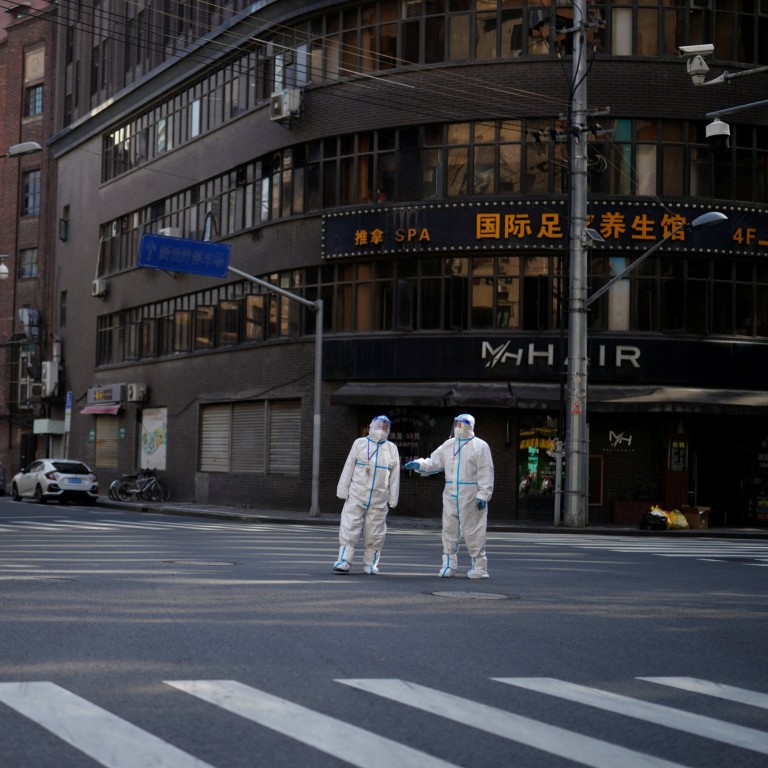 China GDP: IMF slashes growth forecast as coronavirus outbreaks, zero-Covid policy 'increase uncertainty'
The International Monetary Fund has cut China's gross domestic product growth estimate from 4.8 per cent to 4.4 per cent
The revision comes amid intense efforts by state media to play down concerns about the country's slowing growth outlook
China's economy could endure more pain in coming weeks as Beijing pushes to eliminate coronavirus outbreaks, the International Monetary Fund (IMF) said on Tuesday, as it slashed this year's growth forecast for the world's second largest economy.
The IMF revised down China's gross domestic product (GDP) growth estimate for 2022 from 4.8 per cent in January to 4.4 per cent, citing a "worsening" economic slowdown.
The IMF expects a prolonged downturn in China that could expose structural weaknesses such as high local government liabilities, property developer leverage, household debt and a fragile banking system.
"In addition, the combination of more transmissible variants and the strict zero-Covid policy could continue to hamper economic activity and increase uncertainty," the IMF said in its latest World Economic Outlook.
"Larger disruptions could impact key commercial activities, including through port lockdowns."
The revision comes as Beijing scrambles to counter economic headwinds and amid intense efforts by state media to play down concerns on the growth outlook.
Despite relatively strong headline growth, the economy slowed sharply in March as China battled with its worst Covid-19 outbreaks in two years.
A piece from the official Xinhua News Agency on Tuesday, citing authoritative sources, defended China's measures, saying people's lives were a priority and that Beijing is able to strike a balance between economic growth and pandemic control.
"The closure and control measures will inevitably bring about short-term economic impact, but China's anti-pandemic practice further confirms that the temporary control measures are needed so that easing can take place," said Xinhua.
"We should keep the dynamic zero-Covid policy to contain the current pandemic as soon as possible, meanwhile we have to grasp the window of opportunity in the second quarter to implement all measures to stabilise economy."
The full impact of China's hardline containment policies are unlikely to be reflected in economic data until later, according to analysts. But as challenges mount, debate is raging over whether an immediate jolt of stimulus is needed to offset even more hardship anticipated in the second half of the year.
"Economic data in April is set to worsen further, as the Shanghai lockdown only started from March 28," said Macquarie Group on Monday.
"Omicron and the Ukraine war must have caught China's policymakers by huge surprise, only days after they announced the ambitious growth target on March 5.
"But in a year of significant political importance, it's hard for them to tolerate the failure in either Covid-zero or the growth target."
Standard Chartered slashed its GDP growth forecast for the second quarter to 3.5 per cent from 5 per cent year on year.
The investment bank also cut its full-year forecast to 5 per cent from 5.3 per cent, citing ongoing Covid-19 outbreaks and stringent lockdowns that may weigh on the economy in the coming weeks.
China's accommodation and catering sector declined by an inflation-adjusted 0.3 per cent in the first three months of the year to 386.1 billion yuan (US$60.5 billion) from a year earlier – the first contraction since 2020, the National Bureau of Statistics (NBS) said in a statement on Tuesday.
NBS data also showed that the jobless rate in 31 major cities surged to a record high of 6 per cent, surpassing the previous peak of 5.9 per cent in May 2020.
Power production, a key indicator of industrial activity, slumped to zero from a growth of 4 per cent year on year from January and February.
Xinhua acknowledged the challenges facing the economy have increased amid strict pandemic prevention, while shrinking demand, supply shocks and "weakening expectations" continue to persist.
The news agency said pressure on employment was mounting and stronger tools were needed to stabilise job creation.
Anticipating slowing trade growth compared to last year, Xinhua said disruptions to production and transport, coupled with surging shipping fees, would further affect exports and imports.
Authorities must also stabilise business expectations, closely watch markets to prevent big price swings and push ahead with reforms to retain foreign firms, Xinhua said.
The PBOC can still lower the LPR at the April fixing on Wednesday when it announces the one-year rate, on which most new and outstanding loans are based, and the five-year rate, which is a reference rate for mortgages.
Nine of 16 economists surveyed by Bloomberg expect the one-year LPR to be cut by 5-10 basis points, while seven predict no change. The five-year LPR is forecast to drop to 4.55 per cent from 4.6 per cent by nine of the 13 economists in the survey.
"All in all, when focusing on the tougher environment for March and the lack of a very large stimulus so far, we find it not easy for the Chinese economy to achieve the 5.5 per cent growth target announced during the two sessions."
China's top economic planning agency, the National Development and Reform Commission (NDRC), acknowledged on Tuesday downward pressure on the economy was growing and said there are "unexpected" factors at play, adding the focus is on stabilisation.
"The impact of sentiment on [weak] domestic demand is periodic. With the effective control of the epidemic and the gradual effect of the measures, the normal economic order will be quickly restored, and economic operations will return to the normal track," NDRC spokeswoman Meng Wei said.