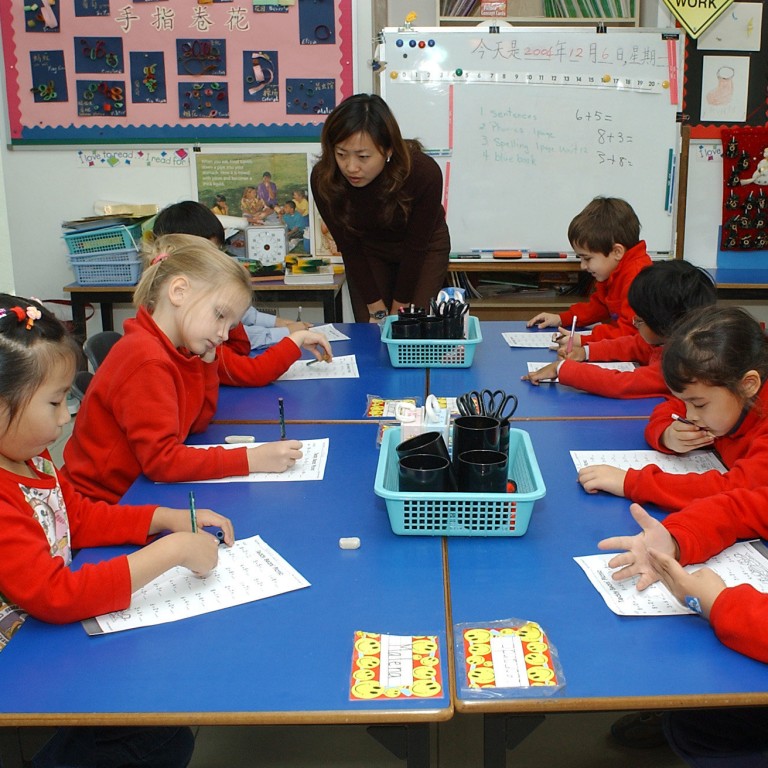 China's international schools face dire fate if zero-Covid drives away teachers, BritCham warns
April survey of more than 200 businesses finds that turnover rate among teachers in coming school year could surpass 40 per cent
Foreign talent is being driven away, and businesses are struggling to find new workers as Beijing sticks to its strict lockdown and containment measures
International schools across China may not survive the loss of teachers resulting from lockdowns and strict Covid-19 measures that are driving away foreign talent, according to the head of the British Chamber of Commerce (BritCham) in China.
"It could just wipe out international schools, and it's not just the schools, per se. It's about the ecosystem," said Steven Lynch, managing director at BritCham in China.
His warning came as survey results released by BritCham this week showed that a high concentration of British companies operating in China's education sector expects to see a loss of teachers.
"What's happened
in Shanghai
will certainly increase foreign talent moving out of China. But it's not just about the foreign talent moving out – it's not being replaced," Lynch added.
Forecasts for the upcoming 2022-23 school year indicate an expected turnover rate of at least 40 per cent among teachers in international schools that require at least one parent to hold a foreign passport, according to the survey results, released on Wednesday in the latest British Business in China: Covid-19 Impact Report.
"Should they not be replaced, international families will be forced to relocate to ensure continued education for their children, [while] those considering moving to China will look elsewhere," the report said.
Shanghai has been in lockdown for more than three weeks after the financial hub became the epicentre of China's worst coronavirus outbreak in two years.
While many countries have eased restrictions, China is looking to eliminate the virus, including by pressing on with mass testing, lockdowns and quarantines in government-managed facilities.
International travelling restrictions remain in place, meaning there are no direct flights between China and the UK.
BritCham in China is among the foreign chambers of commerce – including the United States, Germany and the European Union – that voiced concerns and put forward recommendations during a meeting on Monday with Minister of Commerce Wang Wentao.
Wang reiterated China's commitment to its
zero-Covid strategy
, according to Lynch, while emphasising that the ministry would try to address short-term logistics issues.
Lynch said he believed that the meeting with Wang could help many businesses mitigate or avoid "unnecessary" protocols surrounding the supply chain and food delivery.
Another attendee at the meeting, from another foreign chamber, was less optimistic over the outcome of the meeting and asked not to be identified because of the sensitive nature of the issue. While Wang vowed to unveil measures to stabilise the supply chain, it did not allay their concerns over the severe impact that restrictions are having.
On Thursday, the commerce ministry said China will coordinate with foreign firms and help minimise hardships resulting from coronavirus outbreaks and lockdowns.
Ministry spokesman Gao Feng said China is striving to ensure that supply chains remain stable and operate smoothly for importers and exporters, while aiming to support and improve trade.
However, Lynch acknowledged that there has been a "shifting sentiment" among BritCham members, as their dissatisfaction with China's zero-Covid policy is rising.
While 41 per cent of companies in the BritCham survey commended China's success in controlling the spread of Covid-19, a third of respondents indicated they were not satisfied with the management efforts.
And many want more clarity and communication on lockdown measures from local authorities, according to the survey, which was conducted from April 6-14 and received more than 200 replies from start-ups, small and medium-sized firms, and multinational corporations.
About 46 per cent of the polled companies said unclear and non-uniform implementations of regulations in China were also affecting their ability to attract and retain foreign talent.
"We are seeing quite a lot of people leave – whether it's the end of [their] contract, or for personal or professional reasons – and they are not being replaced. This is a huge issue," Lynch said, adding that it may take between four and seven months to find a replacement teacher at schools.
The BritCham report added: "As the world continues to work towards a future where Covid-19 becomes endemic, the approach to controlling the spread of Covid-19 in China is starting to have an increasingly negative effect on businesses.
"In the current circumstances, China's attractiveness as a destination for investment and talent is diminishing."
But despite severe disruptions to business activities, especially for operations in Shanghai and Shenzhen, one-third of respondents said that they had not yet decided on any change in investment.
Another third of businesses said they had delayed investments in China as a result of recent Covid-19 outbreaks.
Additional reporting by Wendy Wu