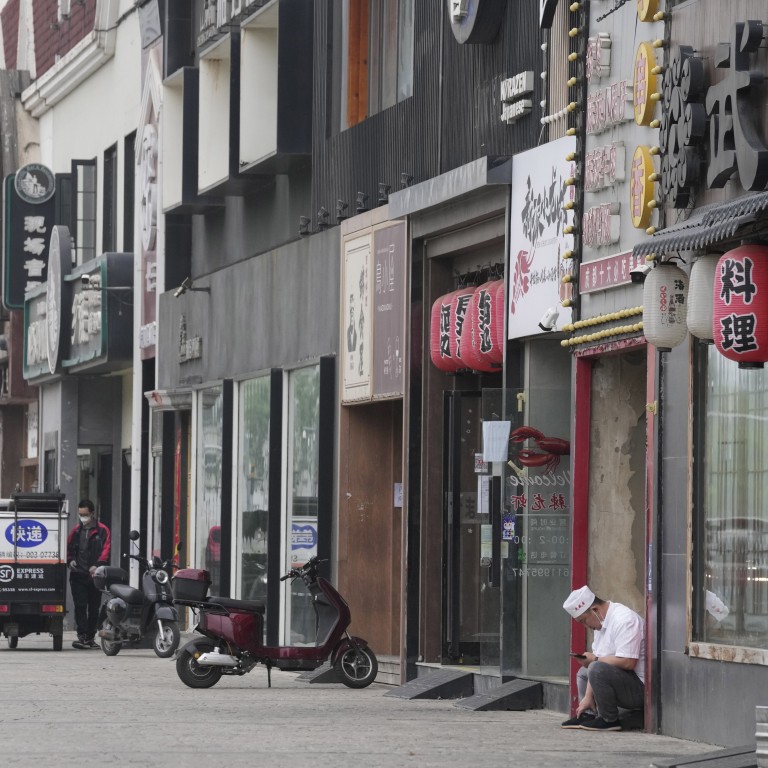 China economy: data paints bleak picture of coronavirus-hit activity
Many families and businesses are losing their ability to resist economic shocks, expert warns
Vouchers and cash subsidies could help 'spur spending in the short term'
Fresh signs of the coronavirus' toll on the Chinese economy are expected on Monday, reminding decision-makers of the need to loosen policy and stimulate consumption, observers said.
"It's time to do whatever we can to save the economy," Huang Yiping, a Peking University professor and a former central bank adviser, said at the Tsinghua PBCSF Chief Economists Forum in Beijing on Saturday.
"Cash flow problems have shown up for many enterprises and households. More direct support is needed for affected companies and people."
Car sales fell by 47.6 per cent to 1.18 million units in April, according to the China Association of Automobile Manufacturers.
And April financial data from the People's Bank of China showed that both the household and corporate sectors were downsizing their borrowings.
Aggregated financing, a measurement of funding support for the real economy, was 51 per cent lower than a year ago at 910.2 billion yuan (US$134 billion), while new yuan-denominated loans also fell by more than half to 645.4 billion yuan.
State media also reported that many cities reported a big fall in fiscal revenue last month, as tax rebates took effect and economic activity cooled.
"The uncertainty faced by corporations and households are even greater than the first quarter of 2020 [when the coronavirus pandemic broke out]," Nomura chief China economist Lu Ting told the forum.
"As the pandemic enters its third year, many households and corporations have run out of savings and their ability to resist shocks is waning. Rising unemployment is also pushing down household spending."
Sheng Songcheng, former head of the central bank's statistics department, said second-quarter gross domestic product growth might slow to 2.1 per cent from the first quarter's 4.8 per cent.
Sheng also warned that the rest of the year would not make up for the consumption lost in the country's lockdowns.
Nevertheless, the government has showed no sign of changing its
zero-Covid strategy
, doubling down on mass testing and movement restrictions in Beijing and many other cities.
It has also sought to play up expectations for an economic recovery and downplay concerns about short-term turbulence.
In an interview with Communist Party mouthpiece People's Daily published on Friday, National Bureau of Statistics deputy director Sheng Laiyun said the outbreaks had dealt "a huge blow" to the economy but there were "positive changes" in some leading indicators such as power generation.
Production was also being restored gradually in areas affected by the Omicron coronavirus variant, Sheng said.
In the meantime, authorities are pinning hopes of economic growth on infrastructure construction, which rose by 8.5 per cent in the first quarter upon front-loaded local bond issuance.
They are also pulling levers to encourage home sales, a conventional tool to ramp up the economy.
In a joint statement on Sunday, the central bank and the banking regulator said the minimum mortgage rate for first homebuyers could be 20 basis points lower than the benchmark loan prime rate.
But encouraging home purchases will not be easy – property investment rose by just 0.7 per cent in the first quarter year on year and property sales by floor space fell 13.8 per cent in the same period.
Li Xunlei, chief economist of Zhongtai Securities, said China needed to focus more on consumption.
"Infrastructure construction alone is not enough to ensure domestic circulation," Li said.
"It might [also] drive up the local government leverage ratio. We must have full consideration over potential problems."
That, too, will take some doing. Retail sales fell by 3.5 per cent in March and are set to fall further in April, with the lockdown in Shanghai sending ripples throughout neighbouring Zhejiang and Jiangsu provinces.
Shen Jianguang, chief economist of e-commerce platform JD.com, said a global recession loomed and China had to rely on domestic demand, particularly consumption.
"Vouchers are a quick tool to drive up consumption in the short term," he said, citing the case of Hong Kong.
"In addition to cash subsidies for affected people, the central government should consider local consumption vouchers."