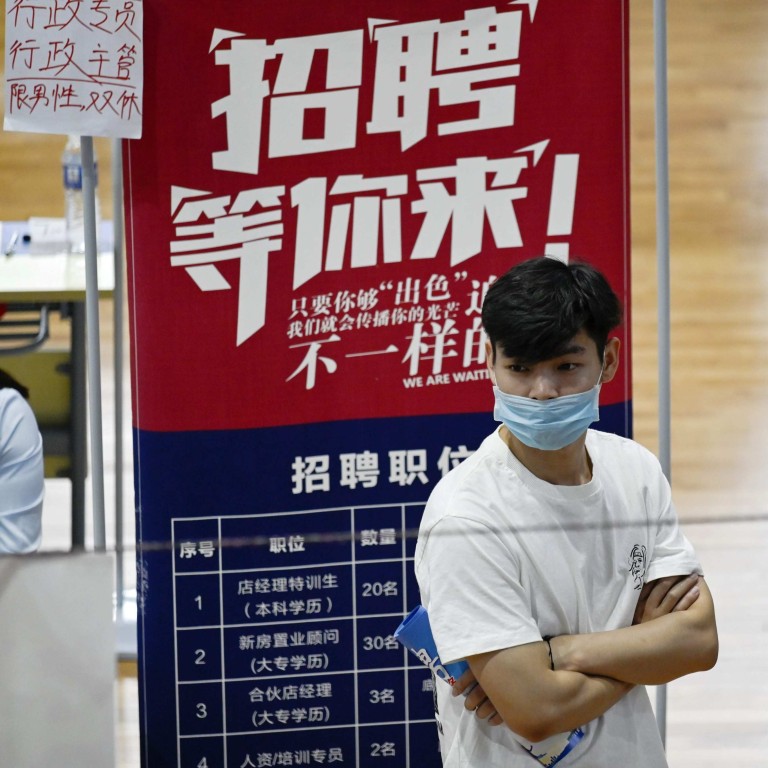 China's job market plagued by zero-Covid 'uncertainty', with swift rebound unlikely
China's headline jobless rate rose by 0.3 percentage points to 6.1 per cent in April, the highest level since March 2020, official statistics show
Strict coronavirus controls, including lockdowns, have disrupted production and undermined the willingness of small and medium-sized firms to hire
China is facing grimmer unemployment prospects than at the beginning of the coronavirus pandemic in 2020, experts say, as lockdowns and virus control measures stoke market uncertainty and dampen the economic growth outlook.
The headline jobless rate – the surveyed urban unemployment rate – rose by 0.3 percentage points to
6.1 per cent in April
, the highest level since March 2020, according to data released by the National Bureau of Statistics on Monday.
It was the second highest reading since 2018, when China first started publishing the data monthly, and above the government's target to keep unemployment under 5.5 per cent this year.
For China's 31 largest cities, the unemployment rate jumped to 6.7 per cent in April from 6.0 per cent in March, higher than the 2020 peak of 5.9 per cent.
Strict coronavirus controls, including lockdowns, have disrupted production and dealt a heavy blow to private firms and the service sector, both major sources of job creation.
Gavekal Dragonomics analyst Cui Ernan said the labour market is facing a more challenging environment than two years ago and is unlikely to see a recovery as swift as what occurred after the
Wuhan outbreak
.
"[The 2020 outbreak] happened during the Spring Festival, and a large number of the unemployed came from migrant workers who weren't able to travel and resume work," Cui said.
"As the lockdowns eased and mobility recovered there was a swift rebound and overall resumption of work. The unemployment rate back then was relatively temporary, and once the labour supply bottlenecks were cleared the market recovered quickly.
"But now both the demand and supply sides of the labour market are weak."
The economy is facing substantial uncertainty because of Beijing's zero-Covid policy, which has shut down major cities like tech hub Shenzhen and China's financial centre
Shanghai
. Business confidence has been undermined as a result.
"With the overall market uncertainty, the willingness of small and medium-sized enterprises to hire and resume work is subdued," Cui said.
"As a key linkage in the industrial chain, Shanghai's lockdown also has extensive spillover effects to China's manufacturing sector."
Chinese Premier Li Keqiang has also warned of a
"grim" outlook
for the job market, urging provincial governments to take stronger action to stabilise employment ahead of the 20th Party Congress.
The government has rolled out a series of fiscal policies to cushion employment, including tax and fee cuts, direct subsidies, easing of financing restrictions, exemption of late fees for payments, as well as support for college students starting new businesses.
China's unemployment rate for workers in the 16 to 24 age group reached a record high of 18.2 per cent last month, which will add pressure to a labour market that will also see 10.76 million college graduates enter it this year.
"In theory, the unemployment rate for the 16 to 24 age group should peak around June and July then inch down afterwards, and shouldn't be this high in April," said Ding Shuang, chief economist for Greater China and North Asia at Standard Chartered Bank.
"This is a situation policymakers might worry more about and the most important factor in the consideration of key policy shifts to focus on socioeconomic development.
"If the pandemic goes out of control, it will certainly affect stability, but if [economic] growth and employment continue as they are, it will, too, cause negative consequences on social stability before the 20th Party Congress."
Policymakers have prioritised zero-Covid over economic growth, but they want both for the whole year, said Larry Hu, chief China economist at Macquarie Group.
"After all, zero-Covid at the cost of surging unemployment is a hard sell politically, especially in such a year with significant political importance," Hu said in a note.
The unemployment rate is likely to remain elevated in the next two to three months before falling more visibly when labour market conditions improve as a result of the reopening in Shanghai and the feed-through of macro policy easing to the economy, said Tommy Wu, lead economist with Oxford Economics.
"Any eventual improvement in the labour market this year will probably be modest as Covid caution will continue to dampen growth, so hiring sentiment among businesses is likely to remain weak.
"Even though the government has continued to stress employment as a key priority, it will be challenging to stabilise employment if the economic recovery in the second half will be uneven, with weak consumption and service sector offsetting the manufacturing recovery and strong infrastructure investment."