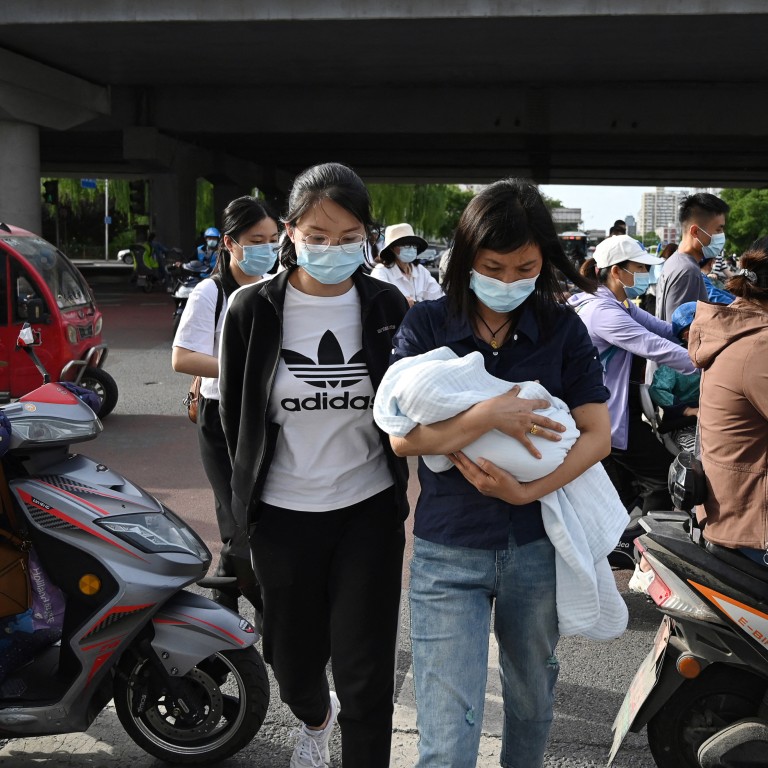 China population: Jiangsu becomes first province to subsidise maternity leave for second, third child
Companies in Jiangsu can now claim a reimbursement for maternity leave pay provided to employees who have a second and third child
Some analysts are sceptical about whether it will encourage childbirth, but say it will decrease discrimination against women in hiring
Jiangsu has become the first Chinese province to subsidise companies for paying insurance to female employees during their second and third period of maternity leave, a policy that could help counter discrimination against women in hiring.
Last week, authorities announced that companies are eligible to be reimbursed for 50 or 80 per cent of the social insurance paid to women who have a second child or a third child, respectively.
Companies can apply for six months of reimbursements from the government.
"Jiangsu's new policy will have a limited effect on encouraging childbirth, but it is conducive to decreasing discrimination against women in the hiring process," said independent demographer He Yafu, adding that it is uncertain whether more provinces will follow suit, but local governments will have more policies to support childbirth.
Jiangsu's policy is one of the latest incentives rolled out to encourage women to have more children. Authorities have already provided tax cuts, direct payments and home purchase subsidies to boost childbirths, which fell to 10.62 million last year, a 11.5 per cent drop from 2020.
China saw an overall population increase of only 480,000 to
1.4126 billion last year
, prompting demographers to warn that China's population could peak as soon as this year.
Jiangsu's capital city Nanjing also announced last week that families with more than one child are eligible to buy one more property, while also eligible to enjoy the best available mortgage rates.
Mothers in Jiangsu gave birth to 479,800 children in 2021, the lowest number since data was available in 1978, according to Jiangsu's 2021 Statistical Yearbook.
Other cities around the nation are also loosening home purchase limits for parents with more children, including Dongguan in Guangdong province and Wuxin in Jiangsu province.
However, under the current economic climate, there are questions about how effective the loosening of home purchase limits will be.
"There are many wealthy people, but people generally don't expect housing prices to go up like they used to, while prices could even fall in third and fourth tier cities and small towns," said He.
"Wealthy people don't invest in the housing market any more, and this policy will have little actual effect."
More than half of mainland China's 31 provincial-level jurisdictions reported a population decline last year, while even the provinces with the most childbirths saw the lowest number of births in decades, according to the provincial birth data.
Beijing has relaxed its strict family planning rules over the last decade in response to the declining working-age population and the falling birth rates.
In 2016, Beijing ended its notorious
one-child policy
to allow couples to have two children, with a third allowed from last year in response to the results of the seventh national population census in 2020.
But the easing of restrictions, plus a host of measures introduced at both local and central government levels, including cutting the cost of child care, more parental leave, as well as making education, housing and other resources more accessible, have so far not been able to turn the tide of plunging birth rates.
"Birth rates will continue to fall in the coming years," He said. "The pandemic has caused many people to lose their jobs or to have their pay cut, while some localities even temporally closed marriage registration. These factors all have a negative impact on birthrates."