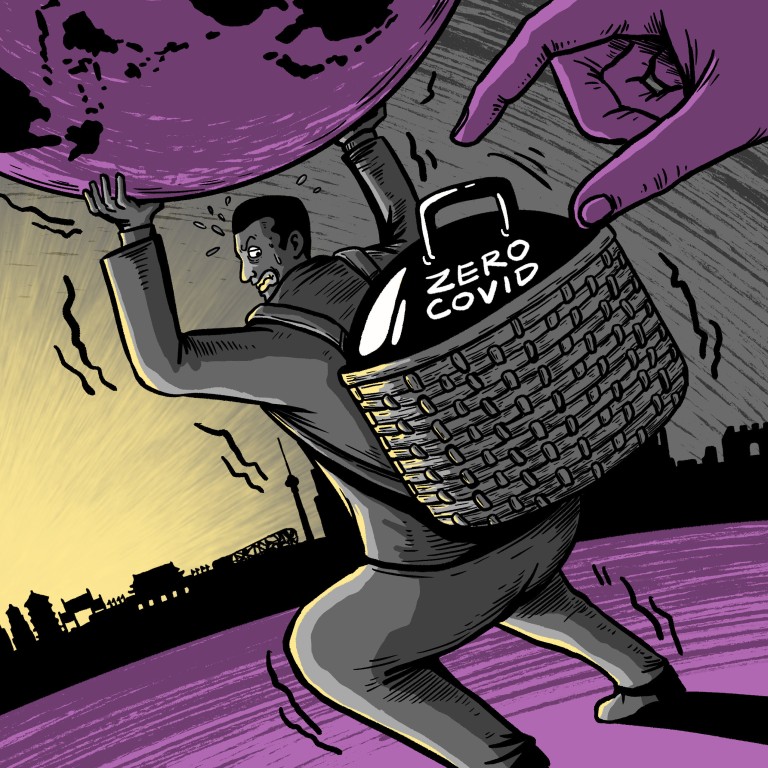 With China firmly on a zero-Covid trajectory, concerns are turning to 'growth recession' risks
Beijing's handling of the coronavirus has vast implications on every facet of Chinese people's lives, and on a world that has come to rely so heavily on China
Even as the government attempts to censor those who disagree with its Covid policies, fears of economic recession spark warnings and curb consumption
Beijing's steadfast adherence to rigid citywide lockdowns to combat the highly contagious Omicron coronavirus variant is gradually changing the narrative, with questions shifting from how far will the central government go, to how big of an economic hit the country can afford to take.
There are abundant suggestions in economic circles that the world's second-largest economy is seeing its growth path undermined as Beijing prioritises saving lives at all costs.
And as top leadership attempts to shore up confidence, with repeated assurances that it has the necessary tools and plans in place to counter headwinds,
analysts are warning
about what they see as severe consequences ahead.
And some say China is at risk of a double-dip recession, similar to what the US saw in the early 1980s – a recession, followed by expansion, followed by recession again.
And if that were not enough for Chinese leadership to contend with, external factors are further ramping up the pressure.
"The current situation is worse than during the global financial crisis in the sense that some economic activity is not even permitted right now," said Derek Scissors, a fellow with the American Enterprise Institute, a Washington-based think tank.
The month-long lockdown of 25 million people in Shanghai, a national commercial hub, generated considerable outcry. In contrast, major Western economies have chosen to live with the virus, with their daily lives and economic activities gradually returning to a relatively normal state following vaccinations.
Scissors said the negative effects in China will be reflected in "quite poor" national economic figures for the second quarter, and this could put investor expectations in a tailspin.
"The danger is Covid lockdowns and other economic weaknesses extending into the third quarter. That would depress results for 2022 and cause businesses and consumers to see Covid as a greater future risk, depressing their activity in 2023 as well," he warned.
But its pandemic control policy is just one of the hurdles that China is facing. Russia's invasion of Ukraine has set off a new round of commodity price hikes, hurt globalisation efforts, and put China – which has not condemned its northern neighbour's aggression – at growing odds with Western countries that are major destinations for Chinese goods.
"China will face greater uncertainty and larger shocks than those from the 2008-09 global financial crisis if the overlapping impact of the coronavirus epidemic spreads, [and if] the escalating Russia-Ukraine conflict and the China-US macro policy divergence cannot be reversed," Wang Yongli, a former vice-president at the Bank of China, one of the Big Four state-owned banks, wrote in an article posted on Sina.com last month.
"The challenges may be comparable to the economic overheating and financial chaos that erupted in 1998-99," he added, referring to the tumultuous period following the Asian financial crisis. "We must stay on high alert and make policy preparations for major shocks."
"It seems, to me, impossible to shut down Shanghai for such a long period of time and honestly make the planned GDP numbers," said David Zweig, a professor emeritus with the Hong Kong University of Science and Technology.
"China should vaccinate the elderly as quickly as possible and give up on zero-Covid."
"It is vital to prevent the pandemic from having a long-term impact," a research note, under Sheng's direction, said in early May.
"We must pay close attention to the survival of market players, improve expectations, boost domestic demand, and prevent the epidemic from causing irreversible damage to China's manufacturing industry."
The slowdown of the world's second-largest economy is also fraying nerves overseas, as China is a major engine for the global economy, including in turbulent years.
Long-term China bull Stephen Roach pointed out in early May that China was facing "formidable pressures" and would "be lucky if it makes 4" per cent, in terms of GDP growth.
"China … is not going to bail the world out the way it did after the global financial crisis," Roach told a CNBC programme.
Mary Lovely, a China expert at the Peterson Institute for International Economics, a Washington-based think tank, saw some "serious danger signs" in consumption and net exports, two major growth drivers, warning that China could experience a "growth recession" in the current quarter.
Meanwhile, authorities keep telling the rest of the world that China has an assortment of reserve tools to shore up its economy.
In the quarterly economic analysis issued in April, the Politburo vowed to speed up the implementation of existing tax-cut and supportive policies, as well as the use of new monetary policy tools and effective investments.
The People's Bank of China, the nation's central bank, continues to insist that there are no plans to flood the economy with liquidity.
Scissors, with the American Enterprise Institute, said that calls for stimulus payments during a health emergency are calls for wasteful spending.
"In 2008 and 2009, China went from being a low-debt to a high-debt country due to heavy borrowing," he said, referring to when China rolled out a massive 4-trillion-yuan (US$590-billion) stimulus package.
"The time for aggressive economic policy, whether stimulus or reform, is after the health crisis eases."
The build-up of trillions of yuan worth of local debt, and the need to prevent that debt from ballooning out of control, are critical factors behind Beijing's decision not to issue across-the-board stimulus payments.
But this path means that dwindling consumption must be reinvigorated by other means if China is to achieve its economic growth targets.
Zhang Bin, deputy head of the Institute of World Economics and Politics under the Chinese Academy of Social Sciences, warned in a recent report: "While working toward the planned GDP growth target, we need to pay special attention to two livelihood-concerning indicators: consumption and employment."
Zhang said fiscal policy adjustments are the best ways to address plights in service sectors, small businesses and among self-employed people.
He added that, in light of the nation's "pandemic-control measures, special subsidies for affected industries and workers; funding support for business resumption; and temporary subsidies for low-income people, senior citizens and children, would be helpful".