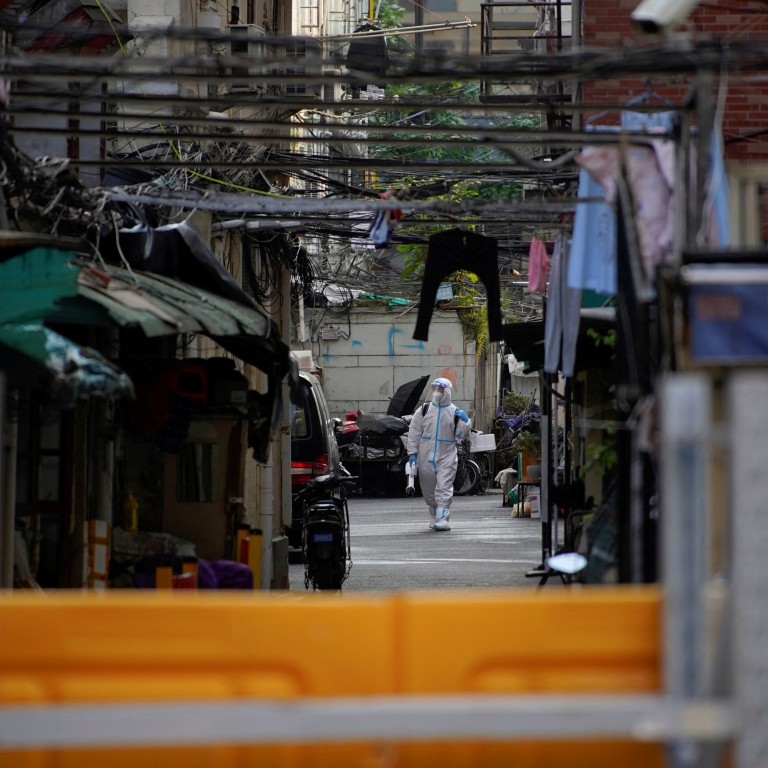 As China strikes positive tone on economy, experts play down short-term impact of policy support
Propaganda machine is churning out pro-growth statements and defending coronavirus-control measures, but some say greater policy support is needed
Others suggest that official data may overstate the strength of China's economy ahead of the party congress and leadership reshuffle later this year
While Chinese officials and state media are playing up the nation's economic prospects, many analysts remain sceptical about seeing any significant improvements in the short term, even as Shanghai is looking to gradually ease a lockdown that has gripped the financial hub since March.
In an article on Wednesday, party mouthpiece People's Daily cited an official with the state planner – the National Development and Reform Commission (NDRC) – as saying that the economy will return to normal "soon", as the country's "efficient Covid-19 control measures and pro-growth policies gradually produce the intended effects".
It also highlighted comments by NDRC spokeswoman Meng Wei, who said the government would "make every effort" to expand domestic demand, press ahead with a number of major investment projects to drive growth, and lift market confidence while restoring production.
The unprecedented crackdown on internet companies, which began in late 2020, has pummelled Chinese tech companies and roiled markets, erasing billions of dollars worth of market value and weighing heavily on an important growth driver.
"We see the economy contracting by 0.5 per cent, year on year, in the second quarter of this year, and growing at 3.3 per cent, year on year, for [all of] 2022. A technical recession – two straight quarters of negative growth – is still unlikely, but an annual growth rate of 3.3 per cent is effectively a growth recession for China," Green said.
"Official data may overstate the strength of the economy ahead of the party congress," he added, referring to the political gathering later this year when major leadership changes will be announced.
Vice-Minister of Finance Xu Hongcai said on Tuesday that China has accelerated the implementation of a slew of fiscal and tax policies to support companies, adding that the ministry will "promptly design additional policy tools and strengthen policy adjustment to stabilise the economy and ensure the achievement of full-year economic and social development goals".
The comments from Chinese officials highlighted by state media came after major indicators measuring the state of the world's second-largest economy fell short of expectations in data released on Monday, with industrial production, retail sales, fixed-asset investment and the surveyed jobless rate falling to their weakest levels in more than two years.
China has also been challenged by capital outflows this year. The latest official data indicated that foreign investors cut their holdings of yuan bonds by US$559 billion in April – the third straight month their holdings were cut.
Data released by the Ministry of Finance on Tuesday showed that China's general fiscal revenue plunged by 41 per cent in April as the government gave money back to taxpayers to help businesses weather the impact of virus curbs.
Everbright Securities' chief economist, Gao Ruidong, said on Wednesday that he did not expect Beijing to launch new policy tools in the first half of the year.
"It is expected that the policy focus in the short term will still be on actively promoting the resumption of work and production, and on accelerating the implementation of existing policies," Gao said.
Meanwhile, the state-backed Economic Daily said in an editorial on Wednesday that Beijing's plans to build a "unified domestic market" at a "critical time" were a reflection of the central government's "determination and confidence" to "break ground" to further deepen market reforms.
"[The plan] effectively stabilised market expectations and provided strong support for us to resist external uncertainties with our own certainty," the editorial said.