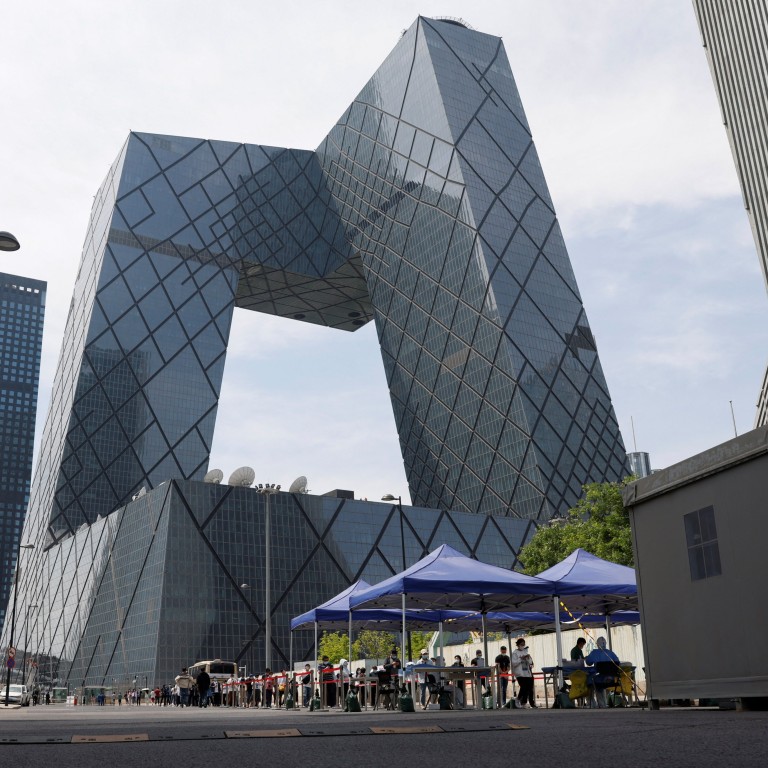 China's zero-Covid policy questioned as expert says 'stabilising the economy will protect lives'
By hampering economic activity, China's coronavirus controls are doing more damage to life expectancy than good, a Chinese professor says
Another academic says rising unemployment and declining incomes are making it harder for Beijing to back up its talk of putting people first
Beijing should allow more open debate on the consequences of its zero-Covid policy amid fears the country is "losing more than it gains" from harsh lockdowns that are taking an enormous toll on the economy, Chinese experts say.
The recent Omicron wave and corresponding containment measures hammered the world's No 2 economy
harder than expected in April
, fuelling worry that China may not achieve economic growth of "around 5.5 per cent" this year.
Though Beijing is rolling out support for the economy, it is refusing to budge from its zero-Covid strategy, saying it is putting people and lives first.
However, comments from a high-profile economics professor at the weekend have called the government's approach into question – and ignited a firestorm of discussion online.
China's containment measures over the past two years have helped extend the average lifespan of citizens for 10 days, or five days per year, according to David Li Daokui, from Tsinghua University in Beijing.
But Li said a 1 per cent fall in per capita consumption would shorten the average lifespan of each person by 10 days per year, adding there needed to be more focus on protecting China's industrial chain and production lines while Covid controls were in place, because ultimately it affected people's lives.
"To stabilise the economy is to protect lives. More effort is needed in this area," he said at a Tsinghua University forum on Saturday.
Debate is growing about the feasibility of China's zero-Covid stance both domestically and internationally.
World Health Organization chief Tedros Adhanom Ghebreyesus said last week the
policy was not "not sustainable"
and shifting away from it would be "very important".
Li's remarks have sparked another round of debate on Chinese social media networks, with some questioning and even openly mocking his findings, while others have taken a more holistic view.
Huang Yanzhong, a senior fellow for global health at the US-based Council on Foreign Relations, said Li's estimates were simple extrapolation and did not take into account many other factors, such as public health and demographics.
"It is not very scientific, while fitting the official narrative," he said.
Li's comments might "justify" the zero-Covid policy, but were also contradictory; with the final conclusion showing that Beijing "lost more than it gained" from the measures, Huang said.
In response to Li's article, James Liang Jianzhang, co-founder of travel company Trip.com Group and a demographer, estimated China's coronavirus controls would shave four days per month of people's life expectancy.
"It can be said that just a few months of lockdowns will consume all the additional 10 days in life expectancy saved in the past two years," Liang said on Monday.
If China's vaccination rate rose to 95 per cent with two doses and 60 per cent with three, the number of coronavirus deaths after relaxing current controls would be close to 150,000, on par with many other countries, but far below the
1.5 million argued by some domestic media
, he said.
Though Liang's article has been censored, many experts said it had initiated meaningful debate.
"You need to have the discussion," Huang said, noting the impact of the Omicron variant meant it was no longer scientifically true that relaxing controls would lead to millions of deaths in China.
"The problem is, will the officials allow open debate in this area?"
Huang estimated that the death toll might be around 120,000 in China after relaxing restrictions and achieving a higher vaccination rate – fewer than the nation's annual deaths from air pollution or smoking.
Discussion about zero-Covid has become politically sensitive ahead of the Communist Party's 20th national congress later this year.
One of Li's claims was that if China could return its industrial chain to normal, every 0.1 per cent increase in economic growth could add six more days to average life expectancy per year. But not all analysts believe it is that clear cut.
"It is an issue in need of scientific demonstration as soon as possible: how to calculate the positive and negative impacts of different policies on average life expectancy," Liang said in the note on Monday.
Rising unemployment and declining incomes – which are partly due to coronavirus controls – are making it harder for Beijing to back up its talk of putting people first and threatening social stability, Huang Shaoan, an economics professor at Shandong University, said in a note on Tuesday.
"[China] should turn the emergency-mode control to normal," he said, calling for a "scientific" approach that used "more effective and convenient" preventive drugs and treatments.
In the meantime, the economic toll of the policies is mounting.
One round of mass PCR testing every three days could add 700 billion yuan (US$104 billion) to fiscal spending each year, according to Zhou Junzhi, chief macro analyst at Minsheng Securities.
Combined with lower revenue due to restrictions, anti-coronavirus efforts this year alone are expected to cost the government budget 1.8 to 3.4 trillion yuan, she said in a note on Sunday.
As of last Saturday, 28 Chinese cities and three provinces – which together account for 41 per cent of China's gross domestic product (GDP) and 29 per cent of its population – have adopted regular PCR testing, Tao Chuan, chief macro analyst at Soochow Securities, said in a note on Sunday.
This will reduce economic damage, but will still drag down GDP growth to 4.5 per cent in 2022,the note said.