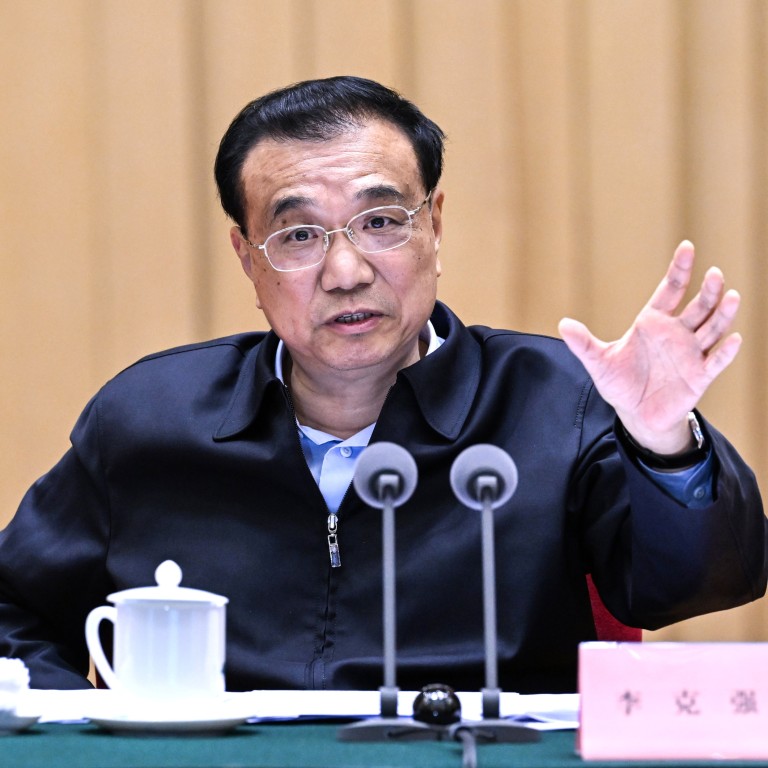 Chinese Premier Li Keqiang tells provinces to 'step up' aid for coronavirus-hit economy
New coronavirus outbreaks and changes in the international environment have weakened the economy, says Premier Li Keqiang
Li called on provincial leaders to fast track support policies to shore up growth, adding there was policy room to tackle new headwinds
Chinese Premier Li Keqiang has told provincial governors to front-load support measures to stabilise growth and employment in a sign that Beijing is urgently stepping up efforts to save its faltering economy ahead of a landmark political meeting this year.
Local authorities should implement new policies by the end of May to shore up growth, Li said during a visit to the southwest border province of Yunnan on Wednesday, according to a report from the official Xinhua News Agency.
"Under the influence of new coronavirus outbreaks and changes in the international situation, among other unexpected factors, some economic indicators have weakened significantly since March, especially in April," Li told leaders from Yunnan and 11 other provinces – including the top 10 in terms of economic output – who joined the symposium via video link.
"All localities and departments should step up their sense of urgency, and new measures that can be used should be used," he added.
Major indicators measuring the state of the world's second largest economy fell short of expectations in
data released on Monday
, with industrial production, retail sales, fixed-asset investment and the surveyed jobless rate falling to their weakest levels in more than two years.
Calls for a fine-tuning of China's coronavirus policies and increased stimulus have grown louder, with analysts warning of further contraction before economic recovery.
By the end of June, local authorities should have implemented policies outlined in the central economic work conference last year and the government work report released in March, Li said.
The Chinese premier said price inflation was stable and there was enough policy room to deal with "new challenges", adding the government had refrained from flooding the economy with stimulus.
Authorities should double down on support policies such as value-added tax credit rebates and tax cuts, financing support and deferment of interest payments for struggling small and medium-sized businesses, he said.
During his trip, Li and his entourage were seen walking around Yunnan University without masks, stirring controversy online about Beijing's refusal to drop its zero-covid policy, which is posing a major threat to the government's growth target of "around 5.5 per cent" for the year.
Citing zero Covid, Goldman Sachs on Wednesday cut their growth forecast for China this year to 4 per cent, from 4.5 per cent. Fitch Ratings revised it down to 4.3 per cent, from 4.8 per cent earlier this month.
Days before Li's appearance at the university, data showed China's
unemployment rate hit 6.1 per cent
in April, the highest level since March 2020, and the second highest reading since 2018 when officials first started publishing the data monthly.
The unemployment rate for workers in the 16 to 24 age group reached a record high of 18.2 per cent last month, which will add pressure to a labour market that will see 10.76 million college graduates enter it this year.
Li's comments suggest policymakers might want to leave room for additional fiscal policy support in the second half of the year, such as potential issuance of central government special bonds, according to Goldman Sachs.
"Media reports also suggest potential consumption stimulus measures such as subsidies for automobile purchases to be announced soon, and after the nationwide cut to the first-home mortgage rate floor, more local governments announced further property policy easing in recent days," the investment bank said in a report published on Wednesday.
"However, with only gradual resumption of production and business operations in Shanghai, increased uncertainties around Covid resurgence in other parts of the country (for example Tianjin reported rising new local Covid cases), and further deterioration of property indicators year-to-date, overall growth still faces a lot of downward pressures."
Achieving growth and employment stability might be challenging in the third quarter this year, especially before the 20th party congress, Goldman said.