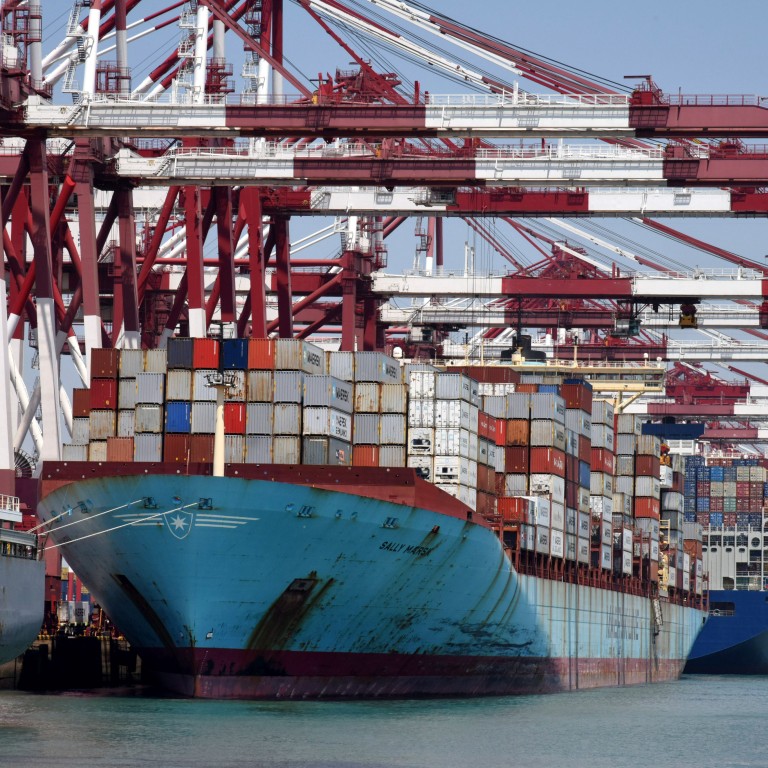 China waits as US debates tariffs: Beijing adviser says ball is in Washington's court, with clock ticking on inflation
Source also urges Chinese companies to 'maintain normal export channels to the US' and not abandon it amid geopolitical disputes and difficulties
Commerce Ministry reiterates calls for US to remove tariffs on Chinese goods that are making everyday goods more expensive for Americans
China appears to be taking a wait-and-see approach as American policymakers remain embroiled in discourse over tariffs on Chinese goods, while some experts contend that Beijing is capable of enduring the duties.
A government adviser in Beijing told the Post that the ball remains in Washington's court, but also called on Chinese exporters to not abandon the US market amid unfavourable geopolitical circumstances.
And the insider says it would be "not very meaningful" for Washington to continue delaying the rollback of punitive tariffs, especially given that the US urgently needs to rein in inflation.
Washington, which initiated the trade war by levying high punitive tariffs on Chinese products, is being closely watched – both inside and outside the US – for indications of when or if tariffs may be removed to help tame soaring inflation that is costing Americans multiples more for everyday goods.
US Treasury Secretary Janet Yellen
confirmed on Wednesday
that she is pressing the Biden administration to eliminate some tariffs on Chinese imports, after the US president
said last week
that the White House was weighing whether to cut tariffs to try to fight inflation.
However, US Trade Representative (USTR) Katherine Tai has publicly put forth a different view on easing tariffs, by warning that efforts to reduce inflation in the short term should not come at the expense of longer-term trade goals with China.
Meanwhile, the Beijing adviser, who spoke on condition of anonymity because of the sensitivity of the issue, acknowledged the intensity and breadth of the trade war, but noted that: "Even though the additional tariffs have lasted so many years … private trade has not stopped."
"Chinese companies should be mindful not to give up the US market," the source added on Thursday. "They should maintain normal export channels to the US; the market is too big [to lose]."
Ding Yifan, an expert with the State Council's Development Research Centre, expressed similar sentiment on Thursday in saying: "Tariffs have not had as much of an impact as expected, and China has got accustomed to them."
He said the US has long intended to curtail China's role in the supply chain, including via the imposition of tariffs, but that's been no easy task given China's sophisticated manufacturing clusters.
At a regular press conference on Thursday, China's commerce ministry repeated calls for the removal of tariffs.
"We have said many times that, under the current situation of high inflation, the US side removing the tariffs on China is in the fundamental interests of US consumers and enterprises, and it is good for the US, China and the world," spokeswoman Shu Jueting said.
Beijing and Washington have not resumed ­senior-level trade ­talks since October, but Beijing has continued to make purchases from the US and has offered market access to US farmers.
Chinese customs authorities approved an additional 13 US firms to export meat to China on May 13, sending the total number of such approvals issued to US firms this year to 31. The move was made even though the two sides'
phase-one trade deal expired
at the end of last year,
"The USTR wants to use tariffs as leverage against China, but it is not a major concern for Beijing," Ding added. "High inflation and punitive tariffs are a double loss for the US. Around 92 per cent of tariffs have been taken on by US importers and customers."
Others have pointed out that skyrocketing inflation could have political ramifications in the US, United Kingdom and Europe.
"In any case, [consumer price index] inflation in China, at just
2.1 per cent year-on-year in April
, does not seem to be a major concern at the moment," Lu Ting, chief China economist at Nomura, said on Thursday.
He added that, if the Biden administration replaces punitive tariffs with some new non-tariff sanctions to maintain its hawkish stance against China, Beijing may not cut tariffs on US goods.
China may also reciprocate in the sense that it could lower tariffs on US goods while adding its own restrictions, such as restraining exports of rare earths, adding US entities to the "unreliable entity list", or putting limits on Chinese nationals' travel to the US, Lu said.
Despite the divide within Washington over the tariff issue, the adviser said Beijing still needs to project patience while the country remains in a passive position.
"Just let it go – it is the US' own quarrel anyway … It is good for us if the US removes the tariffs, but that will not solve all the problems, since there are some other conflicts. And it is difficult to say whether the US will take other measures in other areas [against China]," added the adviser, noting that there were limits to what Beijing can do with respect to Washington at the moment.
"The best outcome is that, under the current situation, [USTR Katherine] Tai may pursue new negotiations [with China] to work out a new arrangement for solving problems."
The source also pointed out that the international situation had become less favourable for China following Russia's invasion of Ukraine, and that for the time being, it seems "unlikely" US-China relations will be fully restored.