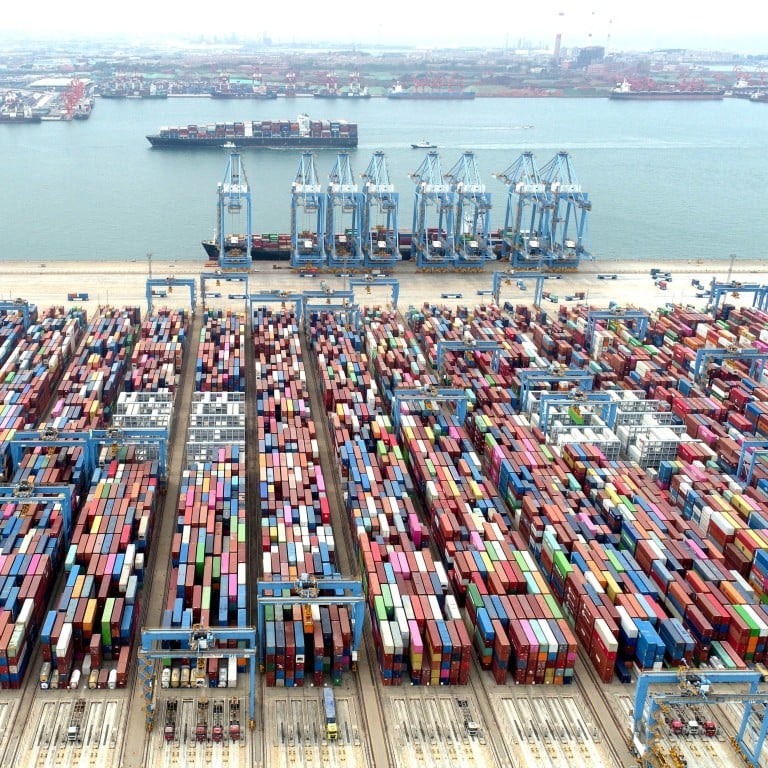 China-Russia relations: Chinese producers lament loss of once-lucrative Russian deals
Gone are the days when Russia was a reliable source of big profits for Chinese producers, who have become wary of running afoul of Western sanctions
Before the war, more than 40 per cent of Chinese exports to Russia comprised various kinds of machinery and electrical equipment, but deliveries of such goods have since plunged
At a machinery exporter in the Chinese megacity of Nanjing, He Liyuan was dubbed "sales champion" last year – a distinction that the sales manager earned while focusing on the Russian market.
But it's looking unlikely that she will repeat that success in 2022, as she has not received any new orders from clients this year, only four cancellations.
"Our total exports to Russia last year were US$9.4 million, and the year before they were US$10 million, but so far there have been none this year – just zero," He said.
"The war has killed orders."
Since
Russia invaded Ukraine
, setting off an escalating series of Western sanctions, Beijing has repeatedly claimed that China will "maintain normal trade relations" with its northern neighbour, even in the face of mounting Western pressure.
But the trade data appears to tell a different story, and so have Chinese exporters. Shrinking demand from Russia – fuelled by unprecedented sanctions, wariness among Chinese multinational companies fearing collateral damage, and problematic hurdles regarding payments and shipping – is suppressing the flow of goods between the two countries.
In April, Chinese exports to Russia dropped by 25.9 per cent from a year earlier to US$3.8 billion, after a 7.7 per cent year-on-year fall in March, Chinese customs data shows.
Meanwhile, March exports to Russia shrank by 27 per cent compared with February, and they shrunk by a further 0.6 per cent in April, month on month.
Dwindling demand
Before the war, more than 40 per cent of Chinese exports to Russia comprised various kinds of machinery and electrical equipment, targeting either consumers or manufacturers. These goods included smartphones, and also the major product from He's company – plastic-processing machinery.
But deliveries of these types of goods to Russia have been shrinking since the war began, with a 26 per cent month-on-month decline in March, and a further 17 per cent decline in April, according to Chinese customs data.
"Purchasing our machines means business expansion, like a kind of investment, which can reflect clients' confidence in their future operations," He said.
"If clients have no confidence in the future, they will never place any new orders. Our clients are usually those big corporations in Russia. And if our business is impacted so much, it means those smaller companies are facing a direr situation."
Lu Ting, chief China economist at Nomura, said the decline in exports suggests "Russia's economy may have fallen further into contractionary territory last month amid the unprecedented sanctions from Western countries".
The World Bank has projected that Russia's economy could shrink by 11 per cent this year due to the extended war and escalating sanctions, while the estimation from the European Bank for Reconstruction and Development put that figure at 10 per cent.
Secondary sanctions
Meanwhile, exports of many sensitive products that could potentially trigger secondary sanctions are seeing a steeper dip, with reluctance among Chinese exporters also playing a role in the decline.
As the export controls in Western sanctions have primarily targeted "Russia's defence, aerospace and maritime sectors", Chinese exports of relevant products have mostly declined in the past two months, compared with the same period last year.
Even though Washington has been vague in its wording about the triggering mechanism for secondary sanctions – saying there would be "consequences" if Beijing offered "material support to Russia's invasion" – a general acknowledged red line is the provision of military weapons.
China sold US$2.4 million worth of all kinds of arms, ammunition and related parts and accessories to Russia in 2021, according to customs figures.
As the war broke out in late February, weapon exports from China to Russia dropped to zero in March. And although the trade volume to Russia rebounded in April to US$471,000, that comprised mainly non-military items such as air or gas guns, pistols and truncheons, data from Chinese customs shows.
In terms of maritime products, the value of Chinese exports plunged to a two-year low for two consecutive months since the war began, dropping more than 97.2 and 99.8 per cent in March and April, respectively, compared with the same time last year.
While for products related to aircraft and spacecraft, the export value also dropped by 88 per cent in March compared with the same month last year, and by 33.6 per cent in April.
Meanwhile, exports of products with both civil and military applications have also seen a major dip. These include various types of telephone sets, which make up a big proportion of total exports to Russia.
The official database for China customs showed that the export volume of smartphones to Russia dropped sharply since March, compared with the volume in the first two months of the year. And various major Chinese smartphone makers, such as Xiaomi, have reportedly suspended new shipments to Russia since the war began, without making any public statements.
Honor
, which was formerly owned by telecoms giant Huawei Technologies, also has suspended the placement of new orders to Russia since the war began, according to a source. Honor is now owned by Shenzhen Zhixin New Information Technology – a majority state-owned company controlled by the Shenzhen municipal government.
Meanwhile, Vivo, another major Chinese smartphone maker, has maintained some business in Russia, but it will not seek to expand in the Russian market, another source said.
Honor decline to comment, and Vivo did not reply to a request for comment.
Most Chinese tech companies use semiconductor chips made at least partially with technology from the US, which potentially could
subject them to secondary sanctions
if they continue trading with Russia, as the export restrictions include goods made with US equipment, software and blueprints.
Weathering through both internal and external pressure, Chinese tech companies' pullback from Russia has mostly been quiet. Shu Jueting, a spokeswoman for China's Ministry of Commerce, urged companies "not to submit to external coercion and make improper external statements" last month.
A source in China's smartphone industry also told the Post: "At this moment, it is all about maintaining stability, conservativeness and keeping a low profile."
"First, it is to avoid opposing the Chinese government, second is to avoid domestic pressure from the general public, and third is to control trade within the existing – or even smaller – scope to avoid US sanctions," the source said on condition of anonymity.
Payments and shipping
Another deterrence for traders on both sides is the volatile foreign exchange rate of the rouble. It tumbled to a record low against the US dollar in March following the escalation of Western sanctions, but later crawled back to a two-year high.
"For Russian traders, if they trade in US dollars or the Chinese yuan, when the forex rate of the rouble fluctuates so much, they may stop executing current contracts if they lose too much," said an importer of Russian agricultural products based in Jiangsu province.
Trade between the two countries has been increasingly settled in yuan instead of US dollars in recent years, but Chinese traders said many transactions are still carried out through the Swift financial messaging system, which many Russian banks have been excluded from following Western sanctions.
"Theoretically, there are still Russian banks exempt from [the Swift ban], and Russian importers can still wire money if they want," said He, the sales manager.
"But the real problem is the strict forex controls" imposed by the Russian government, mandating that "large amounts cannot be wired out", He said.
Such controls have not only impacted trade settlements, but also freight payments.
Chinese exports to Russia are usually settled on a free-on-board payment basis, which specifies that the buyer must pay the freight transport costs upon receiving the goods. As a result, shippers inevitably worry about the risks of excessively high freight costs if there is a war at the destination.
"Some shipping agents are demanding 100 per cent freight prepayment," He said. "But forex controls in Russia do not allow that. This is a huge problem."
While large container shipping lines have stopped service to Russia following the crippling Western sanctions, all volumes have been redirected to rail – the China-Europe Railway Express, which is a key logistical cog in China's
Belt and Road Initiative
.
"The shipments by railway have been increasing continuously over the past two months," said a shipping agent based in Jiangsu, who only gave his surname as Xu. "But then the problem becomes congestion along the rail."
Additional reporting by Iris Deng