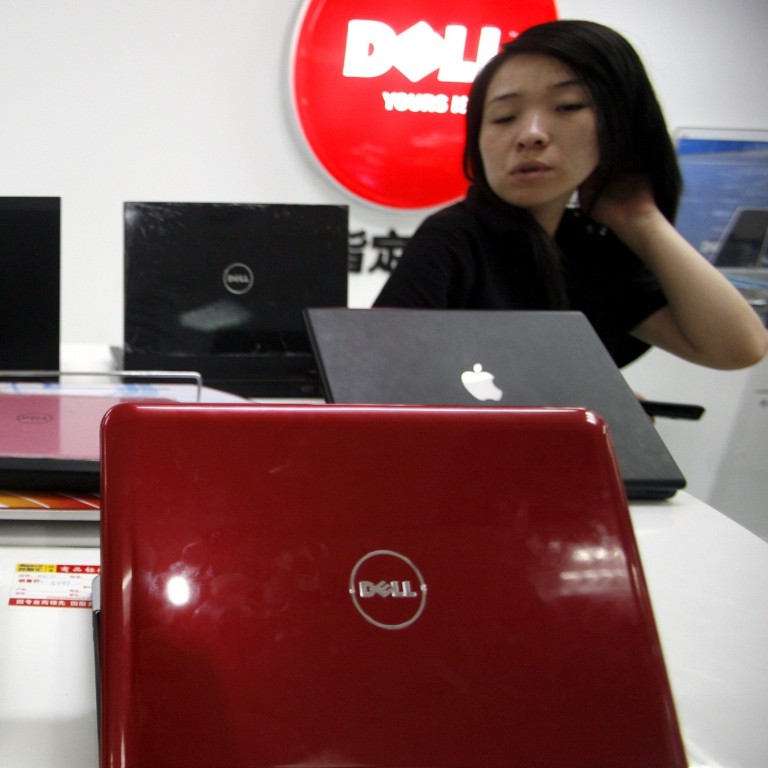 Coronavirus-driven order delays, US tariffs on China raise world PC prices. Is relief on the way?
Lockdowns and shipment delays caused by China's zero-Covid strategy are adding to cost pressures for PC makers
Companies are moving to diversify production bases, while there are signs of a potential US shift on Trump-era tariffs
Big name PC makers like Dell Technologies are increasingly turning to parts or production bases outside China, even amid signs of relief from
Trump-era tariffs
, as Covid-related logistics problems drive up prices for consumers.
PCs by Dell and its fellow top-ranked developers are hardly the only goods bottlenecked in China – or threatened by US import tariffs approved since 2018. Cars, phones, building materials are feeling similar pinches.
But PCs including laptops stand out for their heavy dependence on the Chinese supply chain and a surge in global demand since the onset of the coronavirus pandemic when consumers needed more notebooks for home study or telework – a trend that sparked shortages of the chips that power computers. Now PC retail prices are going up.
"The increase in logistics costs due to factors such as city closures and port blockages under the pandemic, coupled with the supply crunch of parts and materials, have pushed the price of components upwards," said Angela Huang, an analyst with the Taipei-based Market Intelligence & Consulting Institute.
"Cost pressure will put PC manufacturers to the test as they have to maintain a relatively safe and high inventory level to avoid supply crunch."
Former US president Donald Trump cancelled a 2019 proposal to raise tariffs on imports of laptops made in China. Tariffs of 7.5 per cent to 25 per cent on certain PC hardware took effect last year, however, through an extension of the
China-US trade war
that Trump launched in 2018 and netted some US$550 billion in made-in-China goods.
Tariffs apply to goods made at factories in China regardless of the vendor's home country.
This year to date, Chinese cities including tech centre Shenzhen and commercial hub Shanghai have been closed for weeks at a time, keeping workers away from factories, trucks and ports.
Texas-based Dell said it has overcome barriers caused by China's coronavirus restrictions so far through "extended order lead times" for some of its notebooks.
"We will continue to monitor the situation closely and adjust as needed," Dell said in an email statement earlier this month.
PC prices have risen in the US, analysts say, and cheaper models are getting harder to find.
"As the PC market remains supply constrained, there has been a shift towards higher-end PCs being manufactured," said Ryan Reith, programme vice-president for mobile devices with the market research firm IDC.
"So, consumers looking for a low-end Windows PC might not find it and have to buy a more expensive product."
Average PC retail prices had risen 10 per cent over the year to October 2021, tech media outlet The Register reported.
PC developers are making moves to diversify their production bases, relying more on parts or manufacturing orders from factories outside China, industry analysts say.
Most already source parts from places such as Taiwan and South Korea. The top three American PC brands – Dell, HP Inc. and Apple – depend on Taiwanese firms for 90 per cent of their components.
Southeast Asia could become the largest producer of notebook PCs as early as 2030 and take half of this manufacturing market, industry news website AsiaFundManagers.com said in 2020.
Preference for those fast-industrialising countries would "mark a significant shift away from China", the website said.
Taiwanese contract manufacturer Wistron plans to produce notebooks in Vietnam for US brands, the Market Intelligence & Consulting Institute has said.
China was producing 90 per cent of the 160-million-unit notebook sector as of two years ago.
"To avoid sudden supply chain disruptions caused by factors such as the pandemic or geopolitics, upon the request of upstream customers, PC manufacturers continue to build production bases and diversify their sources of suppliers while increasing the safety inventory level of key components to build a resilient supply chain," Huang said.
There could be relief on the way from the US government too, as the Biden administration looks to ease pressure on American manufacturers and bolster supply chain resilience through partnerships with regional allies like South Korea.
Early in May, the Office of the US Trade Representative said it had started a review process for tariffs aimed at China.
On Friday,
US President Joe Biden
emphasised a need for closer supply chain cooperation among Washington's allies and visited a Samsung Electronics semiconductor plant in South Korea.
Biden called it vital for Seoul and Washington to keep their supply networks "resilient, reliable and secure" since Covid-19 had exposed the fragility of just-in-time supply chains.
US Secretary of State Antony Blinken is separately due to deliver a speech on US-China relations.
Dell did not give specifics about its orders from China, where it manufactures most of its PCs. It did not comment on any impact from import tariffs.
The 38-year-old firm reported fiscal 2022 sales of US$102 billion, up from both 2020 and 2021.
It has "navigated the supply chain" better than most PC makers, Reith said. Dell shipped 13.7 million PCs worldwide in the first quarter this year, according to IDC data. IDC gave Dell a 17.1 per cent market share, behind
No 1 Lenovo
and HP in second place.
It is not easy for tech hardware firms to re-offshore production, said Douglas Barry, communications vice-president with the US-China Business Council, a 265-member advocacy group in Washington. China has "quality" infrastructure and "experience" among its workforce, Barry said.
"At the end of the day, companies will assess their vulnerabilities and adjust their supply chains accordingly," he said.
"Higher prices contribute to inflation which has become a major worry for businesses, consumers and elected officials in Europe and North America."