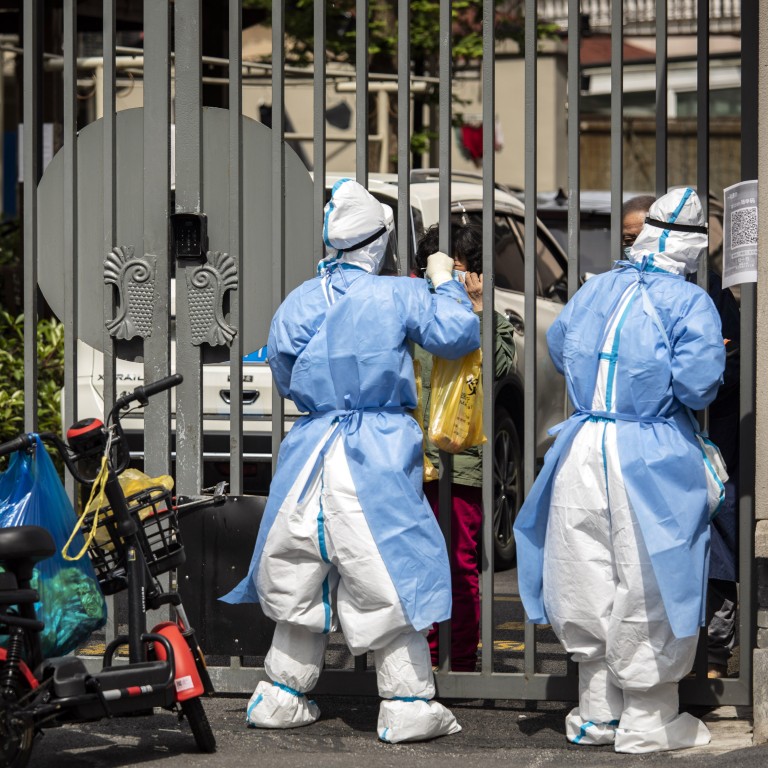 China has 33 ways to get economy back on track, but critics say 'adjusting zero-Covid strategy is key'
State Council rolls out broad measures to support businesses and boost demand, in an attempt to offset the economic damage caused by strict coronavirus policy
Even with policy items expected to help ease severity of economic growth slowdown, economists remain cautious on China's growth prospects for the year
China has unveiled a new round of stimulus measures to stabilise the nation's faltering economy and support businesses, but analysts say the actual impact may be limited if the nation's stringent zero-Covid policy remains unchanged.
A 33-point package of policy items will help "get the economy back on a normal track" while keeping major economic indicators within an appropriate range", the official state press agency, Xinhua, reported following Monday's regular meeting of the State Council, China's cabinet.
The announcement by the State Council, chaired by
Premier Li Keqiang
, came as many analysts have warned that Beijing will be hard-pressed to achieve its economic growth target of
"around 5.5 per cent"
for the year while sticking with strict coronavirus-control measures.
Extended lockdowns across the country have taken a heavy toll on livelihoods and consumption, putting many people out of work, shuttering businesses and suppressing both supply and demand.
"Power generation, freight volume and bank loans have all declined since April. Without a certain level of GDP growth,
stable employment
cannot be realised," Li warned.
"One good thing is that we refrained from excessive money supply and mass stimulus in the past few years, and we still have policy tools in reserve."
The latest stimulus measures include vows of greater financial relief for more industries via tax refunds, tax cuts and fee reductions.
These will bring the government's total planned tax refunds and reductions to 2.64 trillion yuan (US$396 billion) for 2022. The lending quota supporting small and micro-sized businesses will also be doubled for banks.
Meanwhile, the government will also support banks by allowing borrowers of various types of loans to postpone principal and interest repayments until the end of this year.
Some measures are aimed at boosting consumption, especially through the easing of car and home purchases.
There will be a reduction of at least 60 billion yuan (US$9 billion) in the purchasing tax on some passenger cars, while more city-specific policies will be adopted to boost housing demand.
Such measures will help alleviate the severity of the economic growth slowdown, or even a contraction, according to economists from Nomura, but they remain cautious on growth prospects for the year.
"In our view, adjusting the zero-Covid strategy will be key to any real growth rebound in the coming months," they said on Tuesday.
The Japanese investment bank estimated that China's second-quarter GDP growth will slow significantly to 1.8 per cent, which would be a sharp drop from the
4.8 per cent rise in the first quarter
. And they now predict that China's full-year economic growth could reach only 3.9 per cent – well below the "around 5.5 per cent" target.
The State Council also announced support for infrastructure, railways and airlines, including the issuance of 300 billion yuan's (US$45 billion) worth of railway construction bonds; 200 billion yuan in bonds for aviation; and 150 billion yuan in emergency loans to the civil aviation industry, while also launching a new round of rural road construction and renovations.
But the Nomura economists said such fiscal spending will be less efficient amid lockdowns and mobility restrictions across the country, and they flagged a smaller-than-usual multiplier effect from fiscal spending, due to weak private-sector sentiment.
"We expect little additional fiscal spending from these new measures, owing to a likely sharp decline in fiscal revenue and land sales," they added.
However, Iris Pang, chief Greater China economist at ING Bank, said more fiscal stimulus measures could be in the works.
"As Shanghai has not completely unwound its lockdown measures, and Beijing has tightened distancing measures in some districts, we expect that there could be more fiscal stimulus as the government seems to want to avoid monetary easing, on concern that the leverage ratio for the whole economy will go up," Pang said in a note on Tuesday.
On Monday, the People's Bank of China and the China Banking and Insurance Regulatory Commission, two of the country's top financial regulators, met to discuss the nation's monetary and credit situation.
They stressed that the financial system should "make full use of various policy tools" to "support high-quality economic development with moderate credit growth".
"[We must] balance the relationship between moderate credit growth and financial risk prevention, and improve the sustainability of financial support for the real economy," said a statement following the meeting.