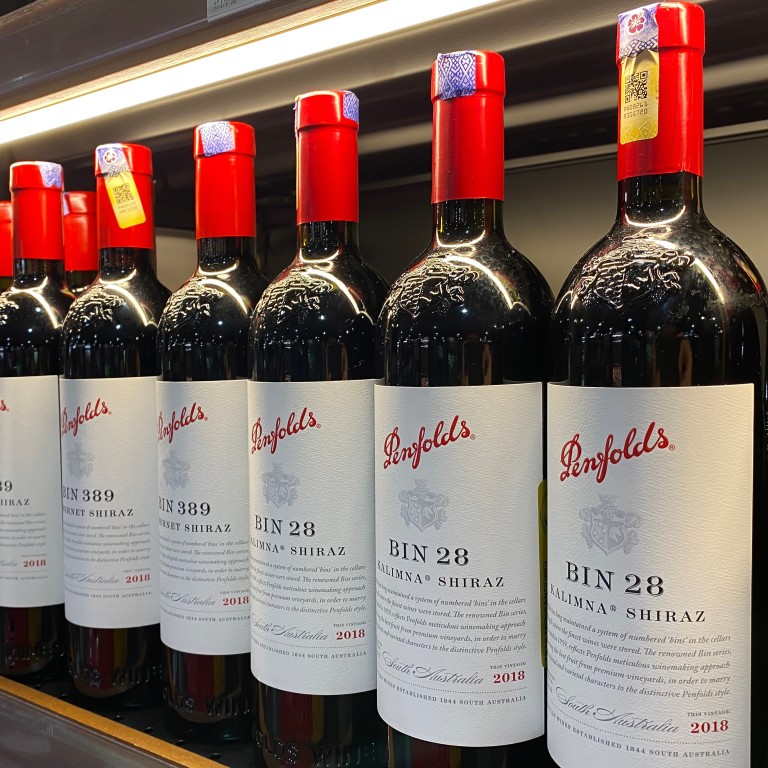 China-Australia relations: will a Penfolds wine by any Chinese vineyard taste as sweet?
Treasury Wine Estates is looking to avoid China's punitive trade tariffs by speeding up production of a made-in-China version of the popular Penfolds brand
Under new Prime Minister Anthony Albanese, Australia wants China's trade tariffs lifted 'as soon as possible', as it 'would be a great start' in mending their frayed ties
One of Australia's oldest wine brands is accelerating production of its made-in-China offerings, with an eye on using domestic production to circumvent import tariffs that have had an outsized impact on wine exports from down under for
nearly two years
, according to an industry insider.
The shift comes even as observers expect the incoming Labor government to be
less provocative towards Beijing
while calling for China to drop its punitive tariffs that have roiled relations and hurt various Australian industries.
Treasury Wine Estates intends to roll out its first domestically produced Penfolds wine for the Chinese market in the second half of this year, the company recently announced.
It also said that it has been conducting trials using grapes from the winemaking regions of Shangri-La in southwestern Yunnan province, and the Ningxia Hui autonomous region, with the red wine costing between A$30 (US$21) and A$50 a bottle.
"Many people think about China and how to engage with China," said Andrew Caillard, co-founder of Langton's, Australia's premier wine-auction house. But wine companies cannot engage with China "without giving them something".
Meanwhile, Treasury Wine Estates have the knowledge, know-how and skills to move the production forward and make "Chinese wine in Penfolds name", he said.
Examples include Great Wall Wine's merlot/cabernet sauvignon blend from Hebei's Zhangjiakou; Ningxia-based Changyu Pioneer-Moser XV's Bordeaux-style grapes; the 2016 vintage of Moet Hennessy's Ao Yun wine that was made from grapes grown in Yunnan; and the 2017 debut of Chateau Lafite's Long Dai, grown in Shandong.
"Ningxia has good infrastructure with [the local] government's support. Its continental weather is also good for growing grapes and [cultivating] vineyards," Caillard said. "Yunnan is a place to make premium wine, with its incredibly dramatic countryside."
And even though the move appears to be in response to tariffs imposed by the Chinese side, he said that producing a domestic Chinese wine is a complex undertaking that requires years of consideration.
Treasury Wine Estates said in its interim fiscal 2022 results released in February that net sales revenue declined 10.1 per cent to A$1.27 billion (US$900 million) due to a decline in shipments to China, the divestiture of its US commercial portfolio, and reduced commercial volume in the UK and Australia.
CEO Tim Ford said that management's mindset would focus on "growth and innovation", moving forward.
China formally applied duties of between 116.2 per cent and 218.4 per cent on Australian wines in containers of up to two litres – from March 2021 until 2026 – after Canberra called for an
inquiry into the origin of the coronavirus
.
"Yes, five years of tariffs is painful," Caillard said, adding that the pandemic has served as a reminder "that we have to think ahead".
He added that companies should diversify their portfolios that include China exposure.
After Premier Li Keqiang congratulated
Prime Minister Anthony Albanese
on his election victory, Australian Treasurer Jim Chalmers on Wednesday called for China's trade tariffs to be lifted "as soon as possible", as it "would be a great start" in managing the complex relationship between the two countries.
Li also pointed to this year's 50th anniversary of the establishment of China-Australia diplomatic ties, and he was quoted by state media as saying: "The Chinese side is ready to work with the Australian side … to promote the sound and steady growth of the comprehensive strategic partnership."
Last May, China's top economic planner said that it had "indefinitely suspended" its high-level economic dialogues with Australia amid escalating tensions between the two nations – a decision that the planner said was based on the "current attitude of the Australian Commonwealth government toward China-Australia cooperation".
In a blog post on the website of the Australia-China Relations Institute at the University of Technology Sydney, institute director James Laurenceson said the business model of Treasury Wine Estates "provides a useful case study" of maintaining "deep connections to the lucrative Chinese market" for Australian businesses that have high exposure to China, while skirting geopolitical backlash.
Wang Wen, executive director of Renmin University's Chongyang Institute for Financial Studies, said that there are concerns among China's policymakers and leaders about the attitude of the new Australian government.
"We look forward to seeing the change of quality in the China-Australia relationship," he added. "If the new Australian government still just leans on the US and is unwilling to think from the perspective of mutual benefits for both countries when it comes to China policy, it will be difficult to improve the bilateral relationship."
Additional reporting by Agence France-Presse