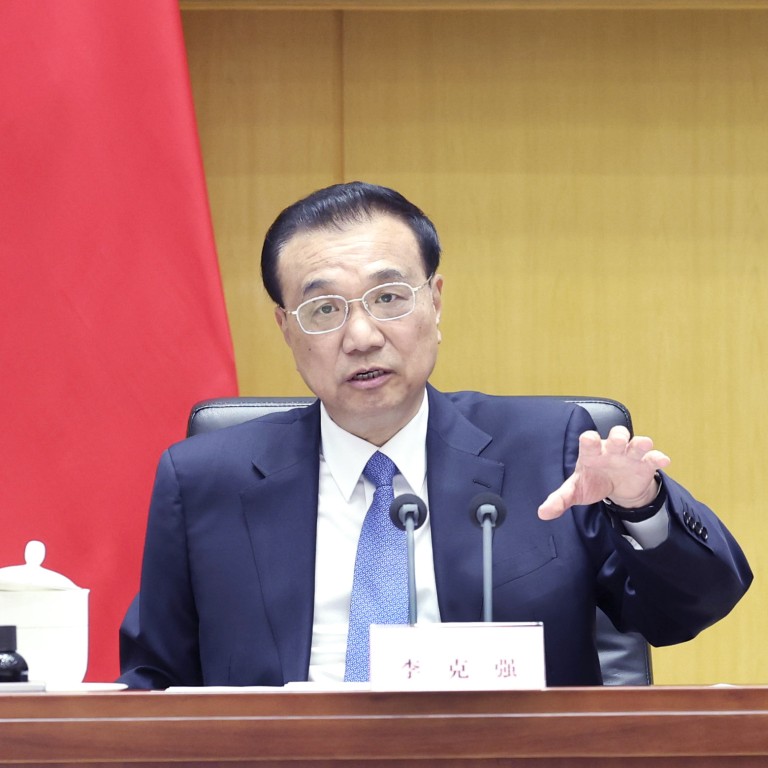 China GDP: economic growth likely to 'fall far short', premier admits as crisis concerns mount
Li Keqiang instructs more than 100,000 officials from across China to use whatever resources they have to stabilise the economy as zero-Covid policy remains in effect
But analysts say monetary policy still hasn't changed much, as Li 'may have just laid the groundwork for abandoning this year's GDP growth target' of around 5.5 per cent
Premier Li Keqiang has conceded that China's economy is stalling at a dangerous rate and faces critical risks, as he instructed an army of officials from across the country to exhaust all measures to stabilise the economy.
And for the first time, Li admitted that China may miss the "
around 5.5 per cent
" economic growth target that Beijing laid out earlier this year, according to a transcript of his speech on Wednesday that was verified by officials who attended the meeting.
Speaking candidly during a national teleconference to more than 100,000 bureaucrats – from the State Council to county-level authorities – Li said a realistic target for the year's second quarter is simply to get the economy back on a growth trajectory.
"We should take efforts to ensure positive economic growth for the second quarter. The target is not high, and it falls far short of the 5.5 growth target set out earlier this year," Li said, according to the transcript.
However, some experts said that the support policies mentioned at the meeting
continued to fall short of expectations
. There was little word of fine-tuning the nation's zero-Covid strategy, but Li did stress that "Covid prevention and control need guaranteed financial and material resources".
"The economic impact has already begun to hit our fiscal revenue," Li said, underscoring the serious pressure that some provincial-level governments are now under, according to a transcript of the meeting seen by the Post. Some local authorities have also asked the State Council for permission to "borrow money".
Li also revealed that some parts of the Yangtze River Delta region – the growth engine of China that remains affected by lockdowns in Shanghai – reported a staggering fall of 32 per cent in government revenue in April, while the average decline nationwide was nearly 6 per cent.
Li pledged more tax reduction and rebates but still emphasised that defence and education spending would not be affected.
An official statement on the meeting, released later Wednesday, quoted Li as saying: "Economic indicators such as employment, industrial production, power consumption and freight have fallen significantly. The difficulties in some aspects, and to a certain extent, are
greater than those experienced in 2020
when the epidemic hit the country severely."
Li called on officials across the country to ensure that the economic growth rate in the April-June period falls within a "reasonable range", and he said they must lower the jobless rate "as soon as possible", as the world's second-largest economy is at a critical juncture.
The large-scale meeting was convened amid mounting questions by experts and the general public about
China's zero-Covid approach
to combating the worst wave of coronavirus infections since what was seen at the onset of the pandemic in Wuhan two years ago.
Increasingly, more banks and other organisations have been cutting their forecasts for China's economic growth rate in the second quarter of 2022 and for the whole year.
Li urged all local authorities to roll out practical measures – "as many as possible" – to carry out a new
33-point stimulus
plan outlined by Beijing on Monday to safeguard the nation's 150 million market entities, which are regarded as the bedrock of the Chinese economy and employment.
He also called on both the central and local governments to use all available funds to secure jobs and assist those who are struggling most.
However, Li said that China is too large and unevenly developed to
give money directly to residents
to boost consumption, and instead must direct limited funds toward protecting companies.
And to oversee the implementation of its directives and policies, the State Council was planning to send task forces to 12 provinces from Thursday, according to Li.
Li also underscored that major economic data for Chinese provinces in the second quarter will be published by national authorities in accordance with regulations, and the data will reflect the "facts" on the ground.
"While simultaneously preventing and controlling the epidemic, we must complete the tasks of economic and social development," Li said.
The heads of China's central bank, its finance ministry and the top economic planning agency – the National Development and Reform Commission – also spoke during the teleconference and touched on what they would do to help stabilise the economy.
Hong Hao, an independent economist focusing on China, told the Post: "Support policies have increased marginally, but they were far from what the market expected, and they are completely different from the 4 trillion yuan stimulus", which China rolled out in 2008-09 in an attempt to manage the global financial crisis.
He said the support is mainly on the fiscal-policy front, and the government's current planned tax refunds and reductions – totalling 2.64 trillion yuan (US$396 billion) – are only a slight increase from the 2.5 trillion yuan announced in the government's work report earlier this year.
"Monetary policy has not changed much," Hong said.
Putting it plainly in a note on Thursday, an analyst with the Beijing-based consultancy Trivium China said: "We think Premier Li Keqiang may have just laid the groundwork for abandoning this year's GDP growth target."
Similarly, analysts with Anbound, a multinational independent think tank, said Beijing should not cling to its "around 5.5 per cent" target, and they predicted that the economic growth rate was likely to be 3-4 per cent this year.
They also said in a note on Wednesday that the "truth", straight from Li's mouth, is indicative of how urgent the situation has become for China's economy, and they said it appears to be a far cry from the rosy picture that has been painted by "official media".
"No matter how many economic stimulus measures are introduced, as long as strict epidemic prevention and controls are not adjusted, it will be hard for the policy measures to be effective," they wrote.
Wednesday's large-scale meeting was akin to a "mobilisation order" for the nation's officials, according to Ding Shuang, chief economist for Greater China and North Asia at Standard Chartered, which predicted that China's economy will grow by 0.3 per cent in the second quarter.
"Some policies may cause long-term risks, including the current emphasis on credit, which is likely to lead to the
hidden risks of bad debt
in the future," Ding said.
Additional reporting by Ji Siqi