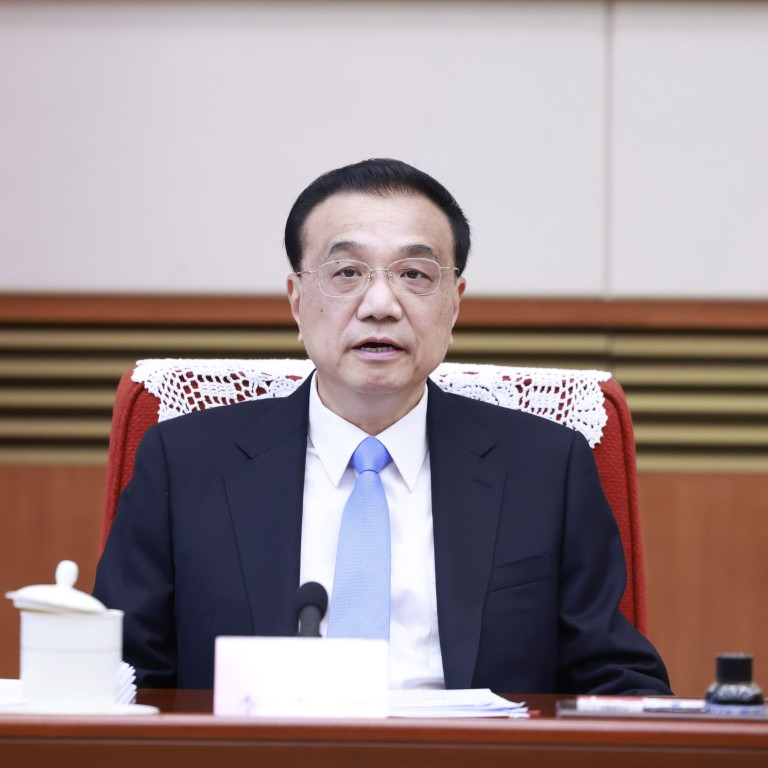 China GDP: Premier Li signals 'clear urgency' on reviving economy, but no change to zero-Covid
A speech from Premier Li Keqiang to 100,000 officials from across China shows 'a clear urgency' to government efforts to avoid recession, say analysts
But Li's comments do not signal a change in the zero-Covid policy, which has locked down cities and led to an outcry from foreign investors and citizens
Premier Li Keqiang's honest assessment of the stress facing China's economy and rare warning of a potential contraction in the second quarter after two months of zero-Covid containment show Beijing is stepping up efforts to stabilise the economy, analysts say.
Li's
video conference
with more than 100,000 government cadres on Wednesday also reinforced the pressure Beijing is putting on local authorities to prevent economic growth losing momentum.
Earlier in the week, the State Council, China's cabinet, unveiled a package of
33 policies to support the economy
, including fast tracking infrastructure projects and loan extensions for business, increasing tax breaks and rebates, encouraging car sales, and adding support policies by the end of this month.
"The premier's urgings could result in more aggressive efforts by local governments to help companies resume normal operation, which have so far been hamstrung by the continued cautious approach toward Covid-19," Andrew Batson and Wei He, analysts with Gavekal Dragonomics, said in a note on Thursday.
The conference was attended by all four vice-premiers and four state councillors, the central bank governor, chairman of the top economic planning commission, as well as tens of thousands county-level cadres.
For the first time, Li admitted that China may miss the economic growth target of "
around 5.5 per cent
" that Beijing laid out earlier this year.
Still, the premier did not signal a change to the zero-Covid policy that has locked down Shanghai – a commercial hub home to 25 million people – and economically important cities in the Yangtze River Delta. It has also triggered an outcry from foreign investors, domestic entrepreneurs and ordinary people.
"Development is the foundation and the key to solve all problems in China. It also provides support for pandemic control, the job market, people's living and de-risking," said Li, the country's No 2 figure, according to a transcript of his speech verified by officials attending the meeting.
"Now is a key time to decide full-year economic trends. We must seize the opportunity and try our best to bring the economy back on track … We must put economic stabilisation in a more outstanding position."
Li promised to protect jobs and help vulnerable businesses, while also increasing spending on infrastructure. He did not respond to market calls for the issuance of more special government bonds and cash subsidies for households.
The Chinese leader did not signal strong stimulus would be forthcoming, nor mention support for the platform economy – though he said there would be help for the private sector.
"The significance of this conference is not a stabilisation toolkit, but policy implementation," Zhou Junzhi, chief macro analyst with Minsheng Securities, wrote in a note.
The State Council said it will send inspection teams to 12 provinces to inspect implementation of policies. Second-quarter economic indicators will be high on the performance assessment list of local cadres.
The People's Bank of China on Thursday said there will be greater tolerance of bad loans among small and micro-sized firms, while banks have been ordered to lend to sectors and regions affected by the pandemic.
The Ministry of Finance, meanwhile, has requested that state-backed financing guarantee agencies support small businesses and those self-employed in transport, catering, hospitality and tourism.
Yi Huan, a senior economist with Huatai Securities, said new policies focus on credit support, infrastructure investment and financial relief. However, he added current demand for borrowing was lower than a year ago.
"This is partly owing to the restrictions of pandemic controls and partly to growing caution in investment, financing and consumption due to future uncertainty," she wrote in a research note on Thursday.
Zhang Zhiwei, chief economist at Pinpoint Asset Management, said the conference highlighted "a clear urgency" in the government's effort to avoid recession.
The State Council issued guidelines late on Wednesday to expand infrastructure investment by freeing up capital locked in existing projects and speeding up construction, which Beijing is relying on this year to shore up the economy.
Additional reporting by Ji Siqi