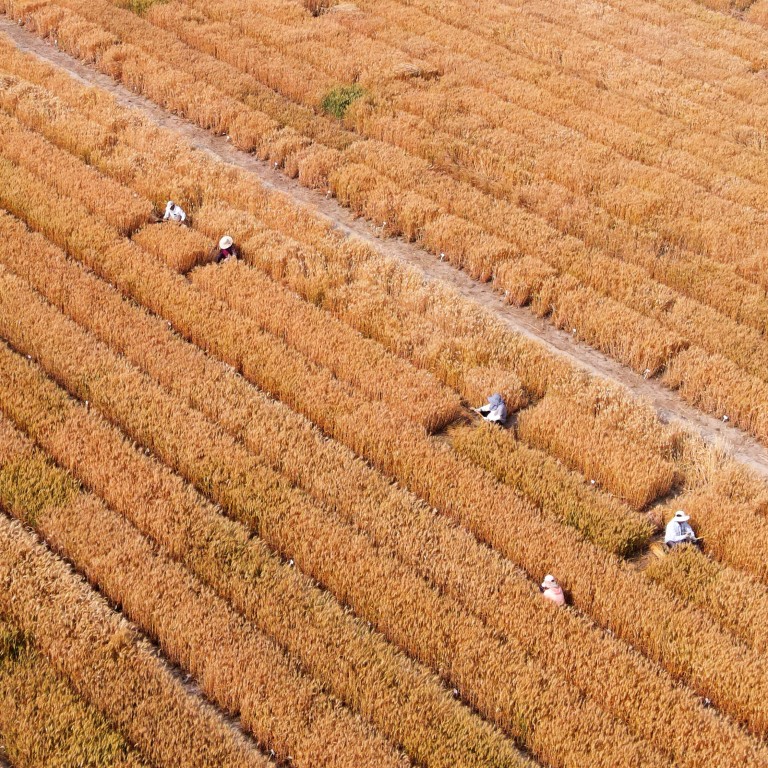 China food security: Premier Li Keqiang says summer harvest 'must go on', despite virus controls
Premier Li Keqiang has urged local governments to ensure virus controls do not get in the way of a smooth summer grain harvest
A bumper harvest, primarily of wheat, is crucial for China to keep inflation in check and could help suppress rising global food prices
Chinese Premier Li Keqiang has for two days in a row warned local officials not to let coronavirus controls disrupt the wheat harvest, the latest show of concern from Beijing about grain security and inflation risks amid a looming global food crisis.
Without disturbance to production or logistics, the world's No 2 economy is on track for better summer grain output this year compared to last, which could alleviate rising
international food prices
, said experts.
In a national teleconference on Thursday, Li urged governments at all levels to "waste no time" in ensuring a bumper summer crop and to "leave no grain unharvested", according to the official Xinhua News Agency.
"No localities are allowed to set up checkpoints that could affect summer harvesting for any reason," he was quoted as saying, underscoring the government's desire for smooth operations.
The premier sent the same message a day before, telling more than 100,000 officials that food security was a priority at a rare video conference on Wednesday.
"Even if an outbreak is found during the harvest … reaping must go on," said Li, according to a transcript of the video conference seen by the South China Morning Post and verified by officials attending the conference.
Local cadres will be held accountable if grain output is not stable in their jurisdictions, Li said.
A bumper grain harvest, primarily of wheat, is not only crucial for China's annual target of more than 650 million tonnes, but will determine whether food prices can be kept stable amid global inflation.
Food is the core component in China's consumer price index and will affect the price of other goods and services.
The emphasis on food security comes amid warnings of a
global hunger crisis
amplified by Russia's invasion of Ukraine, two major producers of grain and fertilisers.
Beijing has taken steps to boost domestic grain output to feed its population of 1.4 billion since 2020, but there is
growing evidence of disruptions
to the spring farming cycle caused by zero-Covid control measures.
"Officials have a delicate balancing act. Food security and zero-Covid are both national priorities, but those can be at odds, as a harvest requires quite a bit of movement," said Darin Friedrichs, a founder and market research director at Sitonia Consulting, a Shanghai-based commodities analysis firm.
Restrictions disrupted some planting in northeastern China, but logistics issues should not be too much of a problem for the harvest, he said.
"The supply chain disruptions due to Covid, the war in Ukraine and export restrictions have clearly concerned policymakers in China," Friedrichs said.
"While global wheat prices are high, China's focus on food security is likely to lead to large imports for the remainder of the year."
China's total wheat output this year is expected to be stable on last year, Chai Ning, deputy director of research at industrial portal Cngrain.com, said at a forum on Thursday.
Ma Wenfeng, a senior analyst with Beijing Orient Agribusiness Consultancy, said disturbances to farm production and logistics were decreasing.
A bumper wheat harvest would be possible as long as excessive virus controls were avoided, he said.
There would only be a "real food crisis" in terms of supply, rather than pricing, if wheat could not be harvested, he said.
"The Covid controls should not be the only goal, we should change our ideas and make [the control measures] serve economic and social development," said Li Guoxiang, a fellow at the rural development institute of the Chinese Academy of Social Sciences.
"If China's wheat production is stable, it will have a decisive impact on the world," he said.
China's grain prices are already lower than international levels and could help decrease global food prices because of fewer imports, Ma said.