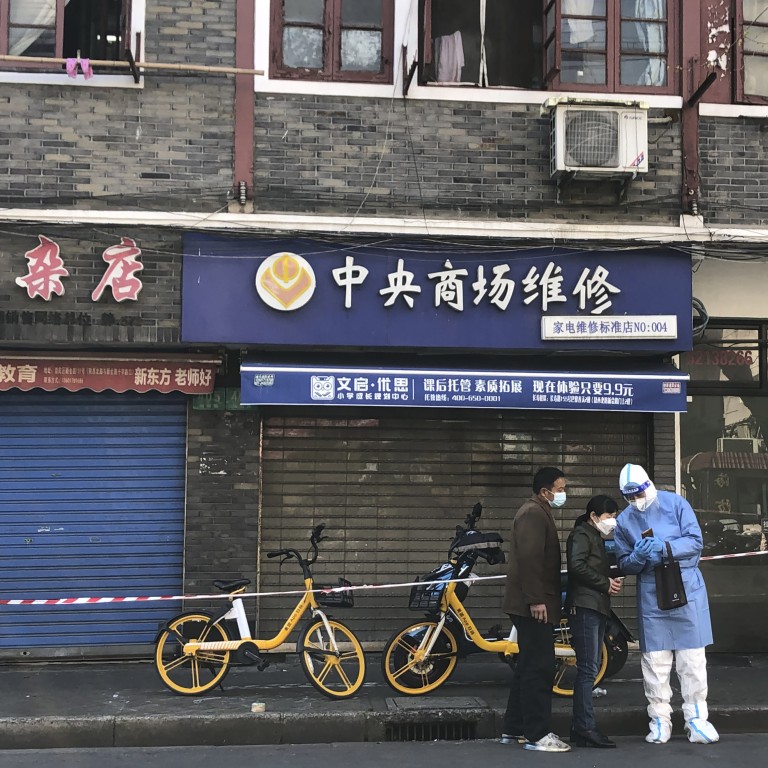 China's local governments, denied lifeline, face catch-22 scenario as businesses lose confidence
Struggling under the weight of heavy-handed zero-Covid control measures, local cadres are ordered to take lead in boosting economic growth and employment
Meanwhile, businesses across China are reluctant to expand or hire amid low confidence in local government finances, further compounding economic woes
With their coffers already stretched thin, local-level governments across China now find themselves in the high-pressure position of having to help prop up economic growth and employment, with Beijing sending them a strong signal: you're on your own.
It's a tall order at a time of considerable economic uncertainties stemming from China's adherence to a strict zero-Covid policy that mandates lockdowns, mass testing and quarantines. These measures have had an outsized impact on consumer spending and on the desire and ability of businesses to expand and broaden their investments.
In a candid teleconference
with more than 100,000 cadres
across the nation on Wednesday, Premier Li Keqiang warned about the risks of rising unemployment and repeatedly urged local officials to use subsidies to protect the job market while also boosting their support for businesses and pressing on with infrastructure plans.
However, Li also seemed to imply that there would not be an additional injection of financial aid from the central government, despite pleas from several local governments desperate for assistance.
"Do everything possible to expand employment. Everyone knows that employment is the top priority for people's livelihoods, and it is also an important pillar in stabilising the economy. Only with employment comes income that creates wealth," Li said, according to a transcript of his speech on Wednesday that was verified by officials who attended the meeting.
"If there is a catastrophic natural disaster, there is the premier's reserve fund," Li said, referring to the fund that he oversees and which could be tapped for funds under dire circumstances such as a devastating earthquake. "But the rest of the money is dependent on you" – the local governments.
At its
annual parliamentary meetings
in March, when local officials from across the country converged on the nation's capital, Li vowed that the central government would transfer a record 9.8 trillion yuan (US$1.46 trillion) to local governments this year – up 18 per cent from 2021.
But despite that influx of funding, there are mounting concerns over whether it will be able to offset a huge shortfall in revenue from land sales, which plunged nearly 30 per cent between January and April.
Shao Zeng, who invested in two tech start-ups a few years ago and now runs a private hospital focusing on surgical rehabilitation in a small city in Guangdong, said businesses are being cautious about expansion plans amid low confidence in local government finances.
"Everyone is anticipating a downturn in the economy and being very cautious about investing in any new projects," he said. "At present, [the situation] is mainly dependent on government infrastructure to drive demand.
"In the past, many projects could attract foreign venture capital or private capital, but now it is almost impossible. We all know that only those government projects have more opportunities, but even local government projects have growing payment risks. Before investing, you must understand well the financial situation of a local government."
China's general fiscal revenue
plunged by 41 per cent in April
as the government gave money back to taxpayers to help businesses weather the impact of virus curbs.
A sluggish property market has also added to the financial woes of many local governments that rely on revenue from land sales.
Meanwhile, the central government set its budget deficit ratio for 2022 at around 2.8 per cent of gross domestic product (GDP), compared with last year's target of around 3.2 per cent of GDP. And Beijing has also not indicated
whether it will sell more debt
, as it relies on local governments' wallets to prop up economic growth.
Alicia Garcia-Herrero, chief economist for the Asia-Pacific region at Natixis, expects that China's fiscal situation could deteriorate over the remainder of this year due to expenditures from virus-prevention measures, as well as from subsidies being dolled out to boost consumer demand.
The year-to-date government fund revenue, composed of mostly land sales, accounted for only 17.8 per cent of the annual budget – less than that of the first four months of both 2020 (21.8 per cent) and 2021 (25.7 per cent) over the same period, Natixis said.
Fitch Ratings expects the state sector to raise more debt in 2022 and 2023 to fund aggressive investment plans, with local-government financing vehicles (LGFVs) leading the fundraising for traditional infrastructure, and industrial state-owned enterprises leading that for new-infrastructure spending.
But so far, Beijing has kept a tight grip on
new debt issued by LGFVs
, in a bid to curb their associated financial risks.
Due to plunging demand, some businesses have had to downsize their operation, meaning fewer jobs going forward.
Thomas Yang, an operations director at a Guangdong-based fabric factory that supplies an online fast-fashion retailer focusing on the overseas market, said much of the goods sold since last year now sit idle in the inventories of American businesses, unable to be sold.
Only three of the factory's 13 large-scale digital printing machines are currently operating, as a result of plunging demand.
"Our factory's production lines are quite automated, with just about 100 workers, and now most of them are either on unpaid leave – or because there is no need to work overtime, their incomes have also been significantly reduced, accordingly," Yang said.
But none of Yang's workers have been laid off, because any lay-offs must be reported in advance to the government, "and we'd have to pay a lot of money in compensation", he said, adding that he expects that some migrant workers may eventually quit, and that the company cannot afford to hire anyone new at the moment.
Analysts are split over how far Beijing may go to ease controls on LGFVs, despite a rising need for more funds at local levels to use on economy-boosting infrastructure projects.
So far this year, dozens of LGFV senior executives have been
put under investigation
, including in the top-borrowing provinces of Jiangsu, Zhejiang and Sichuan, as well as in debt-laden ones such as Guizhou and Yunnan, according to S&P Global Ratings.
Shirley Liu, associate director of China corporate research at Fitch Ratings, said a "marginal relaxation" is possible for LGFVs to raise new debt, but fiscally weaker regions will become more reliant on central government transfers to fund their expenditures this year.
"In addition to the availability of financing, whether investment targets can be reached also very much depends on the pace of construction activities," Liu said. "Any prolonged lockdowns or frequent disruptions due to coronavirus-control measures can delay the construction schedules of major projects."
Tina Chen, who manages a Guangzhou-based consultancy firm focusing on intellectual property rights and services, with a client pool of Japan-invested companies, said her full-time staff count has dropped to 10 this year, compared with 13 last year.
"No one has been recruited for months because the business has been reduced, and the general practice is to have current colleagues take on extra work, or to hire short-term, part-time help," Chen said.
"There was nothing new in Wednesday's meeting about measures to revitalise the economy – or at least the service sector found it unhelpful.
"And now everyone knows that domestic demand is getting worse, while most of our Japanese clients' branches in China have shown a tendency to downsize. So, downsizing and maintaining cash flow is the only thing we should be doing in the coming months."