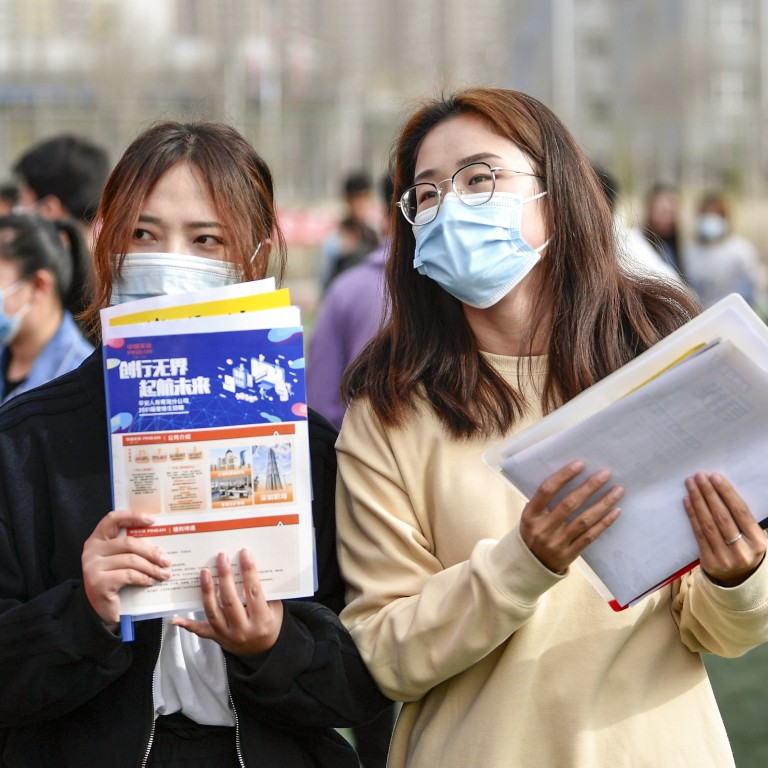 China jobs: focus on technical colleges as answer to labour shortages in manufacturing
Demand for vocational graduates outstrips supply even as lockdowns cloud the economic horizon
Colleges should partner with companies to make sure training programmes align with essential work skills, ministry says
China is trying to encourage more students to pursue technical education as it tries to reduce labour shortages in the manufacturing sector and retain its place as the world's factory.
The Ministry of Human Resources and Social Security said on Friday that the country is aiming to enrol at least 1.4 million students at technical colleges in the coming academic year.
"[The colleges] need to expand recruitment … and come up with training programmes for different groups of students, including full-time, part-time and occupational training," the ministry said.
"[The colleges] should focus on career development and set up majors closely aligned with socio-economic development. [The country] encourages technical colleges to widely partner with companies, and improve training programmes to integrate education with work skills."
As labour costs and automation rates rise, the world's second-biggest economy is ambitious to transition to tech-driven intelligent manufacturing, shifting focus to the kind of higher value-added products that Beijing is counting on as future drivers of the economy.
But a lack of systematic occupational training and willingness among young people to work in factories has led to a dearth of skilled manufacturing workers and engineers, compounding the pressure on manufacturers.
In 2020, the manufacturing sector was nearly 20 million short of the number of technical workers it needed, and by 2025, nearly 30 million manufacturing jobs in the country will go unfilled, according to the ministry.
Around 44 per cent of industrial companies last year said hiring difficulties were their top challenges, according to the National Bureau of Statistics.
At the same time, the country is grappling with high levels of unemployment. Last month, the urban unemployment rate reached its
highest level in two years,
while joblessness among 16-24-year-olds was a record 18.2 per cent.
Battered by lockdowns and crackdowns, a host of businesses are going under while big name internet and tech companies are reportedly rolling out waves of job cuts.
The one group defying the doom are vocational college graduates. In 2021, 97.2 per cent of the country's 1.09 million vocational graduates were employed, the ministry said.
By the end of last year, the country had 2,492 technical colleges, 100 more than two years ago, and the number is expected to keep rising by 2025 in line with the country's 14th five-year plan.
Guangdong province, the largest economy in China and one of the country's manufacturing powerhouses, plans to expand the pool of technical talent with more apprenticeship programmes and industry mentorship schemes.
According to government data, the province needs about 1.2 million trained personnel for the manufacturing sector each year, but there are only about 800,000 graduates to meet that demand.