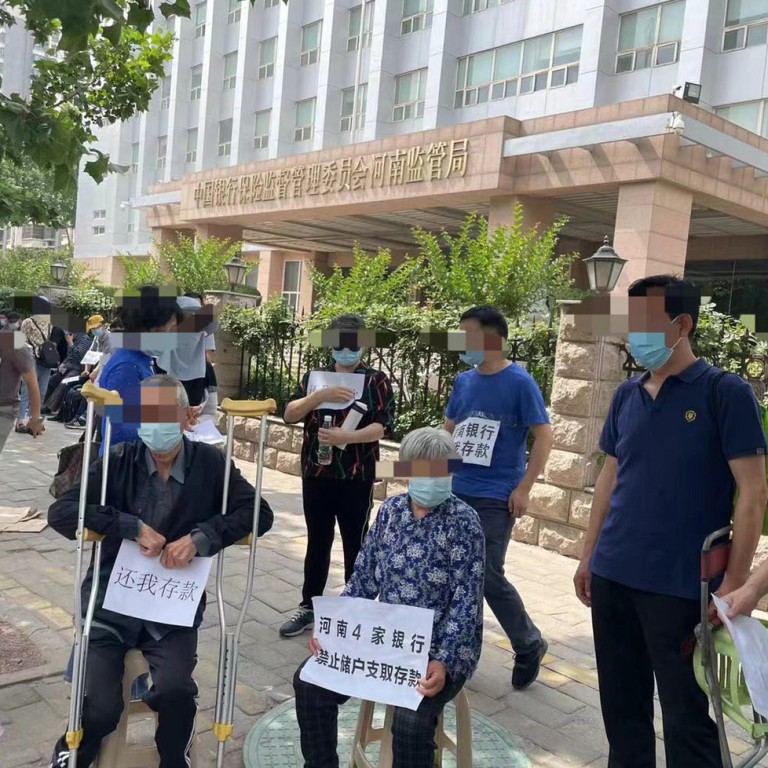 Cash crisis amid China's stalling economy: rural banks freeze accounts, regulators playing 'pass the parcel'
Deposits at four rural banks in the central Chinese province of Henan have been frozen since April 18, sparking protests in the provincial capital city of Zhengzhou
President Xi Jinping has placed economic stability as a top priority and vowed to strengthen supervision within the state-dominated financial system
The cash crisis emerging at four rural banks in the central Chinese province of Henan is every saver's worst nightmare.
Deposits at Yuzhou Xinminsheng Village Bank, Shangcai Huimin County Bank, Zhecheng Huanghuai Community Bank and New Oriental Country Bank of Kaifeng have been frozen since April 18, sparking a number of protests in the provincial capital of Zhengzhou.
Pictures and videos of protesters in front of the Henan branch of the China Banking and Insurance Regulatory Commission (CBIRC) last week in Zhengzhou have been circulating online, with banners demanding "return our money".
Chinese regulators have not confirmed the amount of money that has been frozen, but depositors that have formed groups on various social media platforms to air their grievances claim the figure totals tens of billions of yuan.
"It's affected me a lot since April 18. I can hardly sleep or eat," said a saver from China's north-eastern Liaoning province, who gave her family name as Hang.
Hang and her parents have a total of 860,000 yuan (US$128,000) in savings with three of the four banks.
But the ongoing protests and anguish among savers with China's small rural banks comes at a time when
recession risks are rising
for the world's second largest economy.
And dissent over the country's weaker small banks is the last thing Beijing wants to see after
President Xi Jinping placed economic stability
as a top priority and vowed to strengthen supervision within the state-dominated financial system.
China's rural banks, which are often the key financiers for farmers and small businesses in less-developed regions, are seen as being more vulnerable during downturns.
Last month, China's Politburo stressed the need to effectively control key risks and hold the bottom line to ensure that there are no systemic risks.
Half a dozen customers of the four banks confirmed to the SCMP that they have not been able to withdraw funds either online and or in person, with total deposits ranging from 200,000 yuan to over 1.5 million yuan.
"The ordinary people naturally have trust in banks, and they would have never dreamed that there would be a problem of not being able to withdraw cash," Hang added.
Hang has been living in despair and believes that regulators are playing "pass the parcel" by evading their responsibility to supervise the banks.
"Beijing fears a systemic financial crisis with major economic and social consequences," said Adam Ni, a political analyst writing for the "China Neican" newsletter.
The People's Bank of China (PBOC) said in a statement last month that the "relevant departments have launched investigations" into the four banks and that the central bank "will cooperate with relevant departments to protect the legitimate rights and interests of financial consumers in accordance with the law".
In China, deposits in both local and foreign currencies held by domestic banks for all businesses and individuals are guaranteed up to 500,000 yuan per depositor per bank.
And in a video circulated online last week, Yang Huajun, deputy director of the Henan branch of the CBIRC, told protesters that "legal" deposits, including from third-party platforms, would be protected.
Yang, though, was unable to outline what "legal" meant and was pressed repeatedly for an explanation by protesters.
Over the years, in an attempt to attract funds outside their limited home bases, China's small rural banks have partnered with non-proprietary online platforms, often offering returns that are slightly higher than similar deposit products from larger banks.
A typical deposit product offered by the four banks through third party platforms, such as Duxiaoman Financial, offers interest of between 4.1 to 4.5 per cent a year that can be rolled over for up to five years, according to receipts provided by depositors, although they have since been withdrawn.
Bank of China, one of China's Big Four state-owned lenders, currently offers just 2.75 per cent a year on a five-year deposit product.
Li, who works in human resources, travelled to Zhengzhou from northern China's Shanxi province to join a protest in front of one of the banks on May 19.
She has more than 700,000 yuan in deposits, and has received assurance from Duxiaoman Financial that her funds will be protected, but Li was shocked when she was told by the banks that her funds are not "bank deposits".
"I have no confidence [in the four banks]," said Li. "Especially after my visit to Henan and it gave me the impression that the local government would do everything to protect the banks. They treated us badly."
Li said protesters were "pushed around" by the local police with "brute force" and were blocked from entering the city.
The police also instructed protesters to remove videos and pictures from their phones, Li added.
"If the central government doesn't intervene and only relies on the local governments and regulators to investigate these banks, they will continue to evade responsibility. I just can't trust them," Li said.
China's regulators have stepped up their supervision of the country's small lenders over the past few years, and in 2021, the PBOC said local lenders should not attract deposits from across the country using internet platforms as the central bank sought to limit small-town lenders from attracting business away from their home markets.
The CBIRC was quoted last week saying that a probe had found that Henan Xincaifu Group Investment Holding, a private investment firm with stakes in all four lenders, colluded with bank employees to illicitly attract public funds via online platforms.
Caixin magazine quoted an unnamed CBIRC official last week saying that "accumulated risks in some regions are relatively large" among the country's small and medium-sized rural banks and that it was necessary to step up risk control.
"Risks brought about by the impact of the [coronavirus], economic transformation and industry changes will gradually emerge," the unnamed official is reported to have said.
Neither the PBOC or the CBIRC responded to questions by fax on status of the investigation, while calls to the four banks were diverted to voicemail.
"I am very worried [about the probe]," said a saver who lives in Zhengzhou, who gave her family name as Wang.
Wang and her parents have over 200,000 yuan deposited with the banks and have also protested on a number of occasions.
"It seems to me [the Henan banks] are denying that they have our deposits. They are not telling the truth," she added.
"All we are asking is for the authorities at the top to guarantee that we'll get back our hard-earned cash. I am not asking for them to return my money right away, but at least give us some assurance."