Aviation
Get more with myNEWS
A personalised news feed of stories that matter to you
Learn more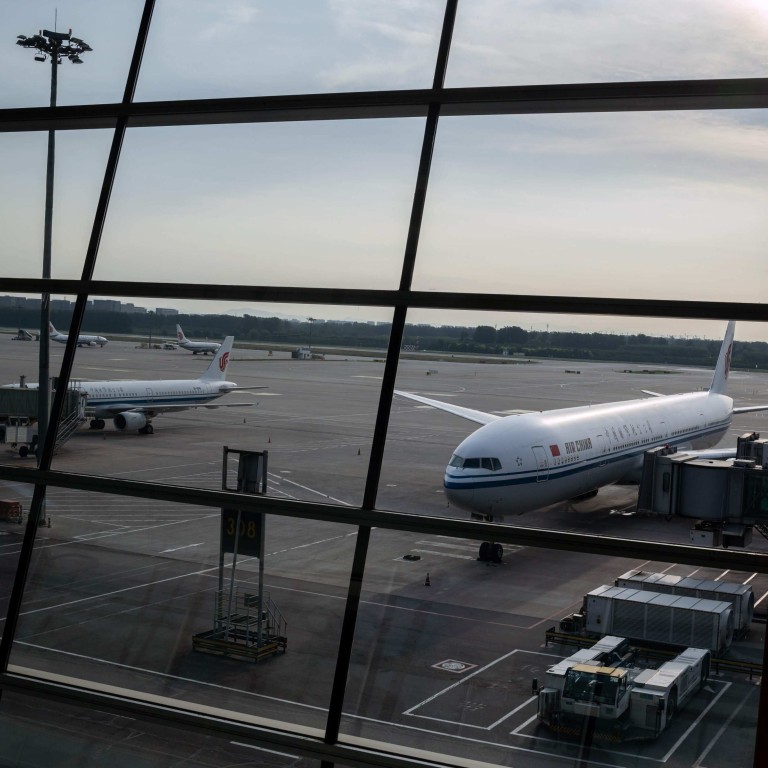 Can China save its coronavirus-hit aviation sector from a 'cliff-like' plunge as US, Europe recover?
Under a new stimulus package unveiled by Beijing last week, airlines will receive significant aid from the central government, including loans and subsidies
But China's zero-Covid policy is still suppressing demand for travel, while skyrocketing fuel costs and a weakening yuan are adding pressure on companies
Beijing is stepping up efforts to save its aviation industry from a "cliff-like" plunge in business, as the sector struggles to shake off the impact of zero-Covid and China's deadliest aviation disaster in nearly 30 years.
Under a
33-point stimulus package
unveiled last week, airlines will receive significant aid from the central government, including emergency loans of 150 billion yuan (US$22.4 billion) and a bond issuance quota of 200 billion yuan.
China has big ambitions for its
aviation sector
and has invested billions of dollars to make it internationally competitive, including by developing its own narrow-body passenger jet, the C919, to compete with Boeing's 737 and Airbus's A320.
"The Chinese government's response to Covid right now is very different from what you see in other major air travel markets like Europe or North America, where effective vaccination programmes and more decentralised political decision-making have led to an ongoing recovery in passenger boarding," said Douglas Royce, senior aircraft and engine analyst at Forecast International.
"There's too much uncertainty over the course of the pandemic in China right now to forecast demand [for new planes] in the near future."
Confidence in China's aviation sector has also been shaken following the
crash of China Eastern Airlines
flight MU5735 in March, killing all 132 people aboard.
Lin Zhijie, an industry analyst and a columnist at Carnoc, a civil aviation website in China, said the sector lost close to 30 billion yuan in April, the largest single monthly loss in history.
"Since the beginning of this year, due to the continuous resurgence of outbreaks, especially since March … the production and operation of the civil aviation industry has taken a sharp turn," said a statement by the Civil Aviation Administration of China (CAAC) last week.
"Logistics, transport and production have experienced a cliff-like plunge. The industry as a whole suffered serious losses."
The CAAC said the industry could not meet the needs of "national economic and social development".
The Ministry of Finance said last week it would offer two months of subsidies to Chinese airlines, starting from May 21, to help carriers weather the coronavirus-induced downturn and higher oil prices.
But support will only be provided to airlines when their average daily number of domestic flights falls below or is equal to 4,500 per week, the ministry said.
Air China, China's biggest state-owned carrier, said in 2019 it offered 15,436 code sharing flights per week with its partners.
The central government will fund 70 per cent of the subsidies, while local authorities will cover the remaining 30 per cent.
However, Caixin magazine reported on Tuesday that the subsidies had been suspended by the CAAC over concerns that airlines might intentionally reduce services, citing unidentified sources.
In the meantime, the cost of saving the aviation industry – a strategic focus in Beijing's drive towards hi-tech independence – will continue to rise.
Skyrocketing fuel costs and a weakening yuan are adding pressure to the industry, which still relies on imports.
While government subsidies and other support measures will provide a buffer against economic damage, they may not be enough to help airlines cut their losses, which are still mounting, Lin said.
Last year, the civil aviation industry made a net loss of 84.25 billion yuan, according to data from the CAAC, compared to the net loss of 102.96 billion yuan in 2020.
Loans and bonds are debts that still need to be repaid, Lin said, but it is uncertain when the industry will fully recover from the pandemic.
"Therefore, the black hole of loss for the entire civil aviation industry is far from being covered," Lin said. "This will be a big burden for civil aviation companies. Even if they are to survive, these losses are likely to take a long time to cover."
Addressing more than 100,000 government cadres in a video conference last week,
Premier Li Keqiang
said that China would aim to increase domestic and international flights in an "orderly manner".
But Beijing's zero-Covid policy is likely to hold back demand, which may also have a wider impact on recovery in the Asia-Pacific region.
Joanna Lu, head of consultancy for Asia at Ascend by Cirium, said passengers may not be willing to travel as a result of outbreaks.
"Due to the impact of travel restrictions, it is hard for airlines to use capacity in international service, and the operation of domestic routes is also costly due to all sorts of discrepancies of local restrictions," Lu said.
Data from Ascend by Cirium showed there has not been a recovery in international departures from China, with flights still at least 80 per cent down on 2019 levels.
"This is likely to remain the position for some time to come. Given that almost 85 per cent on average of international departures tracked from China in 2019 were to points in the Asia-Pacific, then the potential for these restrictions to fundamentally hamper recovery of demand in Asia-Pacific remains significant," said Rob Morris, global head of consultancy at Ascend by Cirium.