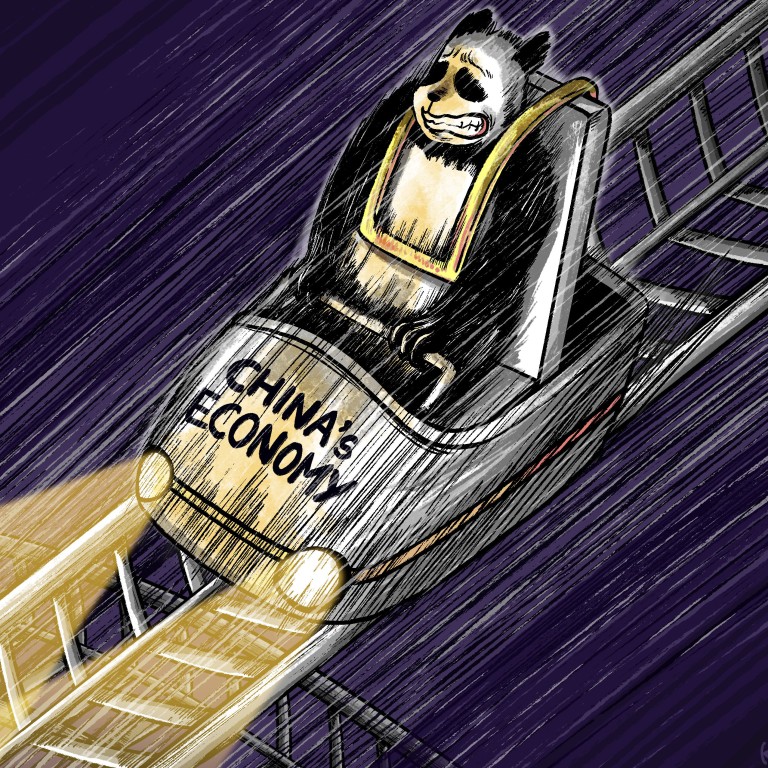 China economy: companies 'extremely cautious' as uncertainty hangs over business environment
Policy U-turns and a heavy-handed, unpredictable coronavirus control strategy are fraying the nerves of China's business community
Analysts say Beijing is unlikely to drop zero-Covid before the national congress later this year and economic growth is likely to suffer
Lockdowns, travel restrictions and inconsistent coronavirus controls between regions: uncertainty is haunting China's economy, with no end in sight.
There are few signs that Beijing has an exit strategy from its zero-Covid policy – at least not before the all-important 20th national congress in the second half of the year, experts say.
So far, opening up measures have been piecemeal and made against a backdrop of heightened rhetoric on self-reliance and nationalism, which are fuelling concerns among foreign companies that China is turning inward.
Policy U-turns have been frequent over the past couple of years: the decarbonisation campaign, the crackdown on after-school tutoring, tightening then loosening rules on the property sector, and a clampdown on big tech.
The turmoil is fraying nerves in the business community.
Joerg Wuttke, the president of the European Union Chamber of Commerce in China, recalled a meeting with Premier Li Keqiang in Beijing earlier this month in which he expressed growing frustration.
It is not just virus outbreaks, lockdowns and zero-Covid, "but in many other areas", he said.
Over the past two decades, China has roughly accounted for more than 30 per cent of global gross domestic product (GDP) growth per year and been a magnet for international investors thanks to its 400 million-strong middle class consumer market.
Domestic policies, coupled with geopolitical tension and aggressive US monetary tightening to curb inflation, are starting to bite businesses and ordinary people.
The situation is not only worrying foreign investors, but Chinese entrepreneurs and economists, who are finding it increasingly hard to predict growth trends.
Mike Liu, a business owner in the textile industry, said the investment environment is more difficult than in previous years.
"Potential investors have been quite hesitant and extremely cautious due to the current weak sentiment and overall bleak economic outlook," Liu said.
Bettina Schoen-Behanzin, chair of the European chamber's Shanghai chapter, said many European businesses were missing guidelines amid current policy uncertainty and a lack of transparency.
"You cannot do a long term plan," she said, citing issues related to workers, logistics and raw materials while Shanghai has been in lockdown.
"Whenever you have a case somewhere, immediately you are in a lockdown. How can the economy and normal life really recover?"
One of the consequences, according to Schoen-Behanzin, is investors are looking to diversify.
"China will be a kind of stand-alone, in China for China, because the market is big for sure," she added. "But we want to diversify our footprint and put future investment in other markets."
Similar concerns were raised by the American Chamber of Commerce in China two weeks ago.
"Our members feel that the business environment has become a lot less predictable, largely due to the pandemic and its related restrictions," chairman Colm Rafferty said.
"More worryingly, members don't see any light at the end of the tunnel."
Many analysts say that Beijing should minimise the cost of pandemic control, shift focus back to economic development and take substantial measures to shore up business confidence.
"Market expectation is very important," said Ding Yuan, vice-president of the China Europe International Business School in Shanghai.
"The prospect of foreign direct investment utilisation will depend on China's policy predictability, economic growth prospects and whether it maintains its status in the global supply chain."
Ding, one of six Chinese speakers at this year's World Economic Forum in Davos, said many foreigners were puzzled about China's zero-Covid policy.
"What sounds strange to them, from their perspective, is why China is doubling down on control when the rest of the world thinks the virus is not as dangerous as before and is actively opening up," he said.
"I told them that it may not be just for political considerations, but reflect some real concerns, such as dozens million senior citizens who are not or not fully vaccinated."
Weak consumption is already plaguing the Chinese economy, but economic uncertainty is dampening spending and private investment even more.
Private investment grew by 5.3 per cent in the first four months of the year, much lower than state-led investment growth of 9.1 per cent over the same period, official data showed.
Daniel Zhang, chairman and CEO of Alibaba – the owner of the South China Morning Post – said last week on an earnings call that certainty is key to the overall business situation.
"As long as we can ensure a stable and smooth supply chain and logistics under the uncertain pandemic situation, business is able to stabilise operation and consumption sentiment and willingness can be revived," he said.
After a tumultuous two years, China's leadership has taken small steps to provide businesses with more certainty.
Beijing has also signalled its policy priorities for the future, especially in food and energy security, as well as technological innovation.
In the eyes of many analysts, China is unlikely to step back from its zero-Covid policy before the Communist Party's twice-a-decade leadership reshuffle later this year – and economic growth could suffer as a result.
"In the past, growth and the economy have often been the overriding priority," said Louis Kuijs, chief Asia economist of S&P Global Ratings.
"However, the experience in recent months suggests that China's senior leaders see Covid as a legitimate reason to miss the growth target by a large margin.
"It seems that China's overall Covid stance is not going to change any time soon. That means that the economy will continue to be subject to the associated headwinds and risks weighing on growth."
China is well-known for its top-down policy enforcement, but it comes with side effects, said Tang Dajie, secretary general of the Beijing-based research group China Enterprise Institute.
"There is a huge gap between policy intentions and local enforcement results," he said, citing the environmental drive back in 2017 and the crackdown on after school tutoring service last year.
"They were often designed for a good cause, but in reality the one-size-fits-all approach and strong enforcement ability of local authorities has led to the shutdown of many companies."
Coal miners and thermal power plants, for instance, were victims of overlapping powers in Chinese governance following Beijing's promise in September 2020 to reach carbon neutrality by 2060.
Though carbon emissions were to peak in 2030, provincial and municipal leaders scrambled to report strong progress in the first year of implementation, with heavy-handed restrictions on coal mines and thermal power – major emitters of greenhouse gas.
But because coal power accounts for 60 per cent of the country's energy mix, the sudden fall in supply had a domino effect, forcing many manufacturers in coastal regions to halt production, while households in northeastern provinces reported rare blackouts.
China's leaders were forced to warn provincial leaders against rushing to meet targets and pledged "not to have such large-scale power cuts again".
The State Council, China's cabinet, has rolled out support for vulnerable small businesses, college students and poor families.
During a rare video conference with more than 100,000 party cadres, Li urged local authorities to prevent economic growth losing momentum in the second-quarter.
"Now is a key time to decide full-year economic trends," he said. "We must seize the opportunity and try our best to bring the economy back on track … We must put economic stabilisation in a more outstanding position."
Beijing has dispatched 12 inspection teams to assess the performance of local governments.
Liu Shengjun, head of the China Financial Reform Research Institute, said authorities should be brave and release a package similar to the 4 trillion yuan stimulus in 2008 to protect the economy, with the focus on subsidising hard-hit sectors and boosting consumption.
"China should bring forward its road map on pandemic control to provide clearer direction and guidance for business's medium- and long-term plans," he wrote in a note last week.
Additional reporting by He Huifeng