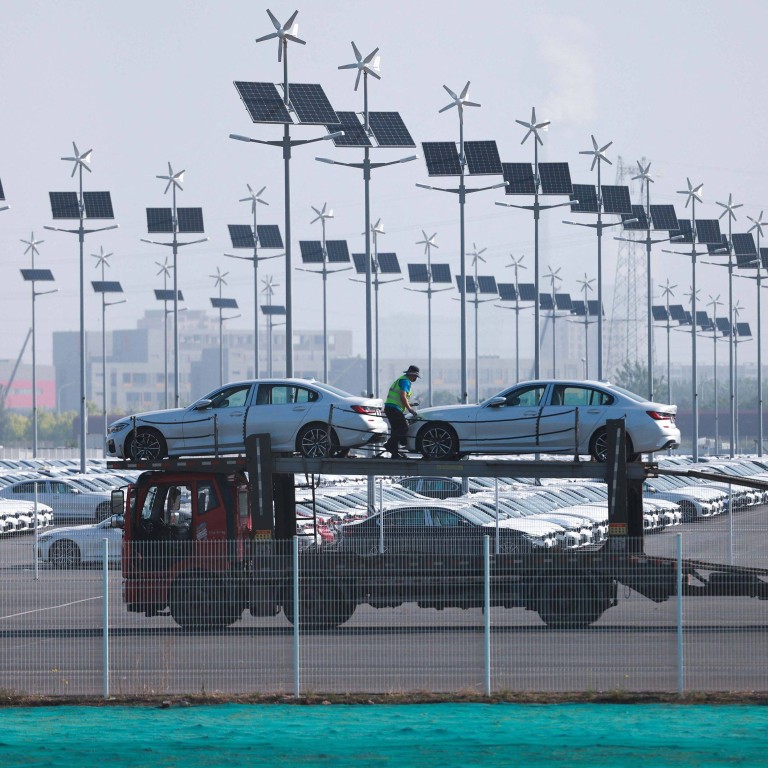 China economy: 'magnitude' of local subsidies, tax cuts to boost slumping car sales seen as too small
The central government announced that it will cut the purchase tax for selected cars by half for the remainder of the year
Car sales fell by more than 60 per cent in April as overall consumption tumbled in recent months amid a number of lockdowns in some of China biggest cities
Local authorities in China are rolling out a series of stimulus measures to boost slumping car sales, but questions have been raised over the effectiveness of the various tax cuts and subsidies amid a broad economic slowdown.
The central government has already announced that it will
cut the purchase tax for selected cars
by half for the remainder of the year, with the total planned reductions totalling at 60 billion yuan (US$9 billion).
In addition, there will be a new round of "Go Rural" subsidies to encourage residents in smaller cities to buy new energy vehicles.
Bigger cities, including Shenzhen, Shanghai and Beijing, have followed up with various subsidies and tax cuts, but the effectiveness of the stimulus is likely to be limited.
"We believe the overall magnitude of these locally-based measures is small as not all cities can afford such consumption stimulus packages," according to a Goldman Sachs report on Friday.
As consumption tumbled in recent months amid a number of lockdowns in some of the biggest Chinese cities, local and central governments were eager to introduce a raft of supportive policies to boost car sales which fell by more than 60 per cent in April.
Car sales in Shanghai, which only exited its large-scale two-month lockdown on Wednesday, fell to practically zero in April, according to the Shanghai Automobile Sales Industry Association.
As a key economic indicator, vehicle sales tend to reflect overall consumer demand and its decline usually is a warning sign that could herald a larger slowdown in the consumer market
China's economic recovery did show signs of recovery in May, with the Caixin/Markit manufacturing purchasing managers' index improving from 46 in April to
48.1 last month.
"The surveys suggest that a recovery in factory output started in May," according to Capital Economics.
"And with an improving virus situation nationwide, we expect a further acceleration in the coming months. That said, we doubt the rebound will be strong. Even without further large-scale lockdowns, external headwinds will exacerbate the shift in foreign demand away from Chinese goods."
However, no different from the post-Covid recovery in 2020, supply tends to rebound much faster than demand, according to Larry Hu, chief China economist at Macquarie Group.
"Steel production has been accelerating, but consumption remains weak under the double whammy of social distancing as well as weak confidence," he said on Thursday, adding that the 60 billion yuan car purchase tax cut "help on the margin, but is too small to move the needle".
China's consumer sentiment
has fallen to a historic low
amid the tight zero-Covid controls, as the country's consumer confidence index slumped to 86.7 in April from 113.2 in March, according to multiple domestic economic databases citing the latest figures from the National Bureau of Statistics.
It represents a fall below the watershed mark of 100 that separates optimism and pessimism, hitting the weakest level since the data was first available in 1991.
Further details of the
33-point plan package
to support the economy unveiled earlier this week singled out consumption as one of the major props to bolster the stalling economy.
In recent months, local governments have repeatedly issued consumption vouchers, subsidies and tax cuts for big-ticket items, such as home appliances and electronics, in order to boost consumption.
Experts, though, have long debated whether Beijing should offer direct cash handouts to aid the faltering economy, while measures on the supply side are viewed as not strong enough to salvage weakening consumer demand.