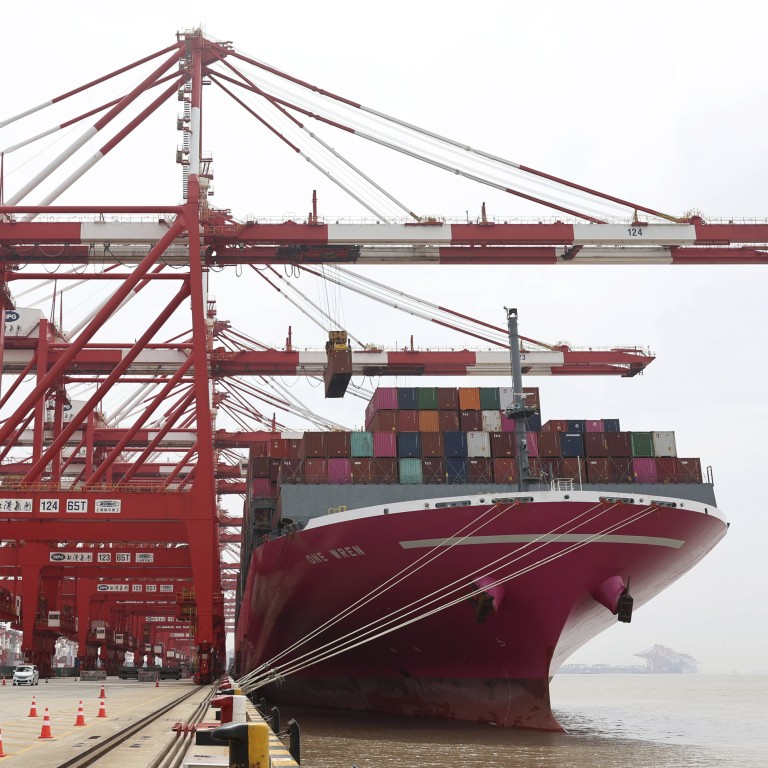 China's shipping industry readies for surge in demand as Shanghai restarts its export machine
Export volumes are predicted to jump at Shanghai Port, the world's busiest in terms of container throughput, as the city reopens after a two-month lockdown
Demand for ocean freight services and container shipping costs are expected to tick up as firms from Shanghai and surrounding areas rush to get goods out
China's shipping industry is bracing for an uptick in demand and freight costs as manufacturing activity in Shanghai roars back to life following the end of a two-month lockdown.
The Port of Shanghai is the world's busiest in terms of container throughput and a major gateway for goods produced in nearby manufacturing hubs.
Although it was operational during the
citywide lockdown
, capacity was largely restrained because of the reduced availability of goods.
Since April, most exports have been shipped from the nearby Port of Ningbo, but Shanghai Port has seen volume return in recent weeks, local shipping agents said.
"Lots of export cargo is again going through Shanghai now. Shanghai and Ningbo are 50/50," said Xu, a shipping agent based in Jiangsu province who gave only his surname.
The spot rate for 40-foot containers on the Asia-US west coast route continues to decrease, falling by 6 per cent to US$10,762 this week due to low levels of exports.
The rate is at the lowest level since July last year and has fallen by more than 30 per cent since the start of the lockdown, though it is still 33 per cent higher than at the same time last year, according to Freightos Baltic Index.
Xu expects a small rise in
container shipping costs
following Shanghai's reopening, as exporters rush to send goods. But there would be no big fluctuations in prices because the traditional peak season for shipping – from late August to Lunar New Year eve – has yet to arrive, he added.
"There were not too many shipments being stranded [during the lockdowns], as Shanghai Port remained operational while Ningbo Port undertook the major export task, and the railway and inland ports also shared the burden," he said.
Ningbo Port completed 3.97 million twenty-foot equivalent units (TEUs) of container throughput in May, increasing 14.5 per cent year on year, the port said.
The May container throughput volume for Shanghai Port was 3.4096 million TEU, a year-on-year decrease of 10 per cent. Average daily throughput in May was 7 per cent higher than April, according to data from the Ministry of Transport, showing a slight improvement.
Judah Levine, head of research at Freightos, said
Shanghai's reopening
is likely to cause an increase in ocean demand and freight volumes, with carriers reportedly increasing capacity in anticipation.
"Despite the fall in spot rates, long-term transpacific contract rates have continued to increase, suggesting that demand remains strong among large importers, or at least that they are willing to pay more for the hope of more secure space through longer-term commitments as peak season begins," Levine said on Wednesday.
Bottlenecks on roads around Shanghai had been one of the biggest obstacles for businesses over the past two months, but a customer advisory from Danish shipping giant Maersk on Wednesday said trucking efficiency to and from the city will be gradually improved now the Covid-19 outbreak is under control.
Congestion at the port of Shanghai
is also steadily normalising, though the level remains high for this time of the year, according to data from VesselsValue, a shipping data provider.
The average waiting time for tankers, bulkers and containerships was 34 hours at the end of May, down from a peak of 66 hours at the height of the outbreak in late April, VesselsValue data showed.
Up to 260,000 TEU of export cargo was not shipped from Shanghai in April because of the lockdown, and the delayed shipments will have to be sent as supply chains are reactivated, according to a note from British maritime consulting company Drewry last month.
"Given that the summer peak season is normally busier, anyway, the Shanghai rebound is likely to support a strong peak season and new capacity shortages," the note said.