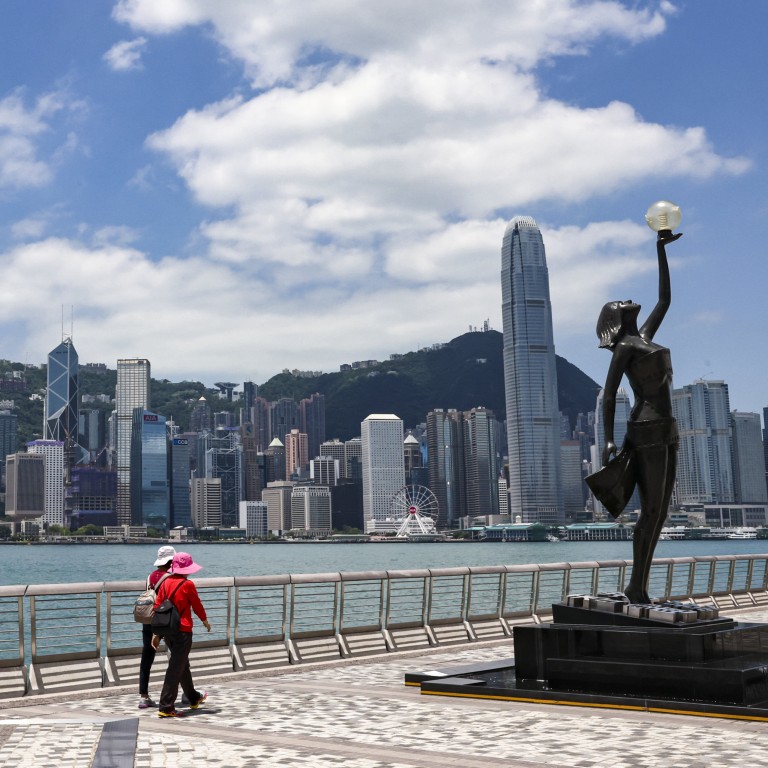 China-Hong Kong 'round-tripping investment' remains vital as economy slows, foreign business confidence tumbles
A large portion of China's foreign direct investment (FDI) is made up of domestically generated funds transferred to Hong Kong, then returned as FDI
FDI from Hong Kong and Macau will remain important as the mainland economy slows and foreign firms look to pull money out due to virus controls
So-called round-tripping investment from Hong Kong will continue to account for a substantial portion of China's inflows as the country grapples with a
slowing economy
and declining foreign investor confidence caused by strict coronavirus controls, analysts said.
A large portion of the mainland's foreign direct investment (FDI) is Chinese capital transferred to its special administrative regions Hong Kong and Macau, then returned to the country as "round tripping" FDI, which is usually used to maximise tax breaks and financial incentives.
Hong Kong has been the largest source of FDI in the mainland for the past four decades because many firms have set up offices in the city to manage real investments back in the mainland.
The financial hub's share of China's overall FDI between 2017-20 was 70.4 per cent, compared 63.7 per cent between 2011-15 and 44.1 per cent between 2006-10, according to The Economist Intelligence Unit (EIU).
"A large part of FDI from Hong Kong to mainland China is 'round-tripping' investment – up to 50 per cent according to some estimations, [which] is less likely to be affected [by the slowdown]," said Wong Kin Ming, a senior lecturer at Baptist University's department of economics.
Chinese companies that use "round-tripping" investment are mainly looking for flexibility and preferential treatment as foreign investors, and have strong motivation to reinvest in the mainland, especially as the current geopolitical environment has made spending money overseas more difficult, he said.
However, Hong Kong's reputation as a hub for managing FDI into China could be weakened because multinationals are increasingly looking to other places, such as Singapore, that are not affected by tensions between China and the West or have eased pandemic controls, Wong said.
Official figures from the Ministry of Commerce show total FDI into China increased by 20.5 per cent year on year to 478.61 billion yuan in the first four months of 2022, with investment from South Korea, the United States and Germany all growing.
"[But] FDI disclosure has become less transparent," said Nick Marro, lead of global trade at The EIU. "[The] more detailed data for last year won't be released until the fourth quarter, when the statistical yearbook for 2021 is published."
By removing Hong Kong and tax havens like the Cayman Islands and British Virgin Islands, top investors in China before 2020 included Singapore, Japan and South Korea, though inflows from the US have been shrinking over the past decade, according to The EIU.
"At least on paper, Hong Kong won't lose its top spot any time soon. It accounts for the overwhelming share of the FDI basket," Marro added.
"That said, this partially reflects 'round-tripping' activities, as Chinese companies repatriate their profits back into the mainland via Hong Kong."
Wong said Hong Kong's position as the No 1 "gateway" for FDI into the mainland is "well ahead of other economies", accounting for 70 per cent of overall FDI in 2020.
"Followers, ignoring tax havens, like Japan and Singapore are all under 5 per cent," he added.
Billy Wong, deputy research director at Hong Kong Trade Development Council, said that Hong Kong's role as an FDI centre for mainland companies dates back to the 1980s, when China started opening up its economy.
"With China's participation in the World Trade Organization and Beijing signing free trade agreements with other countries, the [intermediate] role of Hong Kong may have slightly reduced," he said.
But Wong also said the Mainland and Hong Kong Closer Economic Partnership Arrangement signed in 2003 is still providing some benefits in the Chinese market, such as foreign ownership flexibility, which makes "round-tripping" investment appealing.