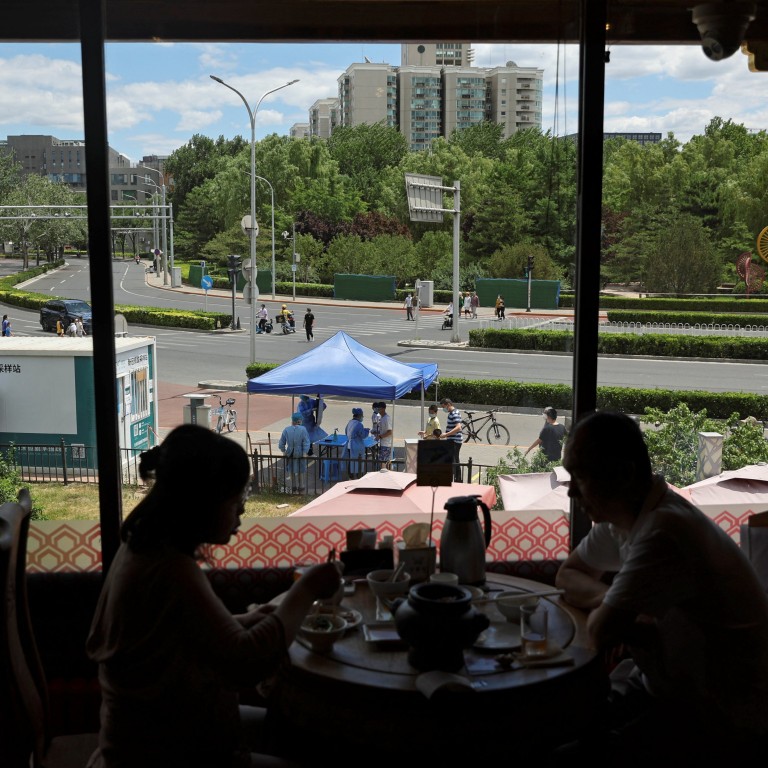 Coronavirus: Chinese tourists trickle back during Dragon Boat Festival, but far short of pre-pandemic levels
Domestic travel spending fell by 12.2 per cent year on year between June 3-5, while tourism trips fell 10.7 per cent over the same period
The data pointed to a slight improvement from contractions of 30.2 per cent in tourism trips and 42.9 per cent in revenue during the Labour Day holiday
Tourist trips and holiday consumption remained sluggish during China's three-day Dragon Boat Festival holiday, as disruptions caused by coronavirus controls continued to haunt the economy and consumer confidence.
The holiday, which finished on Sunday, started two days after the financial hub Shanghai lifted its two-month lockdown, much to the relief of local residents and businesses.
Beijing's tight zero-Covid controls have hammered consumer confidence in the world's No 2 economy and helped fuel concerns
economic growth might fall short
of the government target this year.
Spending on domestic travel fell by 12.2 per cent year on year to 25.82 billion yuan (US$3.8 billion) between June 3-5, reaching only 65.6 per cent of pre-pandemic levels in 2019, according to data released by the Ministry of Culture and Tourism late on Sunday.
Overall tourism trips fell 10.7 per cent from the previous year and recovered to 86.8 per cent of levels in 2019, the data showed.
The figures show a slight improvement from contractions of 30.2 per cent in tourism trips and 42.9 per cent in revenue during the
Labour Day holiday
between April 30 and May 4.
To boost consumption, more than 170 cities in mainland China have issued coupons worth a total of 19 billion yuan. Interprovince travel rules have also been loosened.
Still, lingering local travel restrictions and expectations that incomes will fall as the economy slows continue to undermine travel plans, industry insiders and consumers say.
Travellers preferred short-distance trips to local areas this year, with camping and stays at suburban bed-and-breakfast places becoming the most popular accommodation. But many Chinese simply chose to stay put.
"I treated my parents and my sister's family to a meal of dim sum during the holiday, bought two cups of coffee, and spent the rest of the time at home watching free variety shows online," said Qiu Huiying, a Guangzhou-based HR manager.
Plans to eat at a favourite restaurant of Qiu's parents on the border of Guangzhou and Foshan city were cancelled because her child's school forbade students leaving Guangzhou during the holidays.
As of Sunday, 28 provinces had resumed interprovince travel, but a full recovery is still a long way off as consumers remain cautious about outbreaks and virus controls.
"I didn't want to get myself into trouble and if we left Guangzhou to travel to other places, we could be at great risk of being quarantined in case there was an outbreak either in Guangzhou or at the destination city," Qiu said.
Consumption, one of the pillars of China's economic growth, has remained weak amid an overall economic slowdown fuelled by Omicron outbreaks in manufacturing hubs and global economic uncertainty caused by Russia's invasion of Ukraine.
Retail sales dropped by
11.1 per cent in April
from the previous year, the sharpest contraction in more than two years and down from a decline of 3.5 per cent in March.
Box office revenues hit the lowest level in 10 years during the long weekend holiday to 180 million yuan, down 61 per cent from the previous year and down 77 per cent from 2019, according to industry data.
Virus cases have moderated in recent weeks, leading to an easing of coronavirus controls in
Shanghai
and Beijing.
Still, China's zero-Covid policy, which requires restrictions on activity wherever outbreaks occur, means that consumption is likely to remain subdued for some time.
"Many private companies' employees and even civil servants are facing lay-offs and pay cuts this year, and many have mortgages and car loans," said Zheng Wenjing, a Shenzhen-based white-collar worker.
"For middle class, they would reduce non-essential expenditure and spend with more caution, at least until the economy is back on its feet. But we all don't know when."
Additional reporting by Leona Liu Ying