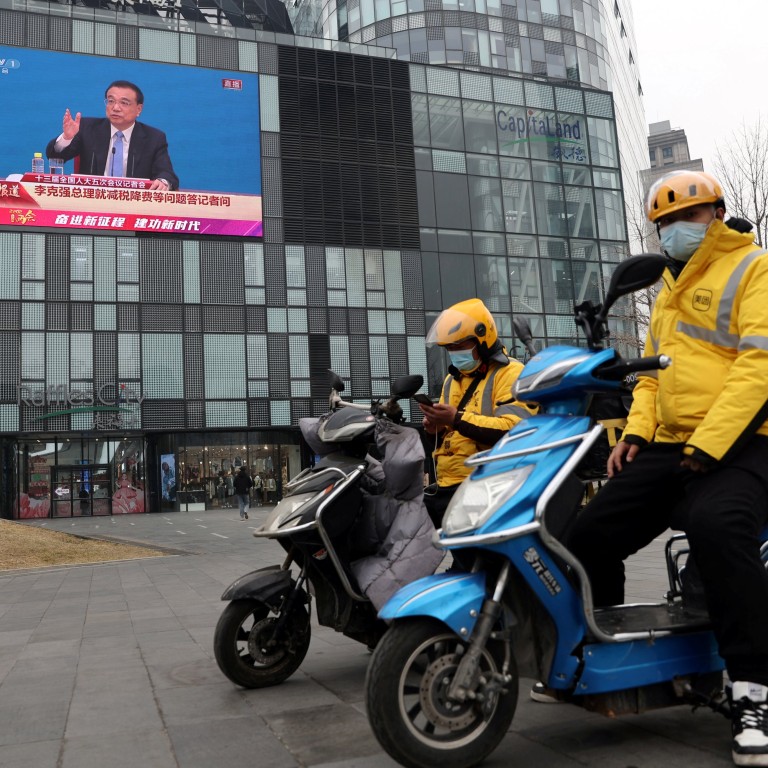 China's 'economic momentum' fuelling June's GDP growth, skewing quarterly estimates
As China's tier-one cities reopen following coronavirus lockdowns, state media says June is a 'key window' for bolstering economic-recovery efforts and ensuring future resilience
Beijing think tank warns that mounting household debt is raising market fears of a 'balance-sheet recession', as seen in the US from 2007-09
Chinese state media has raised the tone of a quick economic recovery, after Beijing shifted its priority to stabilisation and kicked off rescue packages from late last month.
It suggests there may be a growing sense of urgency to anchor market confidence as the world's second-largest economy is striving to correct the economic damages of its
zero-Covid policy
in the March-May period, while leaders are looking to hang a lantern on achievements of the past decade in the lead-up to the
Party Congress
later this year.
"As seen from data, a periodic bottom of the economy has been basically confirmed. June will be a key window to see economic recovery and resilience," the state-run China Securities Journal reported on Tuesday, citing data on crude steel production, power generation, logistics and passenger car sales.
"Given the better pandemic-control situation, economic momentum and support of policy packages, economic growth is expected to rebound," it said.
Liu Yuanchun, president of Shanghai University of Finance and Economics, said economic growth could reach 5 per cent in June with existing government policies, and he suspects this will push quarterly growth to around 0.5 per cent.
However, to achieve Beijing's annual growth target of "around 5.5 per cent", Liu said the country would need its economy to grow by 7 or 8 per cent in the year's second half.
"This, however, would challenge the fiscal foundation at local levels," he said.
China is due to release the main economic indicators for May on June 15.
Xiong Yuan, chief economist at Guosheng Securities, said previous constraints on the economy are changing as tier-one cities Shanghai and Beijing have eased control measures, and 24 of China's 31 provinces have already completed leadership reshuffles.
"June could be a watershed for the economy and market performances," he wrote on Monday, expecting further policy loosening.
In a working paper released last week, the China Finance 40 Forum, a Beijing-based think tank of financial officials, executives and academics, said the pandemic has pummelled the household sector and fuelled indebtedness, raising market worries about a balance-sheet recession, which was seen in Japan in the 1990s and in the US from 2007-09.
A balance-sheet recession occurs when individuals or companies focus on paying down debt rather than spending or investing, which leads to a slowdown or drop in economic growth.
The paper called for "powerful" countercyclical adjustments to reverse the stalling economic-growth trajectory, and for targeted support to be given to affected sectors.
"China should consider expanding its budget expenditure by 1 trillion yuan [US$150 billion], with the funds allocated to grass-roots organs, virus-hit businesses and areas that can help boost household consumption and revenue," the working paper said.
"China still has room to cut the interest rate by 100-200 basis points. We should take a bold step to use it, as the economy is currently facing huge downward pressure."