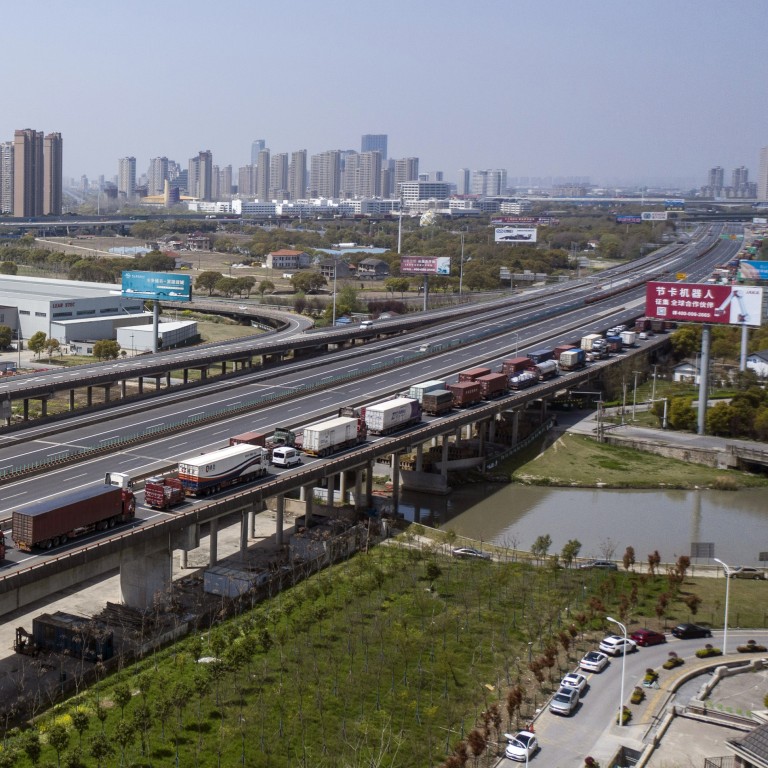 China's transport restrictions have upended goods trade, Premier Li says in calling for logistical changes
Li Keqiang tells transport authorities that customs-clearance process must be faster and more efficient at major ports, to stabilise and protect the industrial supply chain
World Bank revises down its GDP growth forecast for China following disruptive outbreaks and lockdowns that have suppressed economy
China's premier has instructed the nation's transport authorities to better facilitate the movement of goods, as strict zero-Covid measures and regional outbreaks continue to take a hefty toll on the sector that is characterised by high mobility.
Meanwhile, the World Bank has revised its annual economic outlook for China in the wake of those
highly disruptive outbreaks and lockdowns
, owing to the impact they have had on the world's second-largest economy.
As a guarantor of China's economic development, road freight is responsible for more than 80 per cent of freight transport in the country.
However, as several cities and regions started reporting outbreaks of the highly contagious Omicron coronavirus variant, China's road-freight activity fell by 26.6 per cent in April compared with the same month last year, and by 6 per cent cumulatively from January to April, according to industry data.
During a symposium at the Ministry of Transport on Monday, Premier Li Keqiang played up the importance of transport in a market economy, according to a Xinhua report.
He also said the government must focus on strengthening and protecting freight shipments in critically important industries and regions to ensure the smooth and essential flow of goods.
In May, under back-to-work and back-to-production initiatives, the nation's transport and logistics sectors recovered somewhat, but not to normal levels.
A national road freight flow index compiled by a leading platform for the road logistics industry, G7 Smart, indicated that the flow of goods increased by 18.4 per cent in May from a yearly low reached in April.
With the world's largest trade in goods for five consecutive years, China is also deeply integrated into the global economy. To that end, Li emphasised the need to make the customs-clearance process faster and more efficient at major ports. Doing so, he said, will help stabilise and protect the industrial supply chain.
"All regions and departments should strengthen cooperation to push freight volumes to recover as soon as possible and provide support for reasonable economic growth in the second quarter," he said.
Top leaders have repeatedly called for the streamlining of the logistics sector, which has been severely hit by lockdowns in Shanghai and other major economic centres since March.
The push further intensified after
Li warned in May
that economic growth was stalling and ordered local cadres to stem downward risks and drive employment to ensure a positive gross domestic product (GDP) growth in the second quarter.
Several investment banks and research agencies have downgraded their forecasts for China's economic growth this year.
The World Bank predicted in a report on Wednesday that, despite a promising start to the year, China's real GDP growth will slow sharply to 4.3 per cent in 2022, 0.8 percentage points lower than the bank forecast in its
China Economic Update report
in December.
The World Bank's country director for China, Mongolia and South Korea, Martin Raiser, said controlling the epidemic while supporting economic growth in the short term poses a dual challenge for China.
"While the government has stepped up macroeconomic policy easing, the dilemma facing decision-makers is how to make the policy stimulus effective as long as mobility restrictions persist," he said.
The World Bank's new report also said that investment growth in China is expected to accelerate over the remainder of the year, driven largely by
infrastructure projects
, and that this will partly offset suppressed consumption.
And noting the potential for China to promote economic growth by borrowing to invest in infrastructure again, the report flagged the unsustainability of such a growth model.
"High levels of indebtedness of corporates and local governments limit the effectiveness of policy easing and store up further risks down the line," said Ibrahim Chowdhury, the World Bank's senior economist for China.
The report also recommended that the central government take direct measures to encourage consumption, such as by increasing the use of consumer vouchers.