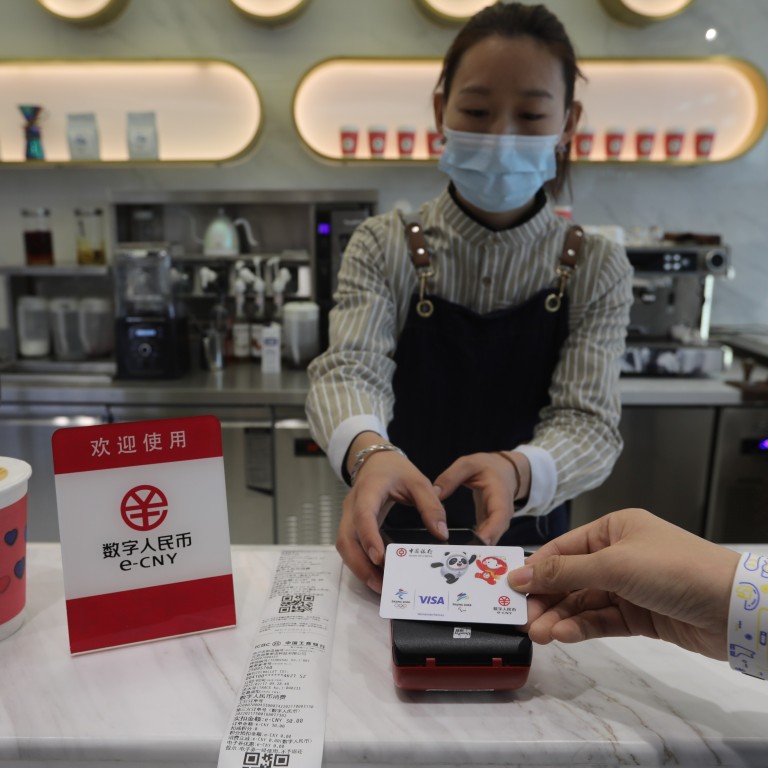 China digital currency: e-CNY 'well positioned' but still 'a way to go' to challenge US dollar dominance
Analysts say international adoption of the digital currency will ultimately depend on trust in Chinese institutions and markets
The e-CNY has been piloted across the country and used by tens of millions of Chinese, but overseas use has been limited
China's central bank digital currency has so far played only a limited role in international trade and investment, despite explosive growth in its domestic use and concern about its application in the United States, experts say.
Beijing has high hopes for the e-CNY, which has been piloted across the country and been used by tens of millions of Chinese.
Authorities are also keen to promote its use in
international transactions
amid risks of US financial decoupling, which could deny China access to the dollar system, and secondary sanctions on trade with countries under Western sanctions like Russia or Iran.
But Chinese policymakers have limited ability to challenge the US dollar system in the foreseeable future, analysts said.
"Clearly China is extremely well positioned … But on the other hand, there's still a way to go," said P.S. Srinivas, a visiting research professor at East Asian Institute of the National University of Singapore.
"Ultimately it depends on the trust that global participants have in China's markets," he told a webinar organised by the university this week.
China, which has long complained of US dollar hegemony, pioneered its research into the e-yuan – formally known as the Digital Currency Electronic Payment – with an institute chartered under the People's Bank of China in 2016. Development was accelerated after Facebook announced its stablecoin project in 2019 that was known as Libra and has been
renamed Diem
.
The digital currency has since been trialled in 23 Chinese cities, including Beijing, Shanghai, Shenzhen, Guangzhou, Suzhou, Chengdu, Chongqing, Dalian, Xian and Qingdao.
Some 261 million digital wallets had been opened by the end of last year, with total transactions reaching 87.6 billion yuan (US$13.1 billion).
China has also been exploring its use overseas, led by a
cross-border payment project
with the United Arab Emirates, Hong Kong, Thailand and Bank of International Settlements.
As China's e-yuan has developed, authorities in the US have increasingly taken note.
The US Federal Reserve published its first ever
research report in January
on a potential American digital currency, in which it voiced concern that central bank digital currencies could weaken US dominance of the global financial system.
In late May, three US senators tabled a bill called the Defending Americans from Authoritarian Digital Currencies Act, asking that Apple, Google, and other app store providers stop hosting apps that accept e-CNY as a form of payment.
Despite a growing presence internationally, the Chinese currency is still far behind US dollar and euro when it comes to global transactions.
The yuan accounted for 2.14 per cent of global payments in April, far below 41.81 per cent for the US dollar and 34.74 per cent for the euro. In terms of its proportion of global foreign exchange reserves, the yuan ranked fifth with a 2.79 per cent share at the end of last year, while the US commanded 58.5 per cent and the euro 20.6 per cent.
Xiao Geng, chairman of the Hong Kong Institution for International Finance, said there was an incentive for China to develop more powerful functions for its digital currency if the US weaponised the dollar. But he added the yuan's overseas use will ultimately depend on the trust in Chinese institutions.
Andrew Cainey, a senior associate fellow with the Royal United Services Institute, said digital currencies could help improve the "slow, costly and complicated" international payments system, but warned what mattered was the institutional set-up.
"We need to just look at the context … it was 50 plus years between the dollar's takeover from the pound sterling … These are not things that happen overnight," he said.
.