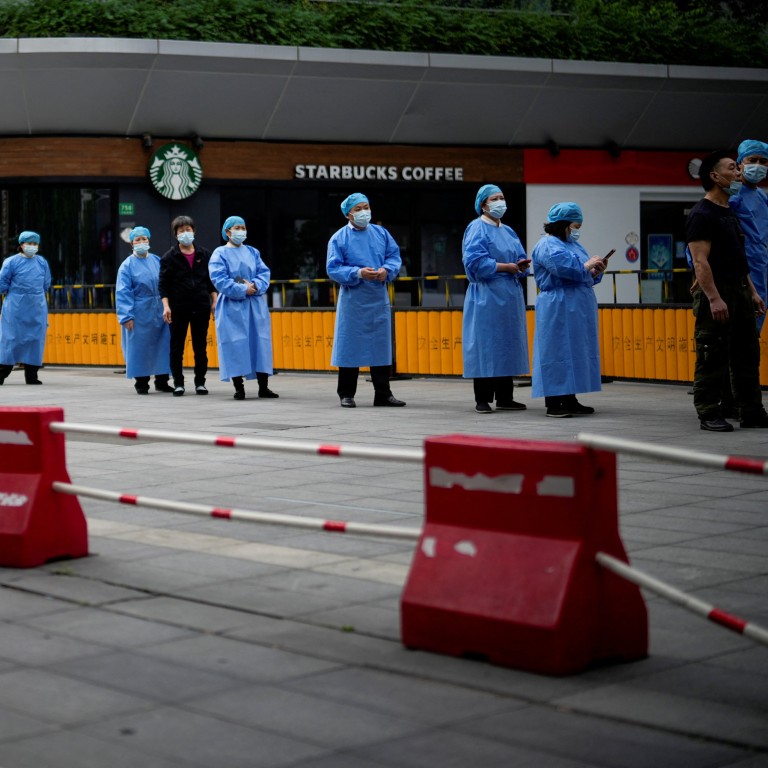 Coronavirus: China moves to calm foreign investors after 'unprecedented' shock of Shanghai lockdown
China must move quickly to rebuild confidence among foreign firms following Shanghai's reopening, analysts say
Chinese leaders have reiterated the country is open for business and they are taking steps to address multinationals' concerns
China is stepping up efforts to placate an increasingly frustrated foreign business community, amid warnings that securing overseas investment is facing its biggest challenge in three decades following recent coronavirus lockdowns.
Authorities will deploy special task forces and improve communication with foreign firms to help them solve problems in a timely manner, Premier Li Keqiang said on Wednesday, echoing some of the pledges made in a
33-point stimulus plan
announced late in May.
"Opening-up is China's basic national policy. Stable foreign trade and investment are critical to the overall economy and employment," Li told a meeting of the State Council, according to the official Xinhua News Agency.
China's vice-minister of commerce Wang Shouwen encouraged foreign companies to "report their problems directly" to the government. The ministry would focus on helping foreign companies resume production, he added.
"The current pandemic has indeed brought a series of impacts and challenges to domestic and foreign-invested enterprises, which the Chinese government attaches great importance to," he said on Wednesday.
In recent weeks, China's leaders have put increasing emphasis on meeting the concerns of foreign investors, making pledges of support at conferences and in official guidelines. But they have denied there is an
exodus of foreign firms
from the country.
Surveys by business lobby groups, however, show foreign companies are becoming more inclined to pull investment out of the world's No 2 economy.
"The impact [of the Shanghai outbreaks on foreign investment] is unprecedented over the past 30 years," said Huang Feng, chairman of the Shanghai Foreign Investment Association.
Official figures showed foreign direct investment into China rose 26.1 per cent to US$74.47 billion in the first four months of the year. But the willingness of multinationals to spend in the country is declining, said Huang, who was in charge of the statistics at the foreign investment department of the Ministry of Commerce between 2011-16.
He said the next three to six months were critical for reassuring foreign firms in Shanghai, which
lifted a two-month lockdown
on June 1.
"The problem now is mainly about confidence," Huang said at a virtual forum held by the Shanghai Development Research Foundation last week.
Huo Jianguo, the former head of a commerce ministry think tank, echoed his views, saying the government should move quickly, before it was too late.
"Once their losses are unbearable, it is very easy for them to transfer their investment," he said.
Instead of eyeing new investment, authorities should stabilise existing projects and the operations of foreign firms in China, Huo said.
"The companies that have stuck to China for a long time still have feelings for China …[we must] put the announced opening-up policies into practice and let the foreign investors feel that we keep our word – then they will have confidence," he said.
It was important to treat all foreign companies fairly, rather than giving special support to "key enterprises", he added.
Frustration among foreign firms is fuelling concern about a large-scale withdrawal and decoupling between China and the West.
Nike on Wednesday announced it will stop offering its running and work out apps in mainland China next month, after Amazon last week said it was shutting down the Kindle bookstore in the country.
In mid-May, Disney's CEO Bob Chapek told shareholders that he was confident the company's films would succeed "even without China", a statement that triggered backlash on Chinese social media.
Huo said China could not stop a company from leaving because of "values". It could, however, create a level playing field that was conducive to development.
"As a result, even if one goes, another will come, and there will not necessarily be great losses overall," he said.
Beijing is still committed to fostering a "market-oriented, law-based and world-class" business environment for foreign firms, Li said on Wednesday.
"The Chinese economy is now deeply integrated into the world. All the measures to ensure stable foreign trade and investment must hit the ground running without delay," he said.
Wang said the commerce ministry had this year held 15 symposiums – most of which were virtual – with more than 120 foreign firms and more than a dozen overseas business associations.
Joerg Wuttke, president of the European Union Chamber of Commerce in Chin, met twice with Commerce Minister Wang Wentao in October and April.
The chamber said the two meetings allowed it to voice its concerns and recommendations, which helped to increase business confidence, while the ministry went beyond its mandate to help foreign teachers get back to China.
But it added: "With business currently facing both a weakening Chinese economy and geopolitical challenges, further discussions are needed."