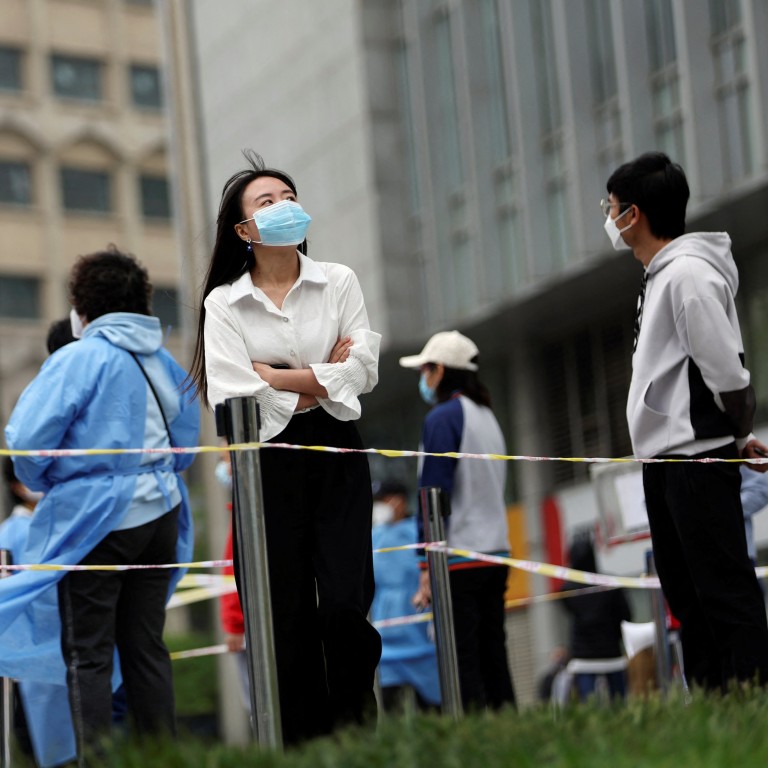 Coronavirus: China's jobless rate could reach 2020 levels unless Beijing 'learns' early pandemic lessons, experts say
Academics at Peking University warned this week that China's unemployment situation could get as bad as 2020 under current virus control measures
They estimated the number of unemployed Chinese in mid-2020 could have been as many as 92.66 million, or up to 12 per cent of the working population
As China's zero-Covid policy continues to disrupt business, the country could see unemployment reach levels similar to 2020, when up to 12 per cent of the working population was out of a job, academics say.
China has been battling its worst Covid-19 outbreak in more than two years and authorities have responded with the type of tough containment measures that brought success early in the pandemic.
Beijing ordered clubs and bars in the central business district of Chaoyang to shut down on Thursday – just three days after reopening – while a local community was put under lockdown after a single resident was infected.
Shanghai will lock down millions of people for mass Covid-19 testing this weekend - only 10 days after lifting a citywide
two-month lockdown
- following the discovery of a handful of community cases.
Academics at Peking University warned this week that unemployment could surge unless policymakers "learn from what happened in 2020" during the first wave.
In recent months, China's service sector has taken a heavy blow, but manufacturers are also suffering as the country's competitive edge over other Asian exporters fades.
"Now, many export-oriented factories in Dongguan, such as those small- to medium-sized firms producing footwear and electronics parts, are in a state of semi-shutdown, because orders have been shrinking in the past couple of months," said Wang Jie, a footwear producer in Dongguan, who has been focusing on the US market for a decade.
The situation is in stark contrast to last year when Wang opened a new processing plant because of booming orders. He hired 10 new junior high school graduates from his hometown to help with the expansion.
But things took a turn for the worst in May, when Wang was told by the trading company he worked with that American buyers were placing orders in Southeast Asia due to China's virus controls.
"So the processing plant stopped all of a sudden," Wang said. "Between March and June has been peak season for Dongguan's manufacturing in previous years, factories were hiring a large number of workers or temporary labour.
"Now, some 18- to 20-year-old migrant workers in Dongguan are unemployed."
Despite losing orders, Wang does not have plans to cut jobs, but he said many factories in Dongguan have been forced to lay off temporary employees, which was rare in the southern manufacturing hub.
China's export growth
rebounded in May
as manufacturing activity in Shanghai gradually returned to normal towards the end of the month, but any forward momentum is set to fade amid growing headwinds, analysts said.
"Domestically, there are also concerns about a recurrence of widespread Covid lockdowns as China stays on its dynamic zero-Covid policy, which may encourage further diversification of supply-chain to the Asean region," UOB Group said in a research note on Thursday, referring to the Association of Southeast Asian Nations.
Beijing has stuck with its hardline zero-Covid policy, which relies on lockdowns, mass screening and centralised quarantine, despite the highly transmissible nature of the Omicron variant.
Thousands of coronavirus testing sites have popped up on pavements across Chinese cities, as regular testing has become the new normal.
Chinese leaders are looking to replicate the success they had in 2020 when the country became the first in the world to recover from the pandemic, which started in Wuhan. But research from Peking University showed the rebound in gross domestic product did not lift the job market significantly.
China's official unemployment rate only counts registered urban residents and does not include most rural and migrant workers, who number in the hundreds of millions, meaning the actual number of jobless is likely much higher.
A survey conducted in early March 2020 by Peking University and Tencent Cloud found that 7.5 per cent of employees lost their jobs that month, compared to the official figure of 5.9 per cent. The sample for the urban employment survey had a total of 6,000 people working in different sectors.
A follow-up survey in mid-June showed the unemployment rate rose to 11 per cent, compared to the official figure of 5.7 per cent.
Official jobless numbers began trending down as the economy gradually recovered in 2020, but the study estimated the number of unemployed could have been as many as 92.66 million – meaning 12 per cent of the working population.
The average unemployment period in 2020 was about four and a half months and a quarter of unemployed workers did not have a job for more than six months, the researchers said.
"Today we need to learn from what happened in 2020," Zhang Dandan, an assistant professor at Peking University's National School of Development said in a seminar organised by the college on Wednesday. "It could mean that the jobless situation could reach a similar size."
China's headline jobless rate – the surveyed urban unemployment rate – began to rise in the second half of last year, growing from 5.1 per cent in June to 6.1 per cent in April this year, the highest level since March 2020, according to data released by the National Bureau of Statistics last month.
China's refusal to budge from its stringent virus containment rules is at odds with most of the world.
The US and Europe are relaxing virus controls, while also providing support for individuals who have suffered from the pandemic, Zhang said.
Long-term unemployment could also lead to mental health issues and depression – a "social instability" issue that needs to be addressed beyond focusing on Covid prevention and cutting taxes to help businesses, Zhang added.