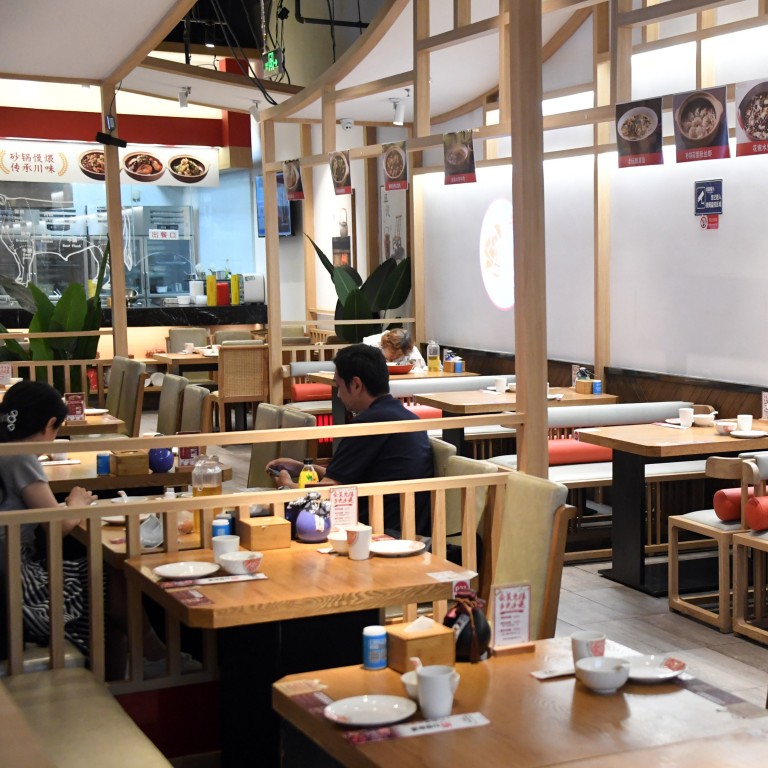 As China's capital reopens restaurants, foodies and lunch crowd remain reluctant to dine out
Beijing has relaxed its coronavirus control measures after more than a month, but many workers and ordinary people have not yet resumed their normal routines
Meanwhile, a number of businesses remain closed – some permanently, while others are looking to hire staff
As state media painted a reassuring image of patrons eagerly returning to Beijing's restaurants this week after being forced to dine at home for 36 days, people on the ground suggested the real picture was less impressive.
After imposing a partial lockdown – putting residents under home quarantine, upending normal business operations and issuing work-from-home mandates – Beijing authorities
relaxed coronavirus control measures
on Monday, including lifting a ban on dine-in services in the city of nearly 22 million people.
That means most restaurants, parks and entertainment venues are once again open in 15 of the capital's 16 districts. But it doesn't mean people are lining up to get in.
"Our restaurant is a place where customers dine in and make business deals, but now they haven't fully returned to work in person, so we are seeing few customers," said Kong, the manager of a Guangdong-style restaurant in east Chaoyang district who declined to give his full name.
Scenes of eateries bustling with customers – long deprived of in-person service – have not panned out as expected for hopeful restaurateurs. Managers in some places could be seen this week sitting idly in their empty restaurants, busying themselves with bookwork during lunch hours.
Even though the dine-in rules have been relaxed, many workers have not resumed their normal routines, as Kong noted.
Meanwhile, a number of businesses remain closed – some permanently, while others are looking to hire staff, according to posted notices.
And there are other factors that continue to keep customers away. Some expressed fears and concerns about catching the coronavirus from diners packing into restaurants, while others said they have simply become used to ordering takeaway or preparing meals at home.
"There are still a few new cases every day," said Beijing resident Song Zhehechuan. "I will be more assured if there are no new cases for a few days."
With Song and others reluctant to venture out this week, managers in normally busy areas such as Beijing's central business district, Chaoyang, theorised as to why business was slow to return to pre-lockdown levels.
"It's only been two days since the reopening, and some customers might be worried that restaurants might use stale ingredients," a Chaoyang restaurant manager surnamed Zhang said on Tuesday.
During the ban, Zhang's restaurant maintained its delivery service but still took quite a large financial hit, as most revenue comes from dine-in customers.
And delivery services continue to be popular, albeit slightly suppressed now that restaurants are welcoming dine-in guests.
"I used to deliver 60 to 70 orders a day, but since Sunday I've been getting about 50 orders a day," a delivery driver surnamed Li said on Tuesday, adding that he wasn't seeing many diners when he picked up orders from restaurants.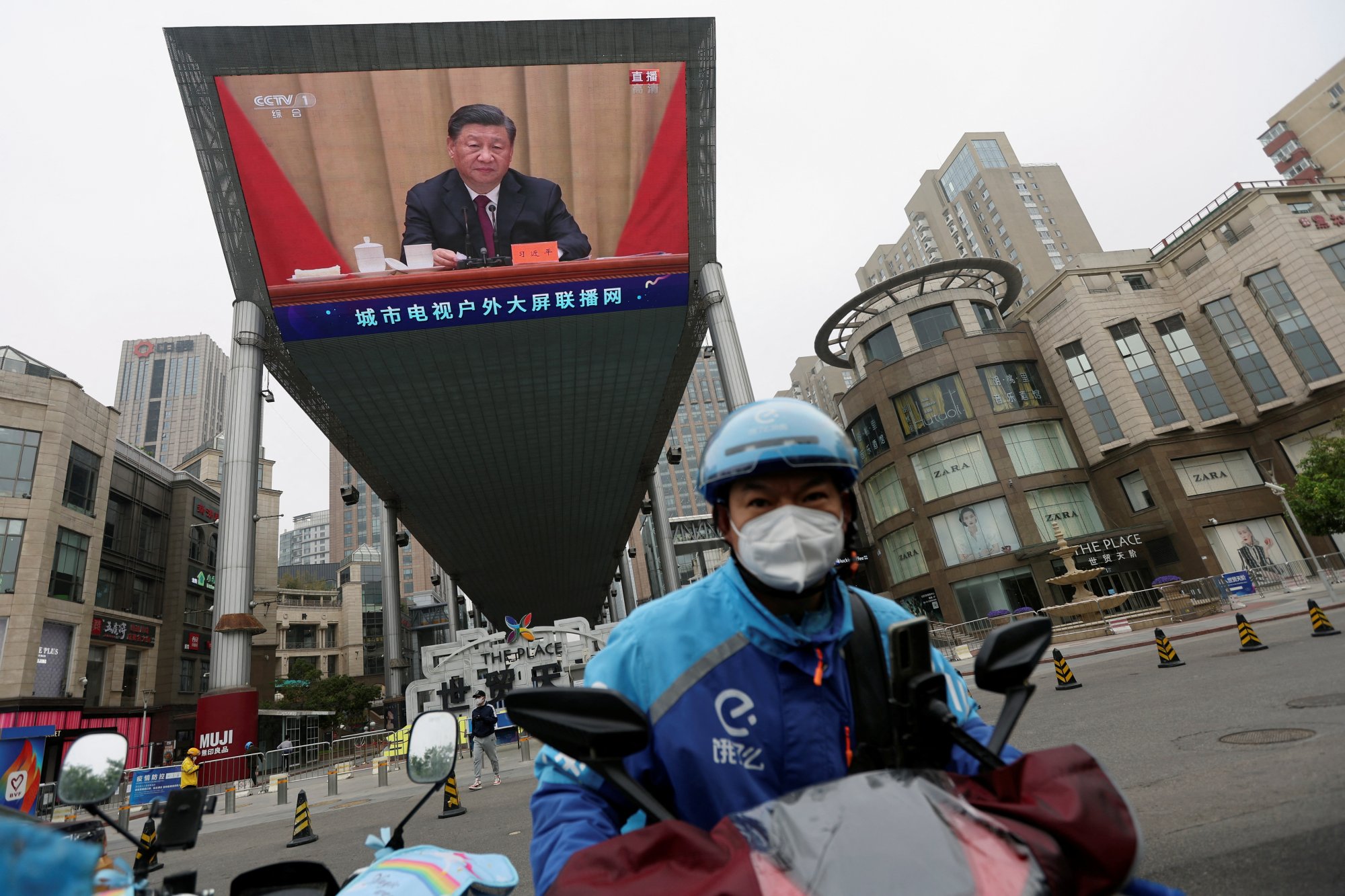 During the Monday lunch hour, the food court of Chaoyang's The Place, a shopping centre known for its massive overhead projection screen, was devoid of the once-ubiquitous throng of white-collar workers struggling to find seats.
At Viva Plaza, a Chaoyang shopping centre with several popular chain restaurants, many businesses remained closed this week, and diners were scarce.
Small-business owners also said the week had brought them little respite after weeks of seeing sales decimated.
A woman surnamed Liu, who owns an independent cafe in the heart of Beijing, said her business plunged tenfold during the dine-in ban. "On our worst day, we sold only two cups of coffee," she said, declining to give her full name.
But the lifting of certain restrictions has so far done little to change the bleak situation facing Liu and her business partner, especially as social-distancing measures remain in place, reducing their number of available seats.
According to Qichacha, a provider of data and analytics on China-based private and public companies, new registrations of food-and-drink companies in Beijing dropped to 2,100 in May from nearly 4,000 in April and March.
The May results came after Chaoyang officials announced a coronavirus-insurance scheme for affected service industry workers and businesses in late April.
Those forced out of their jobs due to coronavirus restrictions can receive up to 2,100 yuan (US$315) in compensation, and affected companies can get as much as 100,000 yuan, according to the announcement.
However, an informal Post survey of eight restaurants in Chaoyang found that none of them had heard of the insurance scheme as of the past few days.
Compared with smaller diners, upscale restaurants are seeing a stronger recovery.
"On the third day of reopening, despite being a workday with a small number of people, it has pretty much recovered to our normal levels," said a fine-dining-restaurant manager surnamed Yu on Wednesday. China World Mall, where her restaurant is located, is one of Beijing's largest and most high-end shopping malls, but it was shut down in the past month along with all of the shops inside.
She added that the economic loss was difficult to gauge, as May is traditionally a busy time of year.
"If it happened in the winter, the impact on our business would be less," Yu said. "But thankfully it's still a good season. We can probably make up for the loss if we try hard. We also believe the Covid controls are swift and effective – things like this shouldn't happen again."
Yu also noted that there were fewer diners at other restaurants in China World Mall than she had expected after weeks of restrictions.
Chaoyang had imposed one of the city's first lockdowns, sending hundreds of thousands of residents into home quarantine, suspending public transport and closing hundreds of businesses after multiple infections were reported.
On Tuesday, the deputy director of the Beijing Municipal Development and Reform Commission downplayed the economic impact and said it was temporary.
"Beijing has a stable foundation," Wang Yingjie said during a press conference, adding that the consistent and positive development of the city's economy will not change.
As of Thursday, the capital had reported 1,838 coronavirus infections since April 22, according to the Beijing Municipal Health Commission.
However, a setback in the reopening efforts occurred as a growing number of cases have been linked to a nightclub outbreak, again prompting the closure of all bars and nightclubs in Chaoyang and Dongcheng districts, while all close contacts were immediately quarantined.
By Friday afternoon, 29 cases in 12 districts had been connected to the nightclub.
"This outbreak involving clusters at bars once again serves as a reminder that there are still hidden transmission risks," Liu Xiaofeng, deputy director of the Beijing Centre for Disease Prevention and Control, said during a press conference on Thursday.
He added that normalised prevention measures must be strictly implemented, and that the so-called
dynamic zero strategy
must remain in place to prevent both domestic and imported infections.