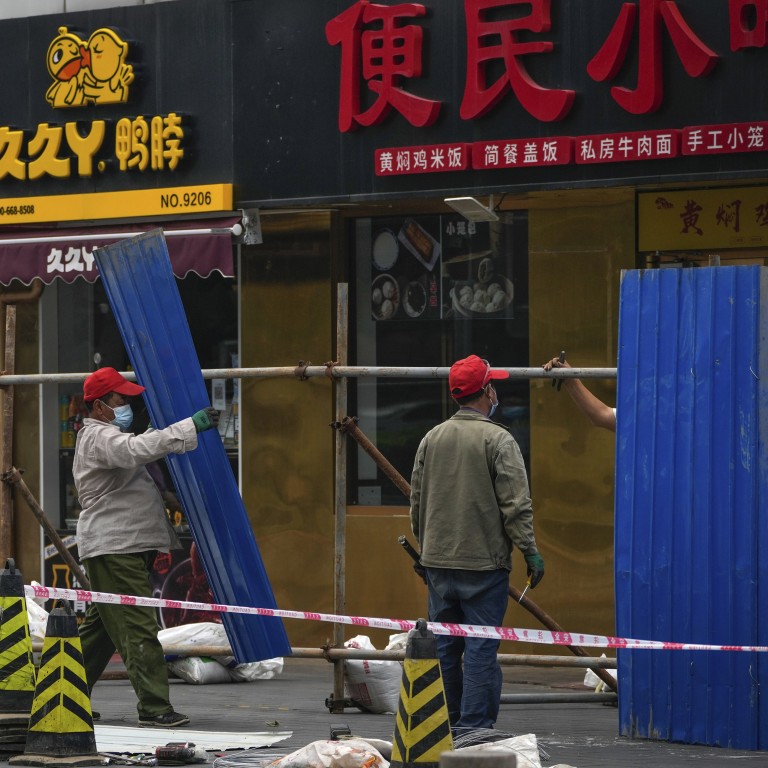 China's consumption problem rooted in fears and uncertainties, while vouchers have limited appeal
People have become increasingly reluctant to spend on non-essential items, even as the central and local governments ease restrictions in coronavirus-hit areas
Consumption vouchers and tax breaks may be failing to generate interest that authorities hoped to see, with households 'not considering any major purchases'
As she was entrenched at home during the coronavirus-induced lockdown of Shanghai last month, Jia Jingwen became increasingly anxious due to her limited access to food and essential household goods.
For her and many others, government handouts were inadequate, so they tried their luck at securing vegetables and various supplies through online orders. But resources were limited and costly, and there was a risk that the delivery of their orders would be forbidden due to strict lockdowns.
At one point, she even vowed to herself that she would spend with a vengeance when the two-month lockdown came to an end. And when she was finally able to venture out earlier this month, she set out to stock up on supplies for the Dragon Boat Festival.
"But when I stood in the crowded mall, thinking about the two months of overpriced vegetables and the monthly rent I had to pay, I just bought my groceries, packed up my [takeaway] lunch and went straight home," said Jia, who works in human resources for a private firm in Shanghai.
Jia's situation mirrors that of many Chinese, and theirs are probably not the types of stories that Chinese leaders want to hear as they do all they can to get people to spend money and help reinvigorate the stagnated economy after multiple coronavirus outbreaks since March hindered mobility and sapped people of their willingness to consume.
But such widespread apprehension to spend is rooted in uncertainties and fears that the worst is not yet behind them – that more lockdowns and restrictions could come as the central government steadfastly adheres to its zero-Covid policy.
It represented a fall below the watershed mark of 100 that separates optimism and pessimism, hitting the weakest level since the data was first available in 1991. The drop of 26.5 from March to April was also the sharpest on record.
And he added that he has not engaged in "revenge spending" – splashing out on big-ticket items following months of lockdown – even as the local situation has gradually improved with businesses reopening across the city this month.
"My finances are very tight," he explained.
Indeed, Chinese consumers' appetite for consumption is the lowest it's been since Shu Jingwei – a Hong Kong-based university student from Shenyang, Liaoning province – took a part-time job in 2019 as a luxury goods agent catering to mainland clientele.
His company, a luxury goods import agency, buys luxury goods and sells them to mainland customers. And business had been decent even just last year, when Shu was able to make about HK$30,000 (US$3,820) a month. Even amid the pandemic, he was selling luxury bags, jewellery and watches to his countrymen across the border.
But times have changed, and he has not received a single order in almost four months.
"In February and March, there were still a few customers who approached me to ask about the price of jewellery and bags, but because they wanted a bigger discount and the logistics were very inconvenient, the business didn't work out in the end," Shu said.
"Now, when I send out messages about items in the WeChat group, no one replies any more."
But he added that the situation is completely understandable, as the livelihoods of his customers have been affected by outbreaks in a number of ways.
For Yang Zhenyu, the owner of a small machinery company in Xian, Shaanxi province, has seen his household income plummet amid the outbreaks. Factories he worked closely with have closed down because they were unable to properly produce and transport goods, due to lockdowns and mobility restrictions.
"As far as spending is concerned, my family and I are now very restrained. Other than buying essentials, we're not considering any other major purchases at this time," Yang said.
In response, the Ministry of Finance and the General Administration of Taxation announced a phased reduction in the purchase tax on some vehicles, by half, from June 1 until year's end.
According to Jia Ronge, director of the tax department under the Ministry of Finance, purchasers of more than 8.7 million cars were expected to benefit from the concession.
But not everyone who needs or wants a car is jumping at the tax break. Liu Wenqi, a 50-year-old manager at an international travel agency in Shenzhen, continues to mull over the pros and cons of buying a new car or home appliances.
"Although the state and local governments offer attractive discounts for car and appliance purchases, such large purchases give me pause," Liu said. "After all, my income during the epidemic no longer gives me the strength to spend generously."
In addition to national initiatives to promote consumption, governments and enterprises in various cities have tried issuing consumption vouchers to entice people to spend.
Some provinces and cities, including Zhejiang, Shaanxi, Jiangxi, Sichuan, Tianjin and Shenzhen, have issued consumption vouchers valued at between several million and hundreds of millions of yuan.
The scope of these vouchers covers both daily necessaries and home appliances, automobiles, hotels, travel and other areas.
Michael Pettis, a finance professor at Peking University, contends that the vast majority of government measures are focused on the supply side, such as infrastructure projects, but only a few are there for ordinary people.
"If you add them up, they're nothing. There's like 1/10, 1/20, 1/50 of 1 per cent of GDP of those towns. Very, very little," he said. "I don't know why the government is spending trillions on infrastructure and billions on consumption. What China needs is more consumption, not more infrastructure."
Shen Qiaowei, a marketing professor with Peking University's Guanghua School of Management, said that research has shown how a single yuan worth of government subsidy can drive 3.5 to 5.8 yuan worth of new and unplanned consumer spending, which tends to be concentrated in the catering and retail sectors.
However, many consumers say the current vouchers are not attractive enough for them to tap into their savings unnecessarily.
Peng Sien, a university student in Chengdu, Sichuan province, said she rarely pays attention to the government or corporate coupons, nor does she buy specific types of goods simply because of such offers.
"The epidemic and the quarantine I went through on campus made me realise that a lot of my spending was unnecessary," she said.
Last week, the World Bank lowered its GDP forecast for China in light of its disruptive outbreaks and lockdowns, and the global financial institution has also recommended that the country use consumer vouchers to stimulate consumption and boost the economy.
But Liu Lin, a nurse in Tianjin, said: "Vouchers are only attractive to me if the item on offer is a necessity for me. Overall, poverty is what limits my discretionary spending."
And Chen Xiuxia, a housewife in Shenzhen, said that although there is more incentive to spend with a discount, the current vouchers have many restrictions on the areas and products that they can be used on, and this has curbed her interest in using them.
"I hope that, in the future, the vouchers I receive will not only cover a wider range of products but can also be used throughout the city or even the country," Chen said.
Additional reporting by Frank Tang