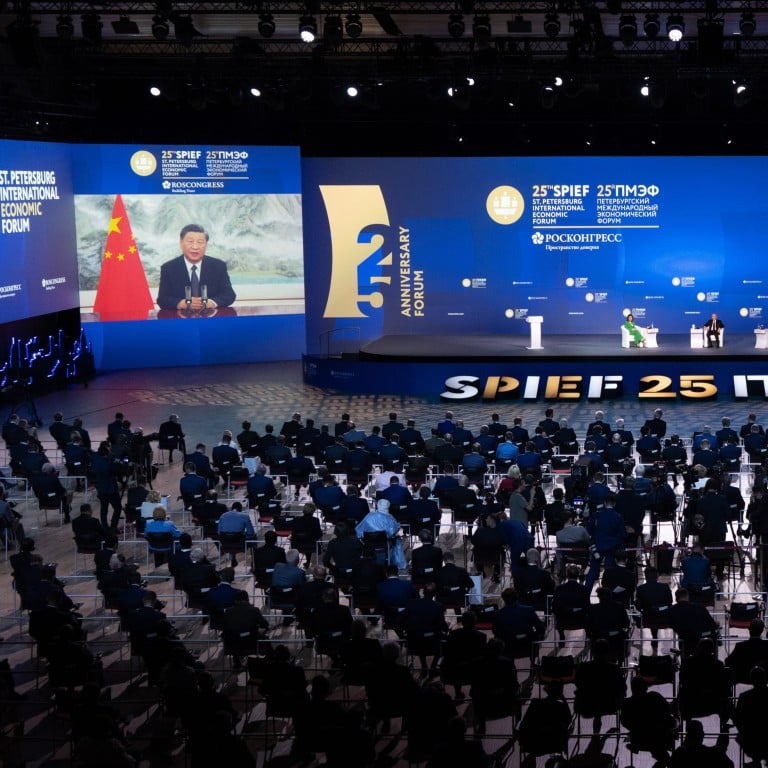 Chinese President Xi Jinping warns against international decoupling in Russia speech
Xi address to the St Petersburg International Economic Forum also included warnings against decoupling and the use of sanctions
The Chinese leader also sought to reassure the international community that the country remains confident about its economic prospects
Chinese President Xi Jinping has warned against international decoupling and criticised the imposition of sanctions in a speech to a Russian economic forum.
He also expressed "confidence" in the Chinese economy as international investors closely watch what measures it will take to recover from the impact of Covid-19.
The speech delivered via video link to the 25th S
t Petersburg International Economic Forum
on Friday reaffirmed Beijing's longstanding agenda of promoting multilateralism and increasing its say in international issues.
Such issues have now become more urgent amid growing tensions with the West and the fall-out from Russia's invasion of Ukraine.
"It is necessary to strengthen the connection of development policies, international rules and standards, and abandon such actions as decoupling, supply suspension, unilateral sanctions and maximum pressure," Xi said without naming specific countries.
"[We] need to remove trade barriers, maintain the stability of global industrial and supply chains, and work together to deal with the increasingly severe food and energy crises."
Xi's participation symbolised the ongoing strategic partnership between China and Russia amid the ongoing conflict in Ukraine.
Bilateral trade has grown quickly in the past three months. The world's second largest economy imported a record US$10.3 billion worth of Russian products in May, up 79.6 per cent year-on-year, customs data showed.
In February the two countries set a target of reaching trade volumes of US$200 billion by 2024 – up from US$146.9 billion last year.
In the phone call with his Russian counterpart on Wednesday, Xi repeated China's support for pragmatic cooperation.
"China is willing to continue to support the Russian side on issues related to core interests and major concerns such as sovereignty and security, to work closely on strategic cooperation between the two countries," he said.
Addressing the Russian forum, Xi also tried to shore up overseas confidence in the Chinese economy, which has been hit hard by strict lockdowns to curb the spread of the highly contagious Omicron variant.
Beijing has eased Covid-19 controls in big cities and shifted attention to economic stabilisation. In face of the faltering economy, Beijing has unleashed a raft of stimulus measures since May hoping to curb the slowdown.
Xi said China's economic fundamentals – its resilience, its potential and long-term prospects – have not changed. "We are confident in our economic development," he said.
He also said Beijing will continue to push forward high-quality development, market opening and the Belt and Road Initiative, promising to join hands with other countries, including Russia, to share development opportunities and deepen cooperation.