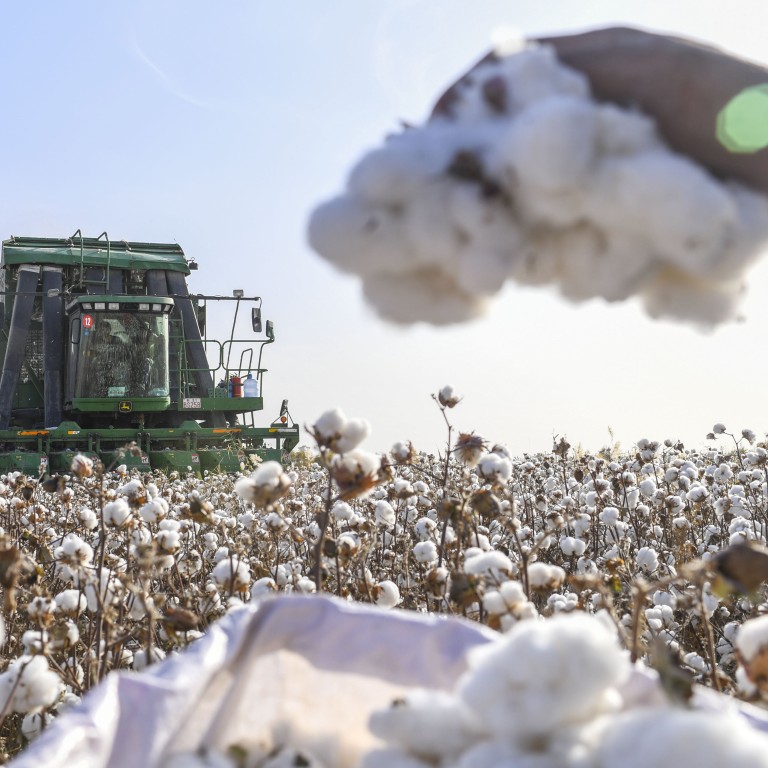 US-China relations: Beijing has own 'trade weapons' to counter Xinjiang 'forced labour' law
China's commerce ministry says US law on forced labour is 'typical example of economic coercion' and it will take 'necessary actions'
Experts say China has the power to take countermeasures, including trade bans over American rights abuses and court action
China has the power to unleash its own trade weapons against the United States in response to a new law banning imports from Xinjiang over alleged forced labour, analysts say, as Beijing vows action to protect the country's interests.
The
Uygur Forced Labour Prevention Act
, which came into effect on Tuesday, creates a "rebuttable presumption" that bans US imports of any materials produced in Xinjiang – where China has been accused of committing rights abuses against Uygur Muslims and other minorities – because they are at risk of being tainted with slave labour.
Companies can appeal if they provide "clear and convincing" evidence to customs authorities that no forced labour was involved in production. But traders say fulfilling the requirement is virtually impossible, meaning the law is effectively a trade embargo of all Xinjiang products.
In a statement, China's Ministry of Commerce (Mofcom) called the ban a "typical example of economic coercion", saying it will take "necessary actions to resolutely safeguard national sovereignty, security and development interests".
"[The US' move] will seriously damage the interests of Chinese and US consumers and enterprises, and will do no good for the stability of global industrial and supply chains, the easing of
global inflation
, or the global economic recovery," said Mofcom's statement on Tuesday.
Wang Wenbin, a spokesman for China's Ministry of Foreign Affairs, said the law showed the US was attempting to "make the world decouple with China".
"[China] will take effective measures to firmly safeguard the legitimate rights and interests of Chinese enterprises and citizens," he said on Tuesday.
Lu Xiang, a senior fellow with the Chinese Academy of Social Sciences, said trade disputes are understandable between the world's two largest economies, but it would be a huge blow to bilateral relations if human rights issues were weaponised.
"Though tariffs are also not reasonable, they are at least transparent," he said. "Non-tariff measures like the act are completely opaque and arbitrary, with which [the US] can do whatever it wants. The impact will be huge."
Lu said China may wait to see how strictly the law is enforced before adopting countermeasures.
"If the US treats China in such a way that human rights issues are weaponised, it is not impossible for China to create a corresponding weapon," Lu said, adding rights abuses were "pervasive" in the US.
China can sue the US government at the World Trade Organization or even at the United States Court of International Trade for violating the free and non-discriminatory trade principle, said He Weiwen, a former economic and commercial counsellor at the Chinese consulates in New York and San Francisco.
"If China sues, the US government will have to present evidence of forced labour in Xinjiang – and of course they have none," said He, who is now a senior fellow with the Centre for China and Globalisation, a Beijing-based think tank.
But a lawsuit would take a long time and might not solve the problem, as the US government could simply ignore the ruling, he said.
"So while going through the legal procedures, China can take counteractions first. For instance, we can also ban or restrict imports of American highland cotton," he said.
"So if the US retracts their bans, we will retract ours. If their measures escalate, we will escalate, too."
Operational guidance for importers released by US Customs and Border Protection last week said cotton, tomatoes and polysilicon – a crucial material used in
solar panel production
– are "high-risk commodities" that will face scrutiny by US customs agents under the act.
Xinjiang produces around half of the world's polysilicon, a quarter of the world's tomato and a
fifth of global cotton.
The Mofcom statement said allegations of forced labour in Xinjiang were "fundamentally untrue", adding the level of mechanisation for cotton sowing in most of the region exceeds 98 per cent.
"The essence [of the US ban] is depriving people in Xinjiang of their rights to work and develop. [This] will result in de facto 'forced unemployment', and even a return to poverty," the statement said.
"The US should immediately stop political manipulation and distorted attacks, immediately stop infringing upon the rights and interests of people of all ethnic groups in Xinjiang, and immediately revoke all Xinjiang-related sanctions and suppression measures."
Apart from the three high-risk sectors, several other industries are at risk, according to Wang Keyou, a lawyer specialising in export control and economic sanctions.
"Xinjiang's pepper, walnut, rayon, carbonised fossil, wind turbine, beryllium and other raw materials or products account for a very high proportion of the total global output, and these may also become key industries subject to law enforcement in the United States," Wang said in a column that appeared on several Chinese platforms on Sunday.