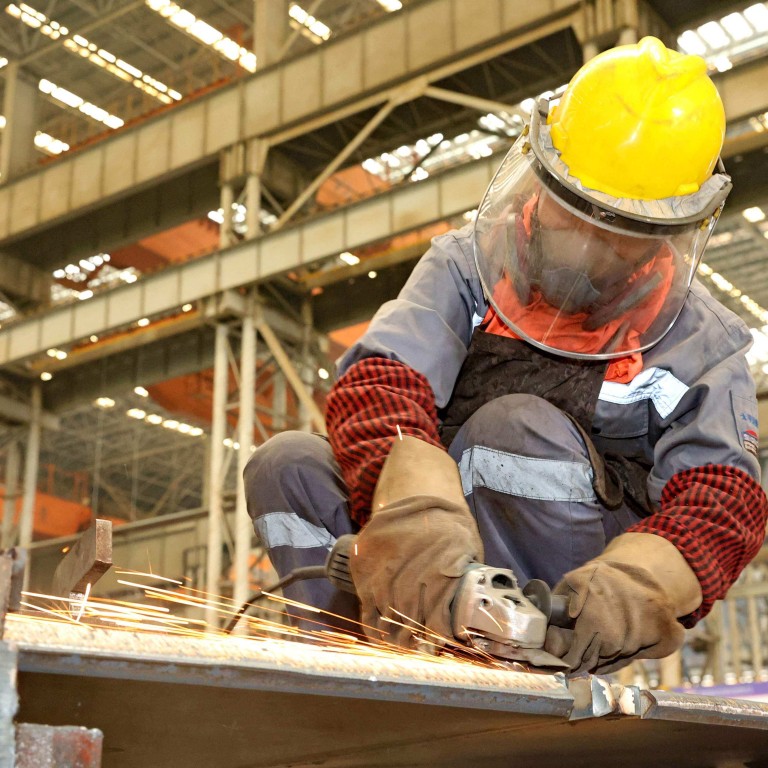 China's May industrial profits kept tumbling, raising calls for more government support
Industrial-profit data on Monday shows slight improvement from April, but factory production and manufacturing margins remained strained amid strict Covid curbs
China's gross domestic product (GDP) likely to grow by about 1 per cent in second quarter, according to a central bank adviser
China's industrial profits continued their steep decline in May, albeit at a slower pace than in April, and the head of its central bank has vowed continued support for the nation's economic recovery, with stable prices and employment support among the top priorities.
With coronavirus restrictions still weighing on factory production and squeezing manufacturing margins, profits at industrial enterprises fell by 6.5 per cent last month, year on year, according to data released by the National Bureau of Statistics (NBS) on Monday.
"Manufacturing production is still facing many difficulties, and the recovery is not solid yet, while the global situation is trending more complicated and severe," the NBS said. "Industrial profits are still confronted with many uncertainties."
The industrial-profit data covers large firms with annual revenue of more than 20 million yuan (US$3 million) from their main operations. And May's decline came at a slower pace than the
8.5 per cent plunge
a month prior.
Central bank governor Yi Gang, in an interview with state media on Monday, reiterated oft-repeated sentiment that China's economy continues to face downward pressure due to the pandemic, along with external shocks, but he also noted how
inflation is largely stable
.
"This year, we face some downward pressures of growth due to Covid-19 and external shocks, and the monetary policy will continue to be accommodative to support economic recovery in an aggregate sense," Yi said. "At the same time, we also emphasise structural policies such as supporting small and medium-sized enterprises and green transitions."
Yi's comments and the latest data release came after an adviser to the People's Bank of China said at the weekend that further economic challenges in the year's second half warrant more support measures by the central government.
In warning of the economic outlook, adviser Wang Yiming said the gross domestic product (GDP) is likely to grow at around 1 per cent in the second quarter.
"It will be arguably difficult to achieve 7-8 per cent growth in the second half of the year to meet the annual growth target of around 5.5 per cent," said Wang, deputy director of the China Centre for International Economic Exchanges, speaking on Saturday at a forum hosted by Renmin University.
He suggested raising the deficit rate to increase fiscal spending, which would help expand government investment and stimulate an economic rebound.
In 2020, to counteract the impact of the outbreak on economic growth, the deficit rate was raised to 3.6 per cent, breaching the internationally accepted 3 per cent threshold for the first time.
He said that the relatively rapid recovery of China's GDP in 2020 – when it posted a full-year economic growth rate of 2.3 per cent – relied on the development of the digital economy, the pull of real estate, and the rapid growth of exports.
"This year, however, the momentum in the digital economy is slowing, and valuations of internet companies are on the downside," he said.
In terms of long-term growth drivers, Wang said the key will be to cultivate new driving forces that will continue to push growth forward, including by enhancing the capacity for original innovation, promoting the digital transformation of the manufacturing sector, expanding the middle-income group, and helping farmers adapt to the nation's urbanisation push.
"China's GDP per capita was US$12,500 last year – a big gap with developed countries – and there is still … a lot of potential for us to catch up, and a lot of room to cultivate new dynamic energy in the future," he said.