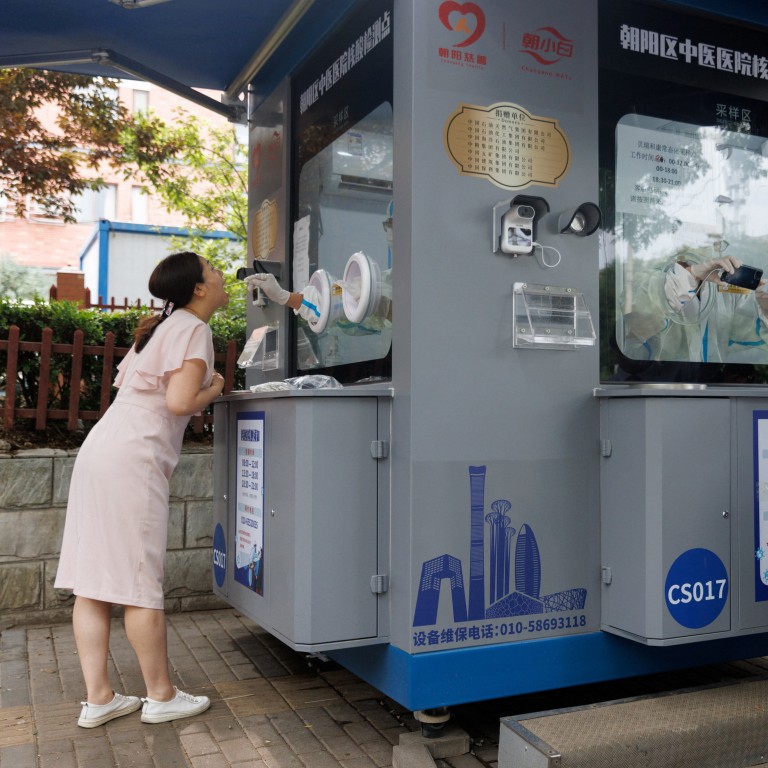 Coronavirus: faced with mounting costs, some ask whether China can afford to maintain mass testing
Local governments have been spending heavily to control the spread of Covid-19, including on extensive testing programmes
Though less disruptive than lockdowns, whether local governments can afford to continue mass screening is subject to debate
While some local governments in China have begun adjusting mass testing mandated under Beijing's zero-Covid policy, its widespread use to contain the highly transmissible Omicron variant continues to take a sharp toll on regional finances and consumer sentiment, analysts say.
Whether local governments can afford to press on with
free mass screening
has been a subject of debate in China.
On one hand, questions have been raised about the long-term costs. But on the other hand, Beijing considers the programme an effective alternative to lockdowns, which have had a profoundly detrimental impact on economic activities.
Citing harsh Covid containment rules, many analysts have downgraded their economic growth forecasts for China this year to below Beijing's target of "
around 5.5 per cent
".
Yao Yang, an economist and professor with the National School of Development at Peking University, said the cost of maintaining zero Covid was too high, as it continues to restrict mobility, particularly in the country's key economic hubs
Shanghai and Beijing
, which will have a severe impact on the economy.
With the rest of the world easing
travel restrictions
, China should avoid isolating itself through its virus control measures, Yao said
"We need to come up with a long-term effective prevention plan," he said.
Many local governments have been spending heavily to control the spread of Covid-19, including establishing testing sites that are within 15 minutes walk of residents' homes.
China Merchant Securities estimated the cost of the mass nucleic acid testing in Shenzhen between April 6 and June 5 was around 3.16 billion yuan (US$473 million).
"From the perspective of economic benefits, the lockdown in Shanghai may cause China to lose at least about 1 trillion yuan in gross domestic product this year," the brokerage said in a research published earlier this month.
"If the cost of regular nucleic acid testing in Shenzhen is significantly lower than the economic and social losses caused by the lockdowns of Shanghai, then regular nucleic acid testing should be promoted nationwide."
For now, Covid control remains the priority for many local governments, despite the financial burden for regions with weaker economies.
While some have chosen to ease mandatory testing, a single case could trigger its return.
Hefei, the capital city of the eastern province Anhui, on Monday said it will conduct mass screening again over the next three days after it found one positive case from a visitor – less than seven days after it suspended its weekly testing programme.
On the same day, Quzhou city in China's eastern Zhejiang province, said it would suspend its weekly testing from Tuesday. However, workers in the service sector still need to test every three to seven days.
China's financial hub Shanghai, which emerged from a
two-month citywide lockdown
only at the start of June, has extended its mass screening programme until the end of July. The city government has simultaneously pledged to spend more than 300 billion yuan to rescue its economy.
Meanwhile, China's capital Beijing requires residents to carry out nucleic acid tests to use public transport or enter public venues, although the window for negative reports has been extended to 72 hours from 48.
US rating agency Moody's expects a significant regional and local government budgetary deficit in 2022 mainly a result of Covid-19 outbreaks.
"Expenditure will likely remain high – a result of greater healthcare and social security spending to control and ease the effects of coronavirus-related disruptions," Moody's said in a note on June 14.
Yao said recent support measures that focused on boosting supply through infrastructure spending may not be enough to meet China's 2022 growth target.
"Right now, [the policy focus on] supply is much bigger than demand," Yao said at an event last week.
He said poor credit demand by companies, uncertainty surrounding the pandemic, and the slump in the property market showed that overall consumption was in a dire state.
Louis Kuijs, chief economist for the Asia-Pacific at S&P Global Ratings, said lack of visibility on the Covid situation has started to affect medium-term prospects, which were influencing investment decisions of some foreign companies.
"As a result, we have tempered our expectations as to how much the economy can recover in 2023 following the current weakness," he said on Monday.